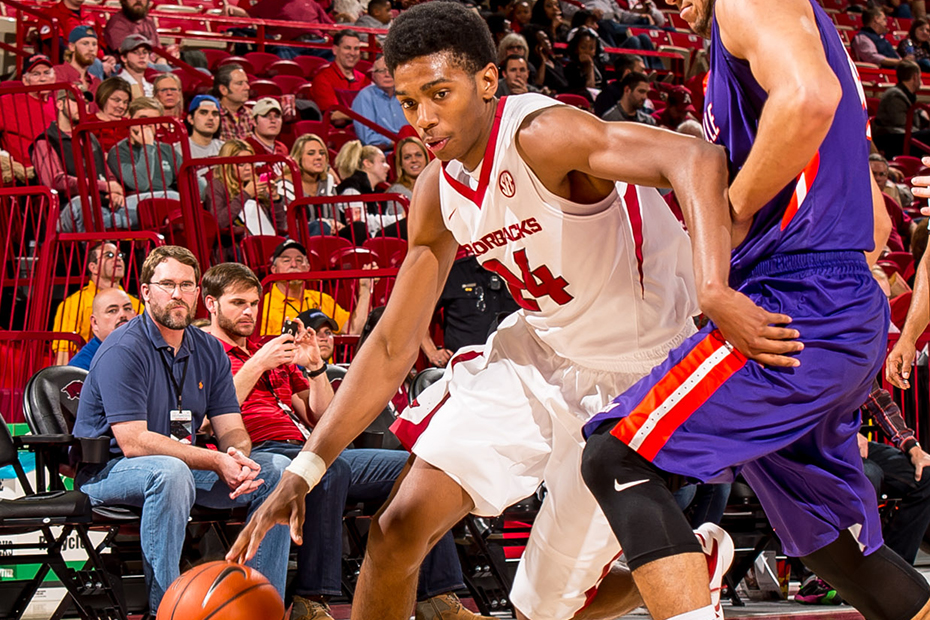 Tennessee Tech on Tap for Men's Basketball Saturday
FAYETTEVILLE, Ark. – The Arkansas men's basketball team (4-4) looks to win consecutive games for the first time this season when it welcomes Tennessee Tech (7-2) to Bud Walton Arena Saturday evening for a 7:01 p.m. tip-off on SEC Network.
Tip-off: Saturday, 7:01 p.m. CT
Location: Bud Walton Arena
Tickets: Buy Here
TV: SEC Network | WatchESPN
Promotion: Free Santa hat and pizza to first 500 students.
The Opponent
• Tennessee Tech (TTU), from Cookeville, Tennessee, plays in the Ohio Valley Conference (OVC) and is 7-2 on the season. The Golden Eagles have won six consecutive games, including most recently an 81-78 victory at Lipscomb on Saturday. It was TTU's first road win of the season, as the Golden Eagles are 6-0 at the Eblen Center and 1-2 away from home. Their most notable victory was a 63-61 result at home against ETSU, the team who won at Georgia Tech earlier this season.
• Senior point guard Torrance Rowe leads the Golden Eagles with 17.6 points, 4.4 assists and 2.1 three-pointers per game. This season, Rowe has games of 35 and 26 points in victories over Jackson State and Lipscomb, respectively. TTU's second-leading scorer, senior forward Ryan Martin, averages 14.1 points and a team-best 8.4 rebounds per contest. The Golden Eagles rank fifth in the nation at the free throw line, making 78.7 percent of their attempts from the charity stripe.
• Head coach Steve Payne is in his fifth season with the Golden Eagles, with an even record of 67-67 (.500) in four-plus seasons. Before taking on the head coaching gig, Payne served as TTU's associate head coach for 10 seasons, from 2002-11. The team's best season under Payne was his first, in 2011-12, when the Golden Eagles finished 19-14 and earned a berth in the CIT.
#Fastest40 Facts
• Arkansas has won 57 of its last 58 games at home against unranked non-conference opponents, including a 43-1 mark under Anderson.
• The Razorbacks are 24-3 (.889) against current teams from the Ohio Valley Conference, but have never faced Tennessee Tech. The only losses to the OVC have come against Murray State and SEMO.
• Arkansas' 9-for-13 (.692) performance from behind the arc against Evansville marked the best three-point field goal percentage in school history for a single game with eight-plus attempts.
• Jabril Durham is one of four players in the country with three double-digit assist games this season. He has three of the six double-digit assist performances in the SEC this year and ranks No. 4 in the nation with 7.8 assists per game.
• After his 10-for-10 performance from the charity stripe against Evansville, Dusty Hannahs leads the country with a .972 free throw percentage among players with 20-plus attempts.
• Anthlon Bell (25) and Dusty Hannahs (23) are the top two three-point shooters in the SEC, combining to make 48 treys through eight games.
• Arkansas and Michigan State are the only Power Five team to have multiple players with 23-plus made treys this season.
•  Arkansas has had a player make five-plus three-pointers in five of eight games this season after doing so just twice all of last year and taking the previous 41 games to accomplish the feat.
•  The Razorbacks went 9-for-13 (.692) from long range against Evansville on Dec. 8, marking the best three-point field percentage in school history for a single game with eight-plus attempts.
Up Next
Arkansas travels to its second home in North Little Rock to take on Mercer University in Verizon Arena on Saturday, Dec. 19 at 7 p.m.
For more information on Arkansas men's basketball, follow @RazorbackMBB on Twitter.