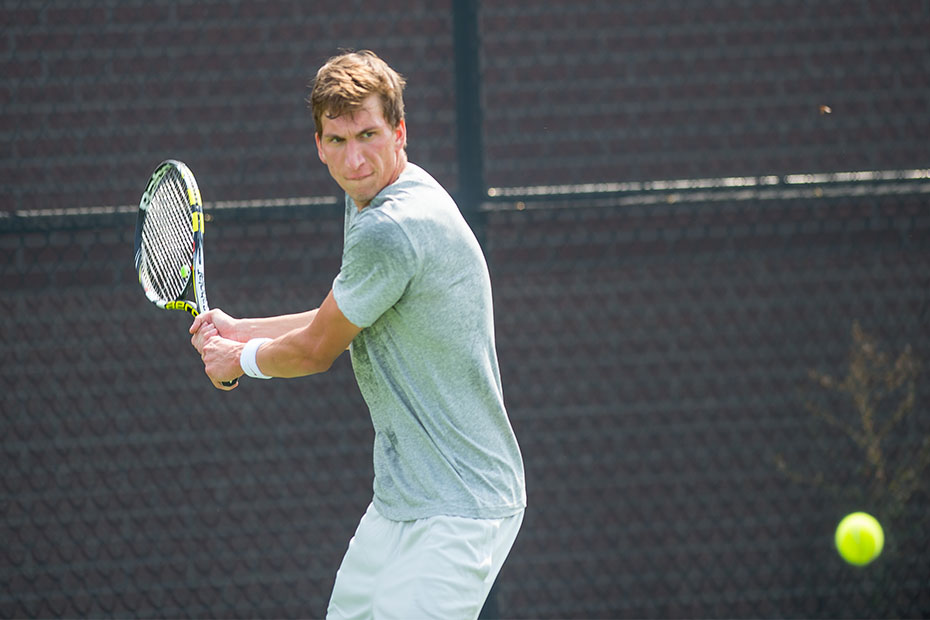 Tennis Heads To Atlanta for Georgia Tech Invite
FAYETTEVILLE, Ark. – The University of Arkansas men's tennis team is set to play in the Georgia Tech Invitational in Athens, Ga. The team will begin play Friday and continue through Sunday.
Red-shirt junior transfer Mike Redlicki will open singles play Friday morning at 9 a.m. in the A Singles Gold draw, as well as Jose Salazar at 4:30 p.m. Senior Santiago Munoz will begin singles play at 2 p.m. and sophomore David Herrerias will begin play 10:30 a.m. in the B Singles White draw Friday.
In the doubles division, Munoz and Redlicki play at 12:30 p.m. Friday in the A Doubles Gold draw. Herrerias and his doubles partner Salazar are playing in the B Doubles White draw at 12:30 p.m.
The tournament will consist of 64-player singles draw and a 32-team doubles draw with championship matches on Sunday. The back draw finals will also be played on Sunday. Double matches will be eight game pro sets and singles matches will be best two out of three sets.
There are a total of 64 players representing 12 schools- Arkansas, Auburn, Florida Gulf Coast, Georgia State, Georgia Tech, Kennesaw State, Middle Tennessee State, Mississippi, South Carolina, Tennessee, The Citadel, and UNC Wilmington.
Single matches will begin Friday at 9 a.m. followed by 16 doubles matches that begin at 1:30 p.m. On Saturday and Sunday, doubles matches will begin at 9 a.m. followed by singles matches at 10 a.m.
Results will be posted throughout the weekend on the Georgia Tech men's tennis website and on UTSA.
Georgia Tech Invite:
A Singles Gold Draw:
Mike Redlicki vs. Sebastian Acuna (Georgia State) at 9 a.m.
Jose Salazar vs. Michael P. Kay (Georgia Tech) at 4:30 p.m.
B Singles White Draw:
Santiago Munoz vs. Andrew Li (Georgia Tech) at 2 p.m.
David Herrerias vs. Zvonimir Babic (Mississippi) at 10:30 a.m.
A Doubles Gold Draw:
Munoz/Redlick vs. Acuna/Andrukhou (Georgia State) at 12:30 p.m.
B Doubles White Draw:
Herrerias/Salazar vs. Andrew Li (Georgia Tech)/Xander Veys (UNCW) at 12:30 p.m
For more information on Arkansas men's tennis, follow @RazorbackMTEN on Twitter.