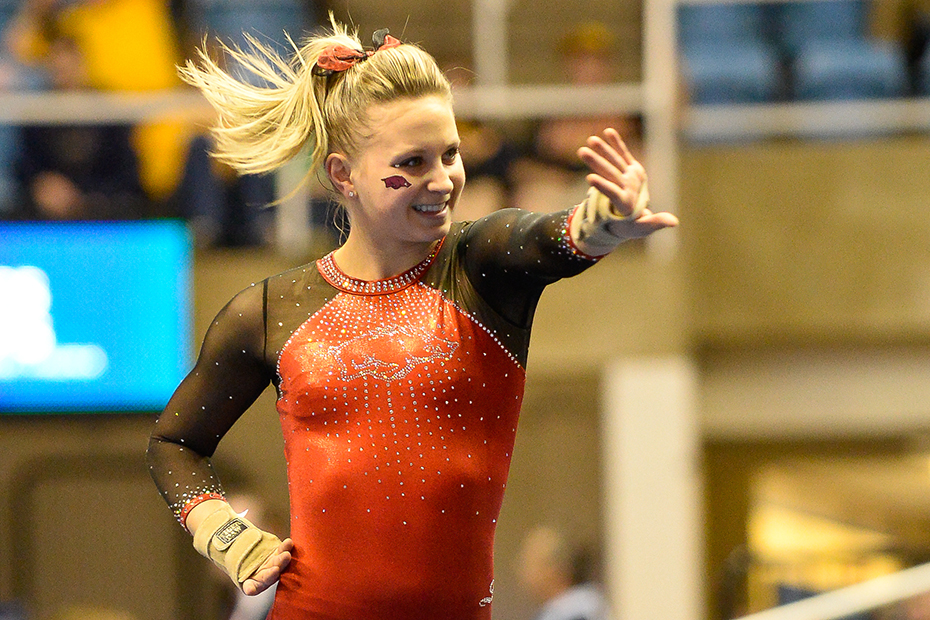 The Best Show in Town is Back
MEET INFO…
WHO: No. 16 Arkansas vs. No. 15 Georgia
WHAT: 2016 Opening Night
WHEN: Friday, Jan. 15 at 7:30 p.m.
WHERE: Barnhill Arena
HOW TO…
WATCH: SEC Network
STREAM: SEC Network +
LIVE RESULTS: Stats
FOLLOW: @RazorbackGym
PREPARE: Meet Notes (PDF)
FAYETTEVILLE, Ark. — Introducing: The 2016 Best Show in Town.
This weekend marks the first two home meets of the Arkansas gymnastics season at Barnhill Arena, with the No. 16 #Gymbacks hosting No. 15 Georgia on Friday, Jan. 15 at 7:30 p.m., and then No. 4 Oklahoma on Sunday, Jan. 17 for a 2 p.m. matinee.
Following a second-place finish with a 195.150 team score at the Cancun Classic on Jan. 2, Arkansas finds itself ranked seventh among SEC teams. But the Razorbacks will get an opportunity to flip the script on Friday, with the Bulldogs coming to Fayetteville.
"Our conference is very competitive and we need to have a breakthrough," head coach Mark Cook said. "Getting in the top session at the SEC Championship would be a breakthrough for our program. Georgia is one of the teams we have to beat in head-to-head competition and RQS in order to establish ourselves."

In Cancun, the team's vault lineup had one of the bests performances of the year, as the Razorbacks' score of 49.2 currently ranks second in the country. With an opening 49.1 on uneven bars, which is tied for tenth nationally, Arkansas had stellar scores in two events vs. Iowa and No. 7 Michigan.
However, Cook knows his team will have to do better than 48.225 on balance beam and 48.625 on floor exercise in order to compete with the best. With almost two weeks to prepare, the team has responded tremendously to the challenge.
"We came back and did some distraction routines to try to concentrate a little bit more and better perform under pressure," he explained. "We also changed our lineup on beam by putting Sydnie Dillard in the opening spot, so hopefully she can set the tone with a solid routine and create more confidence within the group."
The Razorbacks then have a quick turnaround for the Sooners about 40 hours later, as Arkansas will compete in its first two-meet weekend since Feb. 3-5, 2012. But this scheduling is no accident, in fact, Cook made a deliberate decision to challenge his team early, as well as prepare them for Nationals down the line.
"Usually, teams do fairly well in this situation because there's a day off in-between for resting. It does prepare you for postseason and builds a little more mental toughness by having two meets in one weekend," Cook said.
For more #Gymbacks content during the season, please follow @RazorbackGym on Instagram, Twitter and Snapchat.