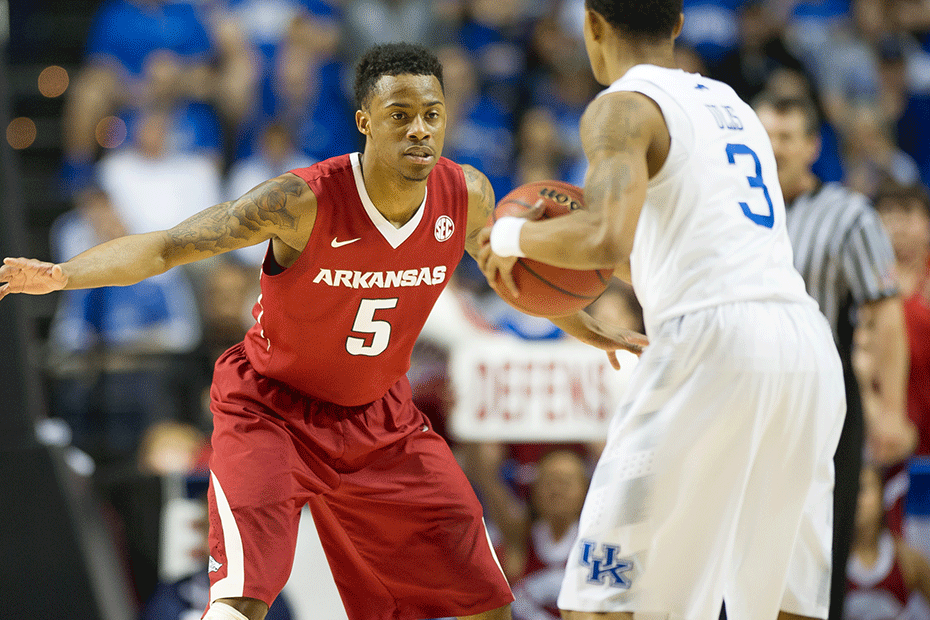 The Rivalry Continues Thursday in Bud Walton Arena
Game Notes (PDF) | Mike Anderson Press Conference
FAYETTEVILLE, Ark. – The Arkansas men's basketball team (9-8, 3-2) aims for its fourth straight victory over Kentucky (13-4, 3-2) in Bud Walton Arena Thursday night, when the No. 23 Wildcats come to town for a 6 p.m. tip-off on ESPN.
Tip-off: Thursday, Jan. 21 at 6 p.m. CT
Location: Bud Walton Arena (Fayetteville, Ark.)
TV: ESPN
Tickets: Click Here
The Opponent
• The Wildcats, from Lexington, Kentucky, are 13-4 on the year with a 3-2 record in SEC play. Kentucky's game at Bud Walton Arena will be its fourth road game in its last five contests. Both of the Wildcats' losses in SEC play have come on the road; first a 85-67 loss at LSU on Jan. 5, and then at Auburn by a score of 75-70 on Saturday. Kentucky has played two top-25 teams this season and beaten both of them; No. 5 Duke on Nov. 17, and then No. 16 Louisville on Dec. 26. The Wildcats are 10-0 in the friendly confines of Rupp Arena, but 2-1 in neutral-site games and 1-3 in true road games.
• As usual, it's a group of freshmen who lead Kentucky on the stat sheet. Guard Jamal Murray averages a team-best 17.8 points per game, including 46 three-pointers on the season. Guard Isaiah Briscoe also averages double-figures, with 10.7 points per contest, while adding 5.3 rebounds and 1.5 steals. The strength of the team is on the inside, as Kentucky is 22nd in the country with 5.5 blocks per game, 29th with a plus-7.4 rebounding margin and 14th with 14.2 offensive boards per contest.
• Head coach John Calipari is in his seventh year at Kentucky, and has a 203-42 (.829) record in six-plus seasons with the Wildcats. Calipari has previously coached at UMass for eight seasons and Memphis for nine, accruing six Final Four appearances and one National Championship (with Kentucky in 2012) in 23 seasons of head coaching experience. Since arriving in Lexington for the 2009-10 season, the Wildcats have had 19 players taken in the first round of the NBA Draft.
#Fastest40 Facts
• The Razorbacks are the only team in the SEC with consecutive home wins against Kentucky. Arkansas has defeated UK in three straight meetings at Bud Walton Arena in 2011, 2013 and 2014.
• With the trio of Anthlon Bell (17.1), Moses Kingsley (16.9) and Dusty Hannahs (16.0), Arkansas is one of five teams in the country and the only power five conference program with three players averaging 15-plus points per game.
• During the Mike Anderson era, Arkansas has posted a record of 75-9 inside Bud Walton Arena, marking the third-most home wins in the country during this span behind Kentucky (79-4) and Ohio State (78-12).
• Over the last 30 SEC regular season games dating back to 2013-14, Arkansas and Kentucky have the top two records in the league with the Razorbacks checking in at 22-8 and the Wildcats at 24-6.
• Under Anderson, unranked Arkansas teams are 2-0 in BWA against teams ranked 20 through 25 in the Associated Press Top 25, beating Michigan (01/21/12) and Vanderbilt (01/31/12).
• The Razorbacks are No. 3 in the country in three-point field goal percentage at .447, sitting only behind top-ranked Oklahoma (.457) and No. 3 Kansas (.449).
• Arkansas last beat an AP Top 25 team at home on Jan. 14, 2014, shocking No. 13 Kentucky 87-85 in OT on a buzzer-beating dunk by Michael Qualls.
• Over the last four games, Anthlon Bell (17) and Dusty Hannahs (14) have combined to make 31 treys and shoot 56-percent from behind the arc.
• At LSU, Bell sank his 200th career three-pointer to become the sixth player in program history to eclipse the mark.
• Bell and Hannahs are the top three-point shooting tandem in the SEC, combining to make 99 treys on the year and shoot 47-percent from long range.
Up Next
Arkansas has a quick turnaround, traveling to Athens, Georgia, for a Saturday evening match-up with the Georgia Bulldogs. Tip-off is set for 5 p.m. in Stegeman Coliseum.
For more information on Arkansas men's basketball, follow @RazorbackMBB on Twitter.