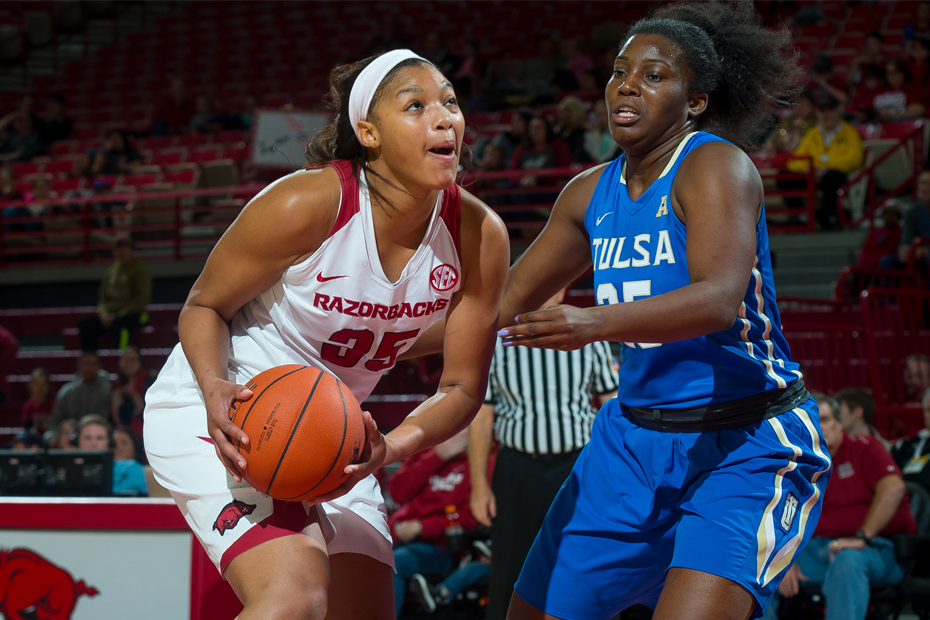 The Road Awaits W. Basketball
THE GAME
Arkansas at Rutgers
Date/Time: Sunday, Dec. 6, 2015 | 1 p.m. CT
TV/Video: None
Livestats: http://bit.ly/1NLNvUx
Audio: https://arkansasrazorbacks.com/wbb-live-audio/
Location: Piscataway, N.J. | The RAC
Social: Twitter/Facebook/Instagram @RazorbackWBB
Arkansas Game Notes
FAYETTEVILLE, Ark. – The University of Arkansas women's basketball team travels to Piscataway, N.J., taking on Rutgers University Sunday at The RAC in a 1 p.m. game.
Arkansas (2-5) has dropped its last five contests but bright spots abound for the Razorbacks. Junior Jessica Jackson ranks third in the Southeastern Conference averaging 17.8 points per game and is 12th in the league with 8.0 rebounds per contest. Junior Kelsey Brooks is third in the SEC in assist/turnover ratio with a 4.2 average and junior transfer Alecia Cooley picked up a double-double in her last outing.
Razorback head coach Jimmy Dykes has a deep bench this year with 11 players, all of whom have contributed in 2015. In fact, Dykes has used four different lineups in an effort to find the best combination for starting games. The guard-heavy team has had Jackson and senior Melissa Wolff start every contest but Brooks, Jordan Danberry, Malica Monk, Briunna Freeman and Devin Cosper have moved in and out of the starting lineup all season.
STORYLINES
• Arkansas is 0-1 on the road this year
o Lost at South Dakota State
• The game is Arkansas' first trip to Rutgers since 1990
• Junior transfer Alecia Cooley is coming off her first Razorback double-double with 10 points and 12 rebounds against Missouri State
• Arkansas has had four different lineups in seven games
o The most often used lineup has been: Brooks, Danberry, Jackson, Wolff, Cooley
SERIES HISTORY
• Arkansas is 0-3 all-time against Rutgers
• This is the third trip to Rugers in program history
• The most recent meeting was a 52-64 loss in Bud Walton Arena last year
UP NEXT
• Thursday, Dec. 10 vs. Oral Roberts | 8 p.m. | SEC Network
o First 50 students in attendance receive a Finals Survivor Kit
o First 500 fans will receive an Arkansas Razorback Santa Hat
o Family Four-Pack | families of four will pay $34 for four tickets and a concession voucher
• Sunday, Dec. 13 at Butler | 1 p.m.
• Sunday, Dec. 20 vs. Texas at Oklahoma City | 1:30 p.m.
• Monday, Dec. 28 vs. Mississippi Valley State | 7 p.m. | SEC Network Plus
• Wednesday, Dec. 30 vs. New Orleans | 7 p.m. | SEC Network Plus
For more information on Arkansas women's basketball, follow @RazorbackWBB on Twitter.