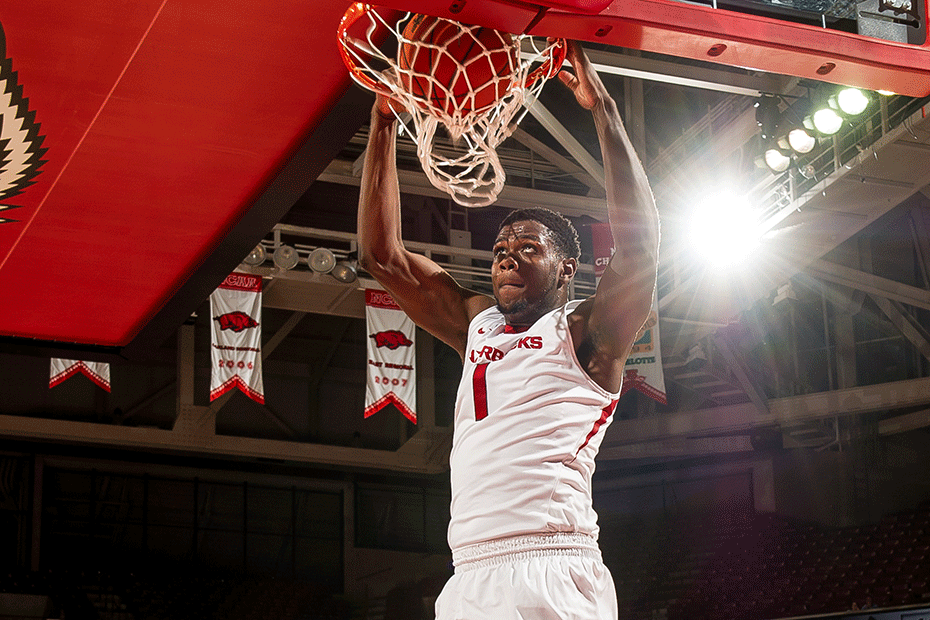 Thompson and Beard Join Mike'd Up on Thursday
FAYETTEVILLE, Ark. – Sophomores Trey Thompson and Anton Beard will join Mike Anderson on Mike'd Up, the weekly radio show dedicated to Arkansas basketball at Sassy's Red House in Fayetteville on Thursday at 7 p.m.
The one-hour program gives fans an opportunity to interact with Razorback coaches and players, while also getting a chance to learn more about the personalities they witness on the court. Hosted by the voice of the Razorbacks, Chuck Barrett, the program features interviews with Coach Anderson and Arkansas student-athletes, coaches and staff members. Fans in attendance will also have an opportunity to ask the head Razorback their own questions. Fans can also send in questions to Coach Anderson on the day of each show via Twitter to @RazorbackMBB and by using the hashtag #MikedUp.
Thompson continues to play a vital role for the Razorbacks with action in 13 games, including his first collegiate start in the second game of the year. He scored a career-high 10 points against Tennessee Tech on Dec. 12 and has a trio of seven-rebound performances. He is averaging 3.3 points and 4.3 rebounds per contest and has nine blocks on the year.
Beard had played in each of the last seven games, scoring in double figures three times, including a career-high 15 points and four rebounds at Dayton on Dec. 30. He has made 10-of-20 three-pointers on the year and is shooting 42-percent from the floor. Beard earned SEC All-Freshman honors last season after starting the final 16 games of the season.
The Razorbacks have won three straight conference games and are off to a 3-1 start in league play for the first time in 18 years and just the fifth time since joining the SEC. Arkansas goes for its fourth consecutive victory Saturday evening at LSU with a 7:30 p.m. tip-off on SEC Network.
Mike'd Up can be heard across the Razorback Sports Network from IMG College across the state. All 12 shows are held on Mondays, except for this Thursday due to the game schedule.
Remaining 2015-16 Mike'd Up Schedule (All Shows At 7 p.m.)
Thursday, Jan. 14
Monday, Jan. 18
Monday, Jan. 25
Monday, Feb. 1
Monday, Feb. 15
Monday, Feb. 22
Monday, Feb. 29
For more information on Arkansas men's basketball, follow @RazorbackMBB on Twitter.