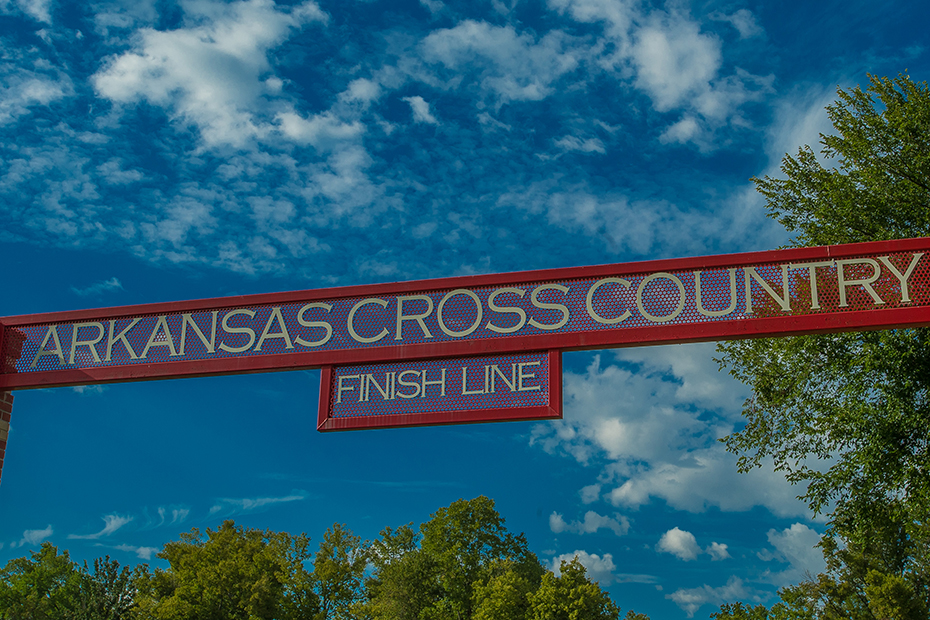 Three Home Contests Highlight 2016 Slate
FAYETTEVILLE, Ark. – Arkansas' men's cross country team is set to race on its home course three times this season as the hosts of the Chile Pepper Festival (Oct. 1), SEC Championship (Oct. 28) and NCAA South Central Regional (Nov. 11).
Along with those three competitions, the Razorbacks will make early season trips to Stillwater, Oklahoma for the Cowboy Duals (Sept. 1) and Boston for the renowned Battle in Beantown (Sept. 16) hosted by Oklahoma State and Boston College, respectively.
"We're excited about the 2016 cross country season," head coach Chris Bucknam said. "We've got a lot of depth on our team with some exceptional returners and some younger guys that are looking to continue to develop, step up and get in the mix. Replacing some of our former guys like Gabe Gonzalez and Cale Wallace is a tall order but our guys are up for the challenge."
Arkansas returns a deep roster headlined by two All-Americans in upperclassmen talents Jack Bruce and Frankline Tonui. Both steady members of the Razorbacks' top seven through the duration of the season, Bruce and Tonui increased their intensity at the 2015 NCAA Cross Country Championship, pacing Arkansas to a sixth-place finish with individual top-40 performances.
Prior to the national meet, Bucknam's squad proved a force to be reckoned with, bulldozing through the Southeastern Conference and South Central Regional Championships off the heels of several student-athletes.
Two-time NCAA Elite 90 award winner Christian Heymsfield guided the Razorbacks to their 48th conference title while former captain Gabe Gonzalez led the way to Arkansas' 35th NCAA regional crown.
The Razorbacks' 2015 postseason success took a complete team effort, relying heavily on several underclassmen to step up including Cameron Griffith, Ethan Moehn and rising junior standouts Austen Dalquist and Alex George.
Dalquist and George were two of six Hogs who finished a race as Arkansas lead runner last season. 2015 first team All-SEC runners Dalquist found his stride at the Pre-National meet in Louisville while George opened strong in front of a home crowd at the Chile Pepper Festival.
In addition to its returners, Arkansas will have the help of NJCAA All-American Andrew Ronoh this season along with Texas cross country standout Carter Persyn.
A 2015 spring semester transfer, Ronoh capped his first track and field season as a Razorback as the second-fastest 10K performer in the NCAA with his time of 28 minutes, 36.20 seconds from the Payton Jordan Invitational.
"The goal in mind is to improve each year," Bucknam said. "Right now our focus is on one meet at a time. We're not focused on predictions and polls but producing results. Our guys know to tune out the noise and focus on going out there and proving it on the course."
2016 Cross Country Schedule
Thurs, Sept. 1 – Cowboy Duals (Stillwater, Okla.) 8:00 a.m.
Fri, Sept. 16 – Battle in Beantown (Boston, Mass.) 2:30 p.m.
Sat, Oct. 1 – Chile Pepper Festival (Agri Park) 9:45 a.m.
Sat, Oct. 15 – Pre-Nationals (Terre Haute, Ind.) 10:35 a.m.
Fri, Oct. 28 – SEC Championship (Agri Park) 10:00 a.m.
Fri, Nov. 11 – NCAA South Central Regional (Agri Park) 11:00 a.m.
Sat, Nov. 19 – NCAA Championship (Terre Haute, Ind.) 11:00 a.m.
Bold denotes a home event.
For more information on Arkansas Track and Field including in-meet updates, follow @RazorbackTF on Twitter.