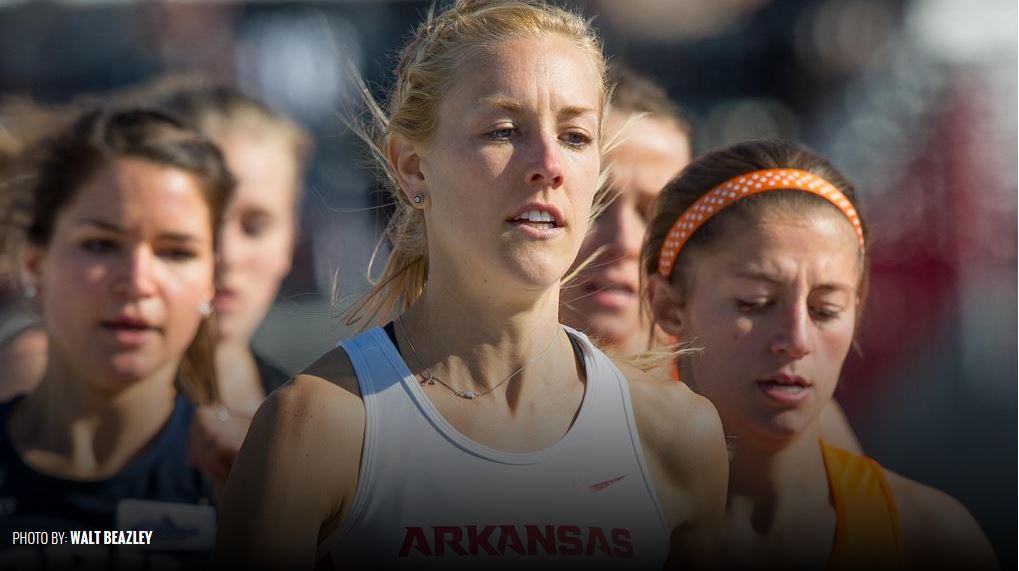 Three Wins, 10K Record on Day One of Stanford Invitational
PALO ALTO, Calif. – The No. 7 University of Arkansas women's track and field team completed day one of the Stanford Invitational Friday night with three wins and a school-record performance. The Razorbacks had first-place performances from Sandi Morris in the pole vault, Taliyah Brooks in the long jump and Rebekka Simko at 1,500 meters. In the last event of the night, Dominique Scott broke the program mark at 10,000 meters.
Dating back to the indoor season, Morris extended her winning streak to six meets with Friday's victory. She posted a final clearance of 4.45m/14-7.25 to lead a top-three sweep for Arkansas with teammates Ariel Voskamp and Desiree Freier in second and third, respectively. Morris went on to take three attempts at a would-be collegiate record of 4.62m/15-1.75, a height that would replace the current record of 4.61m/15-1.5 held by former Razorback standout Tina Sutej.
Brooks won the invitational section of the long jump with a wind-aided mark of 6.25m/20-6.25 in the fifth round. Teammate and fellow heptathlete Alex Gochenour had a day's best of 6.09m/19-11.75 to finish second in the event. Earlier in the day in the prelims of the 100-meter hurdles, both qualified for Saturday's event final. Arkansas' lone win on the track Friday came from Simko who turned in a time of 4:24.38 to win section four of the 1,500 meters.
In the final event of the night, Scott broke the 24-year-old school record with her time of 32:11.60 at 10,000 meters. She was the top collegiate performer in the race and finished fifth overall. Along with overtaking the previous school record of 32:58.20 (Claire Lavers, 1991), Scott eclipsed her old personal best of 33:51.84 she ran to win the 2014 SEC title. She now owns the school records at 5,000 and 10,000 meters.
Competition at the Stanford Invitational continues Saturday afternoon for the Razorback women. Arkansas is facing a strong field that includes ranked competition from No. 1 Texas A&M, host and No. 12 Stanford, No. 14 Oklahoma State, No. 15 Missouri and No. 22 Boise State. Live results from the meet can be found HERE. Coverage of the meet will also feature a web stream for purchase through Flotrack Pro.
Stanford Invitational, Day 1
Palo Alto, Calif. | Cobb Track and Angell Field
100 Meters (prelims)
3. Regine Williams – 11.82q (wind-aided, +2.8)
19. Shekara Boakye – 12.17
100 Meters (final)
9. Regine Williams – 12.11
400 Meters
2. Chrishuna Williams – 53.46
3. Daina Harper – 53.54
16. Regine Williams – 55.02
18. Sparkle McKnight – 55.17
1,500 Meters
(section 2)
5. Jessica Kamilos – 4:21.04
6. Diane Robison – 4:21.67
(section 4)
1. Rebekka Simko – 4:24.38
5,000 Meters
10. Regan Ward – 16:20.04
25. Valerie Reina – 17:11.50
10,000 Meters
(section 1)
5. Dominique Scott – 32:11.60 (SR) [previous: Claire Lavers – 32:58.2 (1991)]
(section 2)
24. Kaitlin Flattmann – 34:32.73
–. Samantha Mohler – DNF
100m Hurdles (prelims)
4. Alex Gochenour – 13.61q
6. Taliyah Brooks – 13.80q
19. Leigha Brown – 14.41
400m Hurdles
5. Sparkle McKnight – 1:00.22
9. Brianna Swinton – 1:00.95
3,000m Steeplechase
5. Shannon Klenke – 10:07.62
Pole Vault
1. Sandi Morris – 4.45m/14-7.25
2. Ariel Voskamp – 4.12m/13-6.25
3. Desiree Freier – 4.12m/13-6.25
Long Jump
(Invitational)
1. Taliyah Brooks – 6.25m/20-6.25w (+3.2)
2. Alex Gochenour – 6.09m/19-11.75w (+3.3)
14. Leigha Brown – 5.29m/17-4.25
(Collegiate)
4. Aatiyah Henry – 5.73m/18-9.75
Javelin
9. Amethyst Boyd – 43.89m/144-0
The Razorbacks' next home meet is scheduled for April 10-11 when they host the John McDonnell Invitational. For more information regarding purchasing tickets for home events, call 800-982-HOGS (4647), email raztk@uark.edu or visit the Razorback Ticket Center located just east of Baum Stadium. Along with the John McDonnell Invitational, the remaining home schedule also includes the Arkansas Twilight on May 1.
For more information on Arkansas track and field including in-meet updates, follow @RazorbackTF on Twitter.