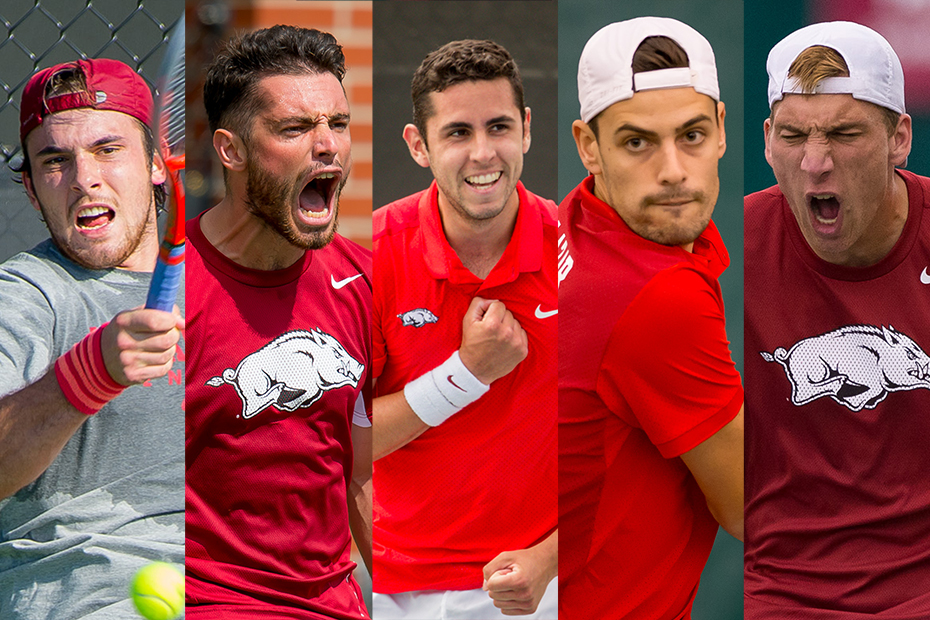 Top 5 Men's Tennis Moments Of 2016
In a 2016 season that saw the Arkansas men's tennis team reemerge as a national contender, we are counting down the top five moments from throughout the year.
HONORABLE MENTION
• Micolani racks up 10 straight singles victories
• Redlicki grabs Southeastern Conference awards
• Wrapping up a 7-3 road record at Vanderbilt
• Razorbacks qualify for NCAA Championships
• Arkansas peaks at No. 12 in national rankings
5. DEEP IN THE HEART OF TEXAS
WHAT A MATCH! #JACKSON6️⃣ GET THE W! pic.twitter.com/yjsBjLU3Ey

— Razorback Tennis (@RazorbackMTEN) March 24, 2016
With the team score tied 3-3 between No. 21 Arkansas and No. 19 Texas, the team match came down to one final set. David Herrerias pulled out the 7-6 (3), 2-6, 6-2 victory over Julian Zoblinsky at the No. 6 spot to secure the 4-3 win. It was only the Razorbacks' second win over the Longhorns since 1989.
4. RAZORBACKS ARE FOR REAL
STATEMENT WIN! #WoooPig pic.twitter.com/ROAch4deSl — Razorback Tennis (@RazorbackMTEN) February 28, 2016
Facing No. 10 Oklahoma on a Sunday afternoon, Arkansas got out to a 1-0 lead by winning the doubles point and never looked back, defeating the Sooners by a score of 5-2 and making a statement to the rest of the country. No. 82 Mike Redlicki defeated No. 63 Axel Alvarez Llamas 6-4, 7-6 (0) at the top singles spot, upending the 2015 ITA National College Player of the Year.
3. MUNOZ SEALS DEAL AT NCAA'S
SANTI DELIVERS FOR 🐗🎾!

Razorbacks are moving on thanks to a comeback 5-7, 6-3, 6-4 victory from the #gritty senior. pic.twitter.com/0mruOzQBu3

— Razorback Tennis (@RazorbackMTEN) May 14, 2016
In the first round of the 2016 NCAA Tournament, No. 19 Arkansas faced off against Wichita State in Stillwater, Oklahoma, and defeated the Shockers for the program's first postseason victory since 2006. Santiago Munoz capped the 4-2 team win with a 5-7, 6-3, 6-4 thriller against Jocelyn Devilliers at the No. 3 position.
2. ARKANSAS REWRITES HISTORY
Santi & the boys are PUMPED UP because 🐗🎾 just beat Ole Miss for the first time since… 1988! Can I get a #WPS?! pic.twitter.com/ZpqkwYSw8T — Razorback Tennis (@RazorbackMTEN) March 27, 2016
Only four days after upending No. 19 Texas, the No. 21 Razorbacks returned home to face Ole Miss at George M. Billingsley Tennis Center. Arkansas fought back after losing the doubles point with four singles victories to defeat the Rebels for the first time since 1988, by a score of 4-3. Santiago Munoz posted a 7-5, 3-6, 6-2 win over Filip Kraljevic for the clinching point.
1. COMEBACK WIN STUNS AGGIES
CALL THOSE HOGS! #NEVERYIELD pic.twitter.com/fhYN0NVcWZ

— Razorback Tennis (@RazorbackMTEN) March 12, 2016
After dropping the doubles point to No. 7 Texas A&M, the Razorbacks came back to take singles decisions from the No. 1-5 spots to defeat the Aggies by a score of 5-2. Jose Salazar earned the clinching point by defeating No. 34 Shane Vinsant 7-6 (5), 7-5 at the No. 2 spot. Coupled with a 5-2 win over LSU two days later, Arkansas jumped from No. 32 to No. 13 in the nation.
For more information on Razorback men's tennis, please follow @RazorbackMTEN on Twitter.