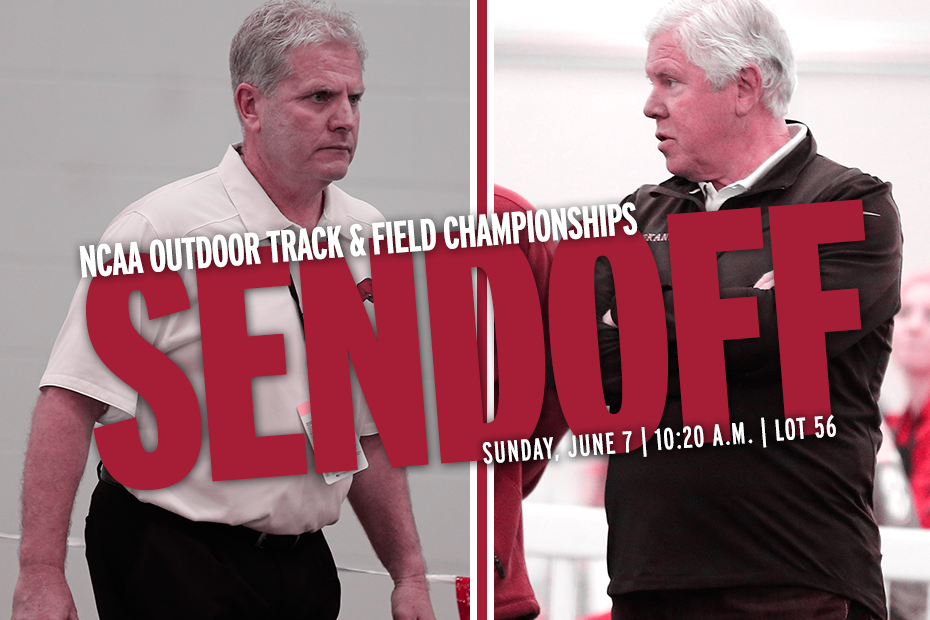 Top Ranked Razorbacks Head to the National Championships
FAYETTEVILLE, Ark. – Show your support for the Razorback Track & Field teams by being a part of a special send-off on SUNDAY at 10:20am.  The send-off will take place in Lot 56, close to the Razorback Soccer field.
The Razorbacks will be competing at the NCAA Outdoor Championships. The championships will be held Wednesday, June 10 through Saturday, June 13 in Eugene, Oregon.  Both programs head into the championships ranked in the top five nationally. The event will be featured on ESPN. This is the first time in the history of the meet that it will be broadcast live for all four days of competition. The broadcast schedule is available below.
Men's Performance List | Women's Performance List | Meet Schedule
Live Broadcast Schedule: (Central Standard Time)
| | | | | | | |
| --- | --- | --- | --- | --- | --- | --- |
| Wednesday | 06/10/2015 | 1:00 PM | Division I Outdoor Track and Field (Men's and Women's) Finals – Day 1 | ESPN3 | Live | |
| Wednesday | 06/10/2015 | 6:00 PM | Division I Outdoor Track and Field (Men's and Women's) Finals – Day 1 | ESPNU | Live | |
| Thursday | 06/11/2015 | 12:00 PM | Division I Outdoor Track and Field (Men's and Women's) Finals – Day 2 | ESPN3 | Live | |
| Thursday | 06/11/2015 | 6:00 PM | Division I Outdoor Track and Field (Men's and Women's) Finals – Day 2 | ESPNU | Live | |
| Thursday | 06/11/2015 | 7:30 PM | Division I Outdoor Track and Field (Men's and Women's) Finals – Day 2 | ESPN | Live | |
| Friday | 06/12/2015 | 6:00 PM | Division I Outdoor Track and Field (Men's and Women's) Finals – Day 3 | ESPN3 | Live | |
| Friday | 06/12/2015 | 6:30 PM | Division I Outdoor Track and Field (Men's and Women's) Finals – Day 3 | ESPN | Live | |
| Saturday | 06/13/2015 | 3:30 PM | Division I Outdoor Track and Field (Men's and Women's) Finals – Day 4 | ESPN3 | Live | |
| Saturday | 06/13/2015 | 4:00 PM | Division I Outdoor Track and Field (Men's and Women's) Finals – Day 4 | ESPN2 | Live | |
For more information on Arkansas track and field including in-meet updates, follow @RazorbackTF on Twitter