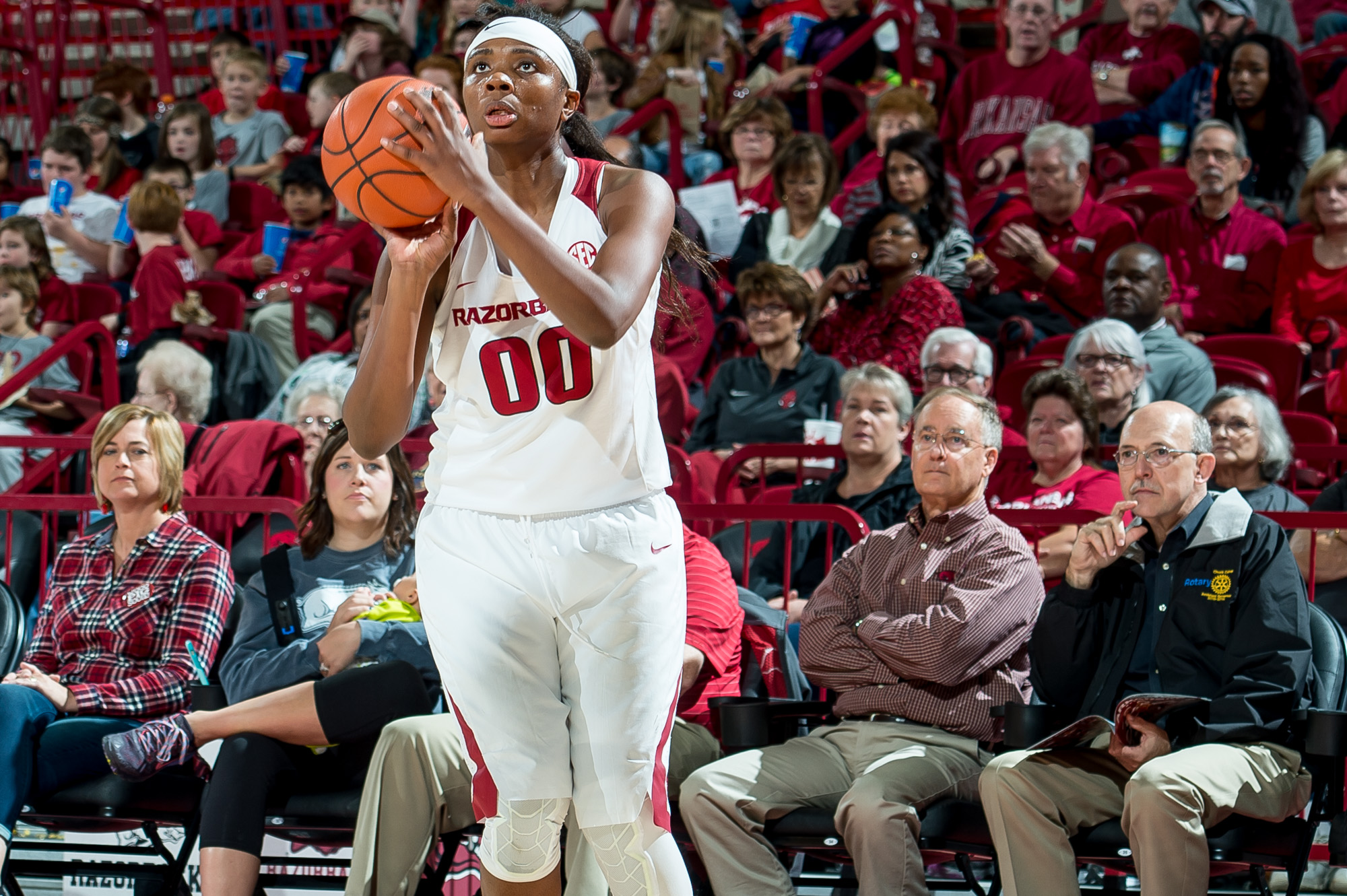 Tough Schedule Continues at Bud Walton Thursday
Arkansas Notes | Tickets | Promotions
FAYETTEVILLE, Ark. – The University of Arkansas women's basketball team (6-10, 1-2 SEC) continues Southeastern Conference play hosting No. 13/15 Tennessee (11-4, 2-1 SEC) in an 8 p.m. match-up Thursday on the SEC Network.
Tip Time: Thursday, Jan. 14 at 8:05 p.m. CT
Location: Fayetteville, Arkansas in Bud Walton Arena
TV: SEC Network | WatchESPN
The Razorbacks continue through one of the toughest starts to a conference schedule facing the fourth of five consecutive opponents from the Associated Press Top-25. Arkansas is the only program from the Big Five Conferences to start with five ranked teams in league play this year.
Junior Jessica Jackson will be expected to carry a significant part of the scoring load again for Arkansas. The Jacksonville, Arkansas, native leads the team and ranks fourth in the SEC in scoring averaging 17.0 points per game. Senior Melissa Wolff continues to dominate play on the boards. She ranks ninth in the SEC with 7.7 rebounds per game and has helped Arkansas tie or out-rebound 11 of its 16 opponents this season.
Juniors Kelsey Brooks and Khadijah West continue to see their minutes expand as the season continues. Brooks has been slowed by an injury but has made some key contributions in recent games. West has steadily improved all year and had a big defensive game at No. 7/6 Mississippi State in Arkansas' most recent contest.
NOTES
• Arkansas has outscored six opponents in the first half – all wins by the Razorbacks
• Arkansas has outscored or been even with eight opponents in the second half
• Arkansas has had more three pointers in three games and tied one opponent this year
• Arkansas has been tied with or out-rebounded 11 of 16 opponents
• Arkansas has had fewer turnovers in 10 of 16 games this year
• The combination of Jessica Jackson, Kelsey Brooks, Devin Cosper, Melissa Wolff and Alecia Cooley have played a team-high 43:38 minutes together
o This combination has scored 81 pints – the most of any combo for Arkansas
o Jackson, Devin Cosper, Wolff, Cooley and Jordan Danberry are a close second with 43:33 minutes played together
o Jackson, Cosper, Wolff, Cooley and Malica Monk have played 41:03 minutes together – no other combination is more than 27 minutes played together
• Jackson has scored in double figures in 13 of her 15 games
o She has six 20+ point games
o She has 10 with 15+ points
o She has three double-digit rebounding games
o Three double-doubles
UP NEXT
• Jan. 17 Missouri (We Back Pat) 2 p.m.
• Jan. 21 at LSU 7 p.m.
• Jan. 24 at Auburn 3 p.m.
• Jan. 28 Florida 7 p.m.
• Jan. 31 Mississippi State 2 p.m.
UPCOMING PROMOTIONS
Thursday, Jan 14th | Tennessee | 8 p.m.
• Russian Bar Trio- Americas Got Talent Finalist the Russian Bar Trio will perform at halftime.
• Rec League Night- All local youth basketball teams are invited to attend. Please email crm008@uark.edu for more information.
Sunday, Jan. 17th | Missouri | 2 p.m.
• Pack The House Challenge- Dollar Day- all tickets are $1. Fans will receive $1 admission.
• Sunday Funday- Kids 12 and under receive complimentary admission with a paying adult.
• We Back Pat game – please wear purple in support of Alzheimer's awareness
Thursday, Jan. 28th | Florida | 7 p.m.
• Student Appreciation Night- Students will have the chance to win prizes throughout the night via Social Media
• Faculty and Staff Appreciation- All UA Faculty and staff will receive complimentary admission for (2) with the showing of valid UA ID.
• Flight Giveaway- One fan and one student will win a round trip ticket to anywhere in the continental United States.
Sunday, Jan. 31st | Mississippi State | 2 p.m.
• Junior Spirit Day- Girls of all ages will participate in a cheer/pom clinic pregame and then perform routine during halftime.
• Diaper Derby- Local babies 18 months and under will participate in the 2nd annual Diaper Derby during Halftime.
For more information on Arkansas women's basketball, follow @RazorbackWBB on Twitter.