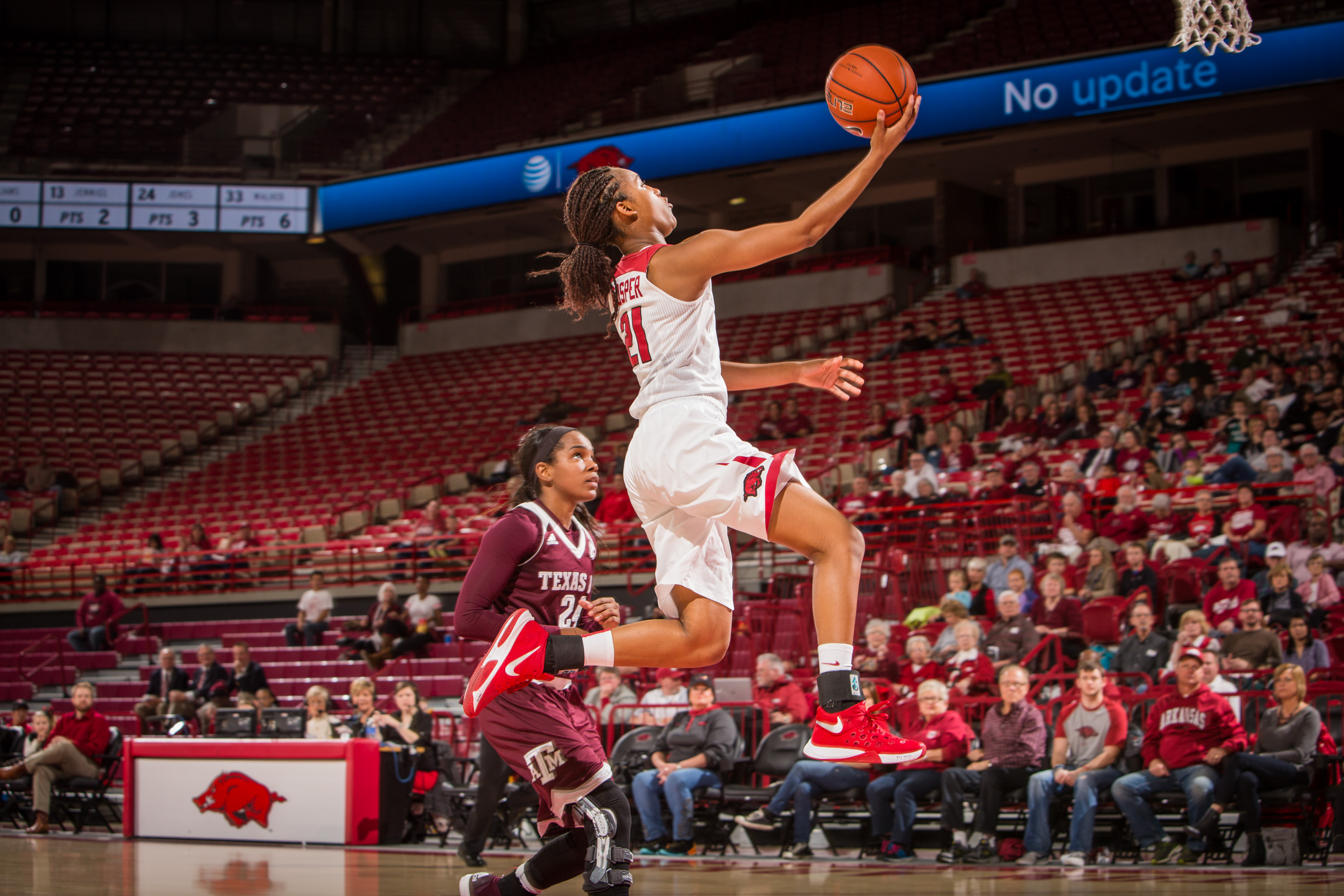 Tough Schedule Continues For W. Basketball
ARKANSAS GAME NOTES
FAYETTEVILLE, Ark. – The University of Arkansas women's basketball team took less than 24 hours to celebrate a big Southeastern Conference win over No. 13/10 Texas A&M before beginning prep for No. 7/6 Mississippi State this week.
The Razorbacks (6-9, 1-1 SEC) continue with conference action and are in the midst of what is arguably the toughest conference start for any team in the country this year facing five consecutive nationally-ranked opponents. Arkansas travels to Mississippi State Sunday in a 2 p.m. tip on the SEC Network Plus.
THE GAME
Arkansas at No. 7/6 Mississippi State
Location: Humphries Coliseum | Starkville, Mississippi
TV: SEC Network Plus | http://es.pn/1ktILoG
When: Sunday, Jan. 10, 2016 | 2 p.m.
Series: Arkansas leads 18-15
The Razorbacks picked up a big SEC win with a 67-61 victory over the Aggies Thursday but must put that win behind them as they look ahead to a very good Mississippi State team.
FROM JIMMY DYKES
Individual games don't define our season. We are back in the gym working to get better and to get ready for Mississippi State. The challenges in this league are relentless and we have to continue to look ahead at the next opportunity. Our non-conference schedule is paying off in that we don't have any fear in facing the best teams in our league. The win (over Texas A&M) is just one step in building our program into a team that is consistently nationally competitive.
ARKANSAS NOTES
• Arkansas has been even with or out-rebounded 11 of 15 opponents this year
• Arkansas has held 12 of 15 opponents at or below their current scoring average
• Arkansas has won the turnover battle in 10 games this year
• Arkansas is the fifth youngest team in terms of returning scholarship players under the current head coach
• Junior Jessica Jackson has scored in double figures in 12 of the 14 games she has played in this season
• Senior Melissa Wolff is the only player to have 20 rebounds in the SEC this season and, as a result, the only SEC player this season with 20 and 20
• Sophomore Devin Cosper has scored in double figures in seven games this year including seven of her last nine games
• Jessica Jackson ranks fifth in the SEC among active scoring leaders with 1,197 career points
• Jessica Jackson and Melissa Wolff rank tied for fourth and seventh, respectively, in the SEC among active blocks leaders
• Wolff and Jackson rank sixth and 11th, respectively, among career rebounding leaders in the SEC
• Arkansas opens the SEC season facing five ranked teams in the Associated Press Poll
For more information on Arkansas women's basketball, follow @RazorbackWBB on Twitter.