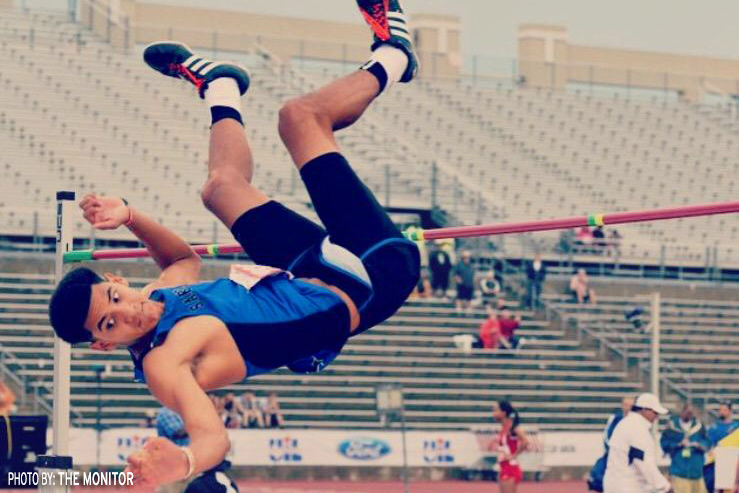 Track Capital #NewHogs Summer Series: Brendon Rivera
FAYETTEVILLE, Ark. – 2015 Texas 5A high jump state champion Brendon Rivera had no doubt in his mind that the University of Arkansas was the place for him when he signed his NLI in the fall of 2014.
Recognized as one of the best high school high jumpers in the country for the last two years, Rivera sought a school where he could develop his abilities as an individual and win championships as a team. His final top three choices included the University of Houston and the University of Texas.
"I chose The University of Arkansas because I felt like I was at home," said Rivera. "It is a great school that houses a national championship caliber track and field team and I know they can help me pursue my Olympic dream."
Introduced to the sport at an early age, Rivera credits a family member for encouraging him to buckle down and focus on developing his skills. From 2013 to 2014 his career best increased by almost one foot progressing from 1.93m/6-4 to 2.20m/7-3.
"My mom convinced me to start taking the sport seriously during my sophomore year of high school," Rivera said. "She saw that I had potential in the event and saw that I had a big opportunity in front of me."
Most recently the Vela high school graduate finished in sixth place with 2.14m/7-0.25 at the USATF Junior Outdoor Championships in a field made up mostly of collegians. The mark was Rivera's second seven foot clearance of the season and the fourth of his career.
"Being a Razorback is unbelievable to me," said Rivera. "I feel blessed to know that I can be an example and give a sense of hope to younger kids because where I'm from not a lot of kids get the opportunity I was given."
Brendon Rivera At-A-Glance
Hometown: Edinburg, Texas
High School: Robert Vela High School
| | | |
| --- | --- | --- |
| EVENT | MEET | TIME/MARK (PR) |
| High Jump | TAAF Games of Texas (8/3/14) | 2.20m/7-3 |
| | Rio Grande City Ramirez Relays (3/20/15) | 2.18m/7-2 |
| | USATF Outdoor National Junior Olympics (7/27/14) | 2.14m/7-0.5 |
| | USATF Junior Outdoor (6/27/15) | 2.14m/7-0.25 |
For more information on Arkansas track and field including in-meet updates, follow @RazorbackTF on Twitter.