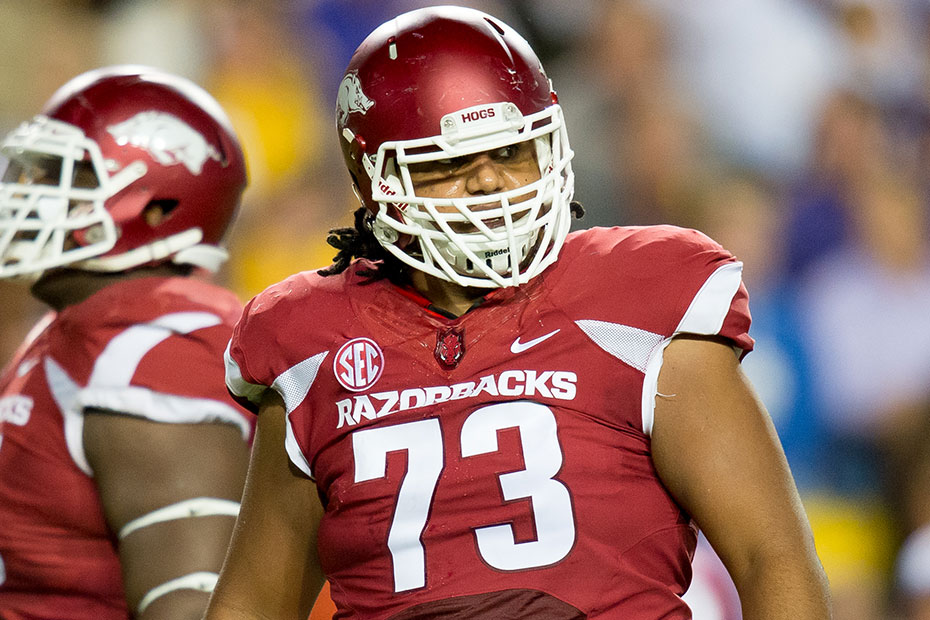 Trench Hogs Garner National Attention
NEW YORK, N.Y. – Following a 31-14 win at No. 9 LSU and another solid performance in the trenches, Arkansas' offensive line was named one of 20 semifinalists for the 2015 Joe Moore Award, announced Monday. The award is given to the top offensive line unit in college football.
Under head coach Bret Bielema and offensive line coach Sam Pittman, the Razorback offensive line has become one of the SEC's best pass blocking units. The five-man front ranks second in the SEC with just 11 sacks allowed and has led the conference in that statistic in each of the past two seasons.
Weighing in at over a combined 1,600 pounds, Coach Pittman's unit is the largest in the nation and has paved the way for the Razorback rushing attack this season. Arkansas has rushed for more than 200 yards a league-high five times in six SEC contests and ranks second in rushing yards (204.3) per game in conference play. The Razorbacks also lead the SEC in scoring in conference games at 32.3 points per contest and are second in total offense.
The #TrenchHogs have also helped the Razorbacks rank fifth nationally in time of possession (33:43), sixth nationally in tackles for loss allowed per game (4.1) and 21st nationally in average yards per rushing attempt (5.22) this season.
The five Joe Moore Award finalists will be named on Monday, Nov. 30 and the winner will be announced the week of Dec. 7.
The honor is named after Joe Moore, widely regarded as one of the best offensive line coaches in college football history, and is the only major college football award to honor a unit. The award will annually recognize the nation's Most Outstanding Offensive Line Unit that best displays toughness, effort, teamwork, physicality, tone setting and finishing. The voting committee is comprised solely of people who played or coached the position, including all of the current offensive line coaches at the Division I/FBS level as well as former players, coaches, colleagues of Coach Moore and select media.
Arkansas returns to Donald W. Reynolds Razorback Stadium for its final two games of the regular season starting with No. 25 Mississippi State on Saturday. Game time is scheduled for 6 p.m. on ESPN.
Tickets are still available for Saturday's game against Mississippi State and can be purchased on ArkansasRazorbacks.com or by calling 1-800-982-HOGS.