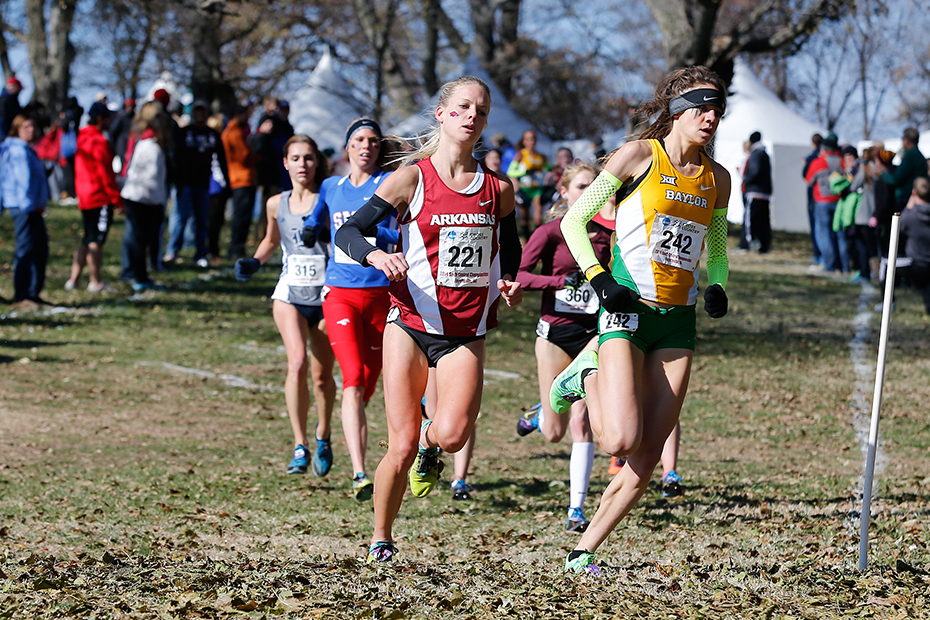 Twice is Nice for Clark and Scott
FAYETTEVILLE, Ark. – University of Arkansas women's cross country runners Devin Clark and Dominique Scott swept the SEC Weekly honors as Clark earned the Freshman Runner of the Week while Scott pulled in her second Runner of the Week award in share with Karis Jochen of Texas A&M.
This is the second SEC accolade for Clark this year but her first award within the freshman category. Clark was previously selected as the SEC Runner of the Week in mid-September following her second-place finish at the UC Riverside 6K Invitational.
Through two meets this year Scott has perfect record in SEC weekly awards. She received her first of the 2015 season after winning the Chile Pepper Festival by over 20 seconds in her first race of the year. This honor marks the seventh within cross country of her awe-inspiring career.
Arkansas' top two at Wisconsin, Clark and Scott combined for 21 points assisting in keeping the team total low to secure the Razorbacks a second-place finish behind No. 1 New Mexico. Scott was only 10 seconds away from her 6K personal best of 19:22.74 in her first attempt at that distance this year while Clark clocked a new PR of 20:07.30 giving the freshman a top-10 spot on Arkansas' 6K All-Time Best list.
The Razorbacks will kick off championships season on the Watts Cross Country course in College Station, Texas on Friday, Oct. 30 at the SEC Championships.
.
Wisconsin adidas Invite 6K Results
1. Dominique Scott (3) – 19:32.50
2. Devin Clark (18) – 20:07.30
3. Kaitlin Flattmann (43) – 20:28.00
4. Kelsey Schrader (46) – 20:28.70
5. Regan Ward (78) – 20:46.70
6. Valerie Reina (133) – 21:18.90
7. Safee Belbina (216) – 22:11.30
2015 Arkansas Cross Country Schedule
Tuesday, Sept. 1, Oklahoma State Duals | Stillwater, Okla. | 2nd of 4
Saturday, Sept. 12, UC Riverside Invitational | Riverside, Calif. | 1st of 15 – 6K, 1st of 17 – 5K
Saturday, Sept. 19, Missouri Southern Stampede | Joplin, Mo. | 1st of 25
Saturday, Oct. 3, Chile Pepper Festival | Fayetteville, Ark. | 1st of 17
Friday, Oct. 16, Wisconsin adidas Invitational | Madison, Wis. | 2nd of 36
Friday, Oct. 30, SEC Championships | College Station, Texas
Friday, Nov. 13, NCAA South Central Regional | College Station, Texas
Saturday, Nov. 21, NCAA Championships | Louisville, Ky.
For more information on Arkansas track and field including in-meet updates, follow @RazorbackTF on Twitter.