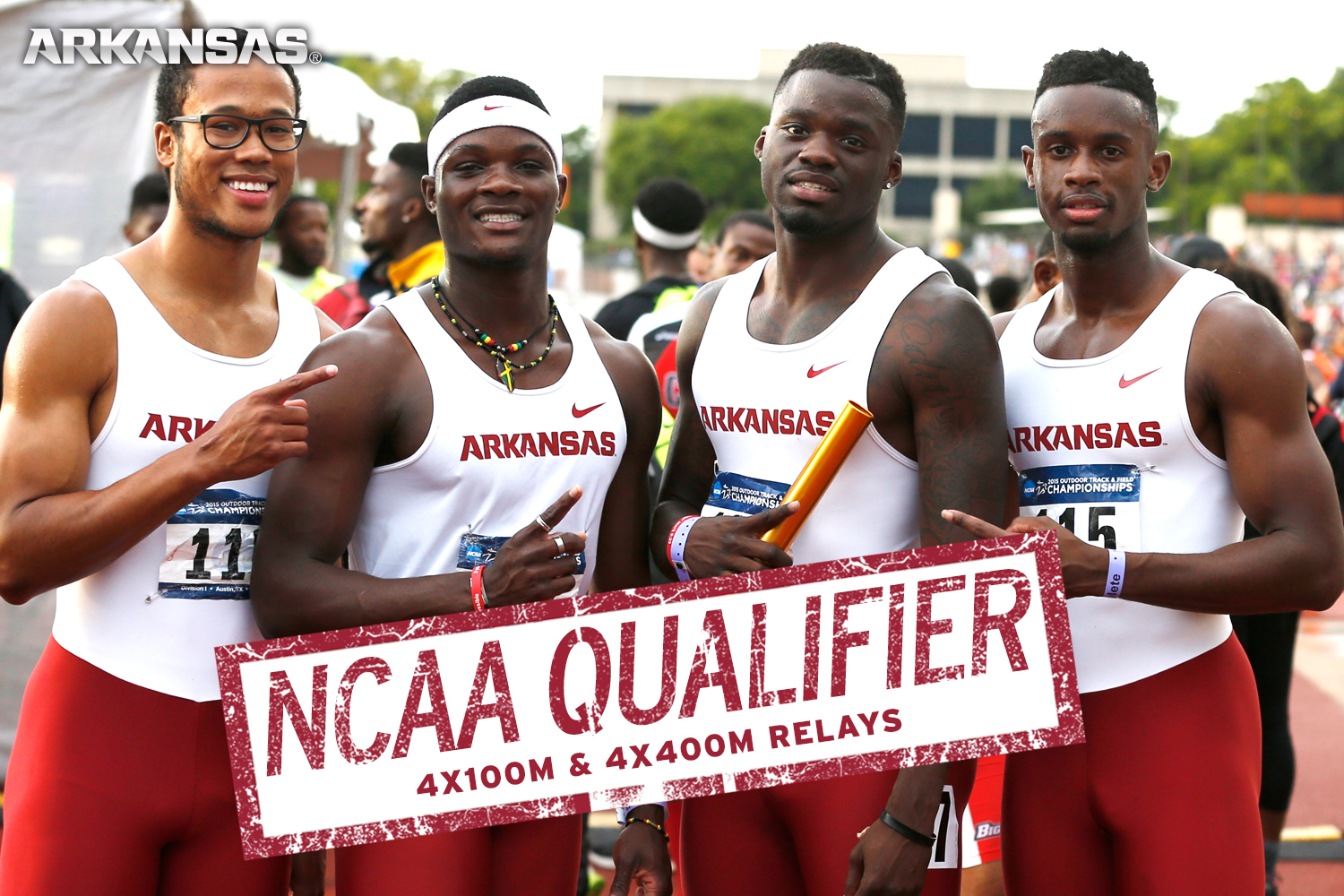 No. 6 Razorbacks Collect 10 #NCAATF Qualifiers
AUSTIN, Texas – The No. 6 University of Arkansas men's track and field team racked up nine national qualifiers over the three-day NCAA West Preliminary which came to a close Saturday at Mike A. Myers Stadium. Combined with the entry in the decathlon, the Razorbacks have collected 10 national qualifiers for the NCAA Championships which will be contested June 10-13 at Hayward Field in Eugene, Ore.
#NCAATF Qualifiers
Kemoy Campbell – 5,000 meters
Nathanael Franks – decathlon
Stanley Kebenei – 3,000m steepelchase
Jarrion Lawson – 100 meters
Jarrion Lawson – long jump
Omar McLeod – 110m hurdles
Ken LeGassey – high jump
Clive Pullen – triple jump
Omar McLeod/Jarrion Lawson/Kenzo Cotton/Marqueze Washington – 4x100m Relay
Kenzo Cotton/Jarrion Lawson/Omar McLeod/Marqueze Washington – 4x400m Relay
In the first track event of the evening, the 4×100-meter relay team of Omar McLeod, Jarrion Lawson, Kenzo Cotton and Marqueze Washington combined for an NCAA-leading time of 38.66 to break the school record. The same group returned to the track in the 4×400-meter relay to post a season-best time of 3:04.06 to clinch Arkansas' second relay qualifier of the day. The team's 4×400-meter time represents the No. 8 mark in program history.
McLeod registered an individual qualifying performance in the 110-meter hurdles to advance to the national meet. Just .01 off his own school record, the Razorback sophomore crossed the finish line in 13.22 to secure his second-consecutive NCAA appearance in the event. McLeod's time is tied for the 10th-fastest performance in collegiate history, just behind his 13.21 showing at the Drake Relays in April.
Kemoy Campbell ran to an automatic qualifier at 5,000 meters, finishing third overall with a time of 13:50.90 to advance to Eugene for the second time in the event. In his first season at Arkansas, Campbell finished in fifth place at 5,000 meters at the 2013 NCAA Championships. He will carry the national leader into this year's meet with his 13:20.39 performance at the Payton Jordan Invitational in early May.
While his teammates were turning in qualifying results on the track, Clive Pullen advanced to his first NCAA Outdoor meet with a seventh-place finish in triple jump. The Razorback sophomore finished the preliminary round with a day's best mark of 15.71m/51-6.5 to move on to Eugene. Pullen has a season-best of 16.16m/53-0.25 from the SEC Championships.
2015 NCAA West Preliminary | Day 3
Mike A. Myers Stadium
Austin, Texas
5,000 Meters (semifinal)
3. Kemoy Campbell – 13:50.90Q
110m Hurdles (quarterfinal)
1. Omar McLeod – 13.22Q
4x100m Relay (quarterfinal)
1. McLeod/Lawson/Cotton/Washington – 38.66Q [SR – previous: 38.81, Cleary/Haley/Conley/Spearmon, Sr. – 1985]
4x400m Relay (quarterfinal)
4. Cotton/Lawson/McLeod/Washington – 3:04.06Q
Pole Vault (first round)
–. Andrew Irwin – NH
Triple Jump (first round)
7. Clive Pullen – 15.71m/51-6.5Q
30. Rubin Owens – 14.95m/49-0.75
Q – national qualifier
For more information on Arkansas track and field including in-meet updates, follow @RazorbackTF on Twitter.