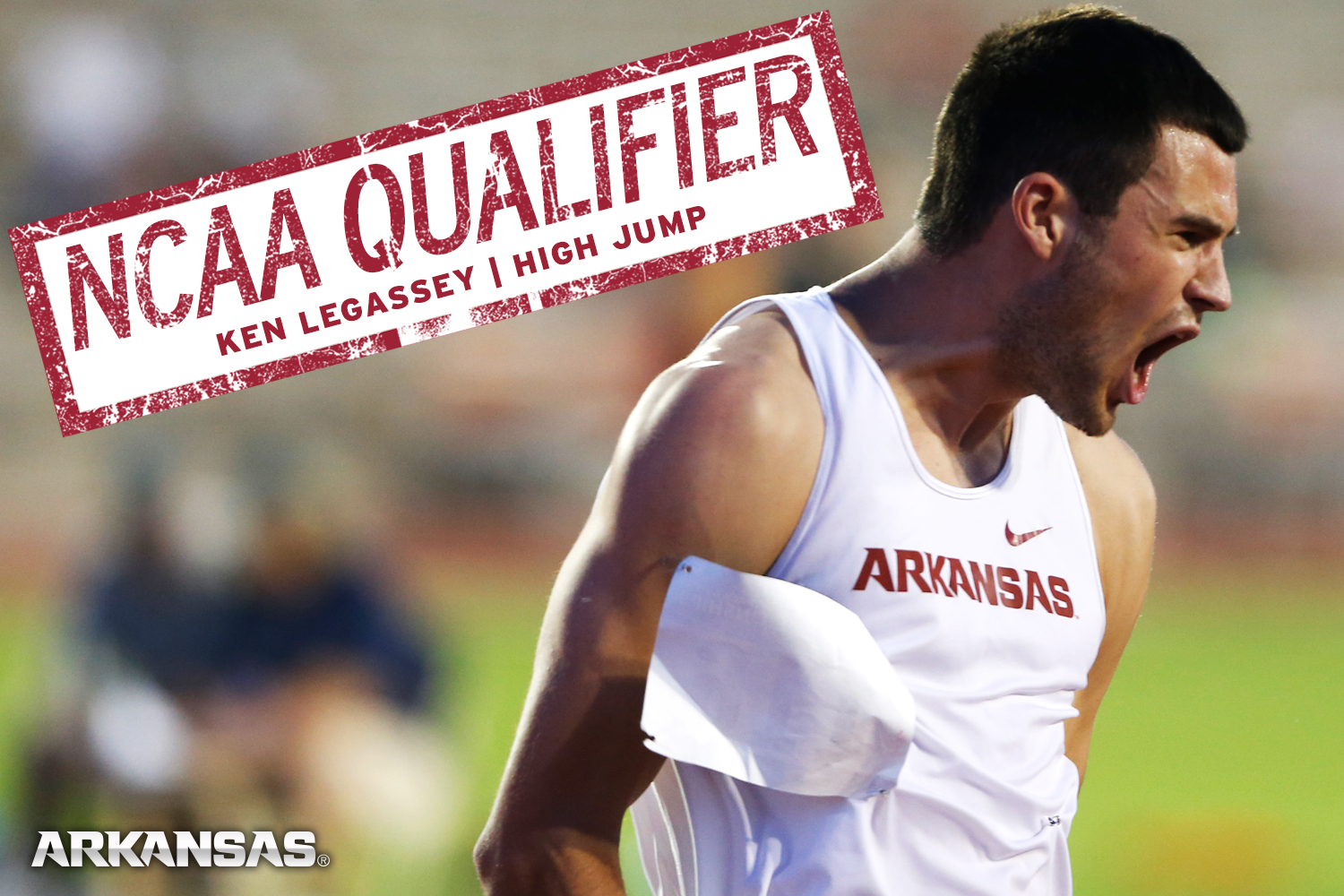 Lawson, LeGassey Qualify for NCAA Championships
Live Results | Meet Schedule | Start Lists
AUSTIN, Texas – The No. 6 University of Arkansas men's track and field team secured a pair of national qualifiers on day one of the NCAA West Preliminary. The Razorbacks will be represented by Jarrion Lawson and Ken LeGassey in the long jump and high jump, respectively, at the NCAA Championships in Eugene, Ore. Along with his showing in the long jump, Lawson advanced to the quarterfinal round of the 100 meters.
In his first of two events Thursday, Lawson qualified for in the long jump. On his first attempt, the Razorback junior posted a mark of 7.96m/26-1.5 which stood up for fourth place overall. Lawson passed on his final two attempts to prepare for the first round of the 100 meters where he posted a wind-aided time to 10.15 to move on to Friday's quarterfinal heats. He will run for his second NCAA spot at 6:45 p.m. (CT). Lawson is also scheduled to run with the Razorbacks' 4×100- and 4×400-meter relays Saturday.
LeGassey advances to the NCAA Outdoor Championships for the second-consecutive season with Thursday's personal-best clearance of 2.20m/7-2.5. Down to his final attempt at the height, he cleared the bar to secure a spot at the national meet. The jump also moves LeGassey to No. 9 on the program's all-time performance list. He was one of seven jumpers over at 7-2.5 with the remaining five spots determined by a jump-off.
The Razorbacks are slated for competition in four events Friday with four more opportunities to advance to Eugene for the NCAA Championships. In addition to Lawson, the team will have Stanley Kebenei and Frankline Tonui in the 3,000-meter steeplechase and Devin Randall in the shot put. Day two will also feature Omar McLeod running in the first round of the 110-meter hurdles.
2015 NCAA West Preliminary | Day 1
Mike A. Myers Stadium
Austin, Texas
100 Meters (first round)
13. Jarrion Lawson – 10.15wq (+2.1)
10,000 Meters (semifinal)
–. Kemoy Campbell – DNF
High Jump (first round)
7. Ken LeGassey – 2.20m/7-2.5Q
Long Jump (first round)
4. Jarrion Lawson – 7.96m/26-1.5Q
Discus (first round)
44. Devin Randall – 48.18m/158-1
#NCAAD1W Day 2 Schedule
5:30 p.m. | 110m Hurdles (first round) – Omar McLeod
6 p.m. | Shot Put (first round) – Devin Randall
6:45 p.m. | 100 Meters (quarterfinals) – Jarrion Lawson
9:30 p.m. | 3,000m Steeplechase (quarterfinal) – Stanley Kebenei, Frankline Tonui
For more information on Arkansas track and field including in-meet updates, follow @RazorbackTF on Twitter.