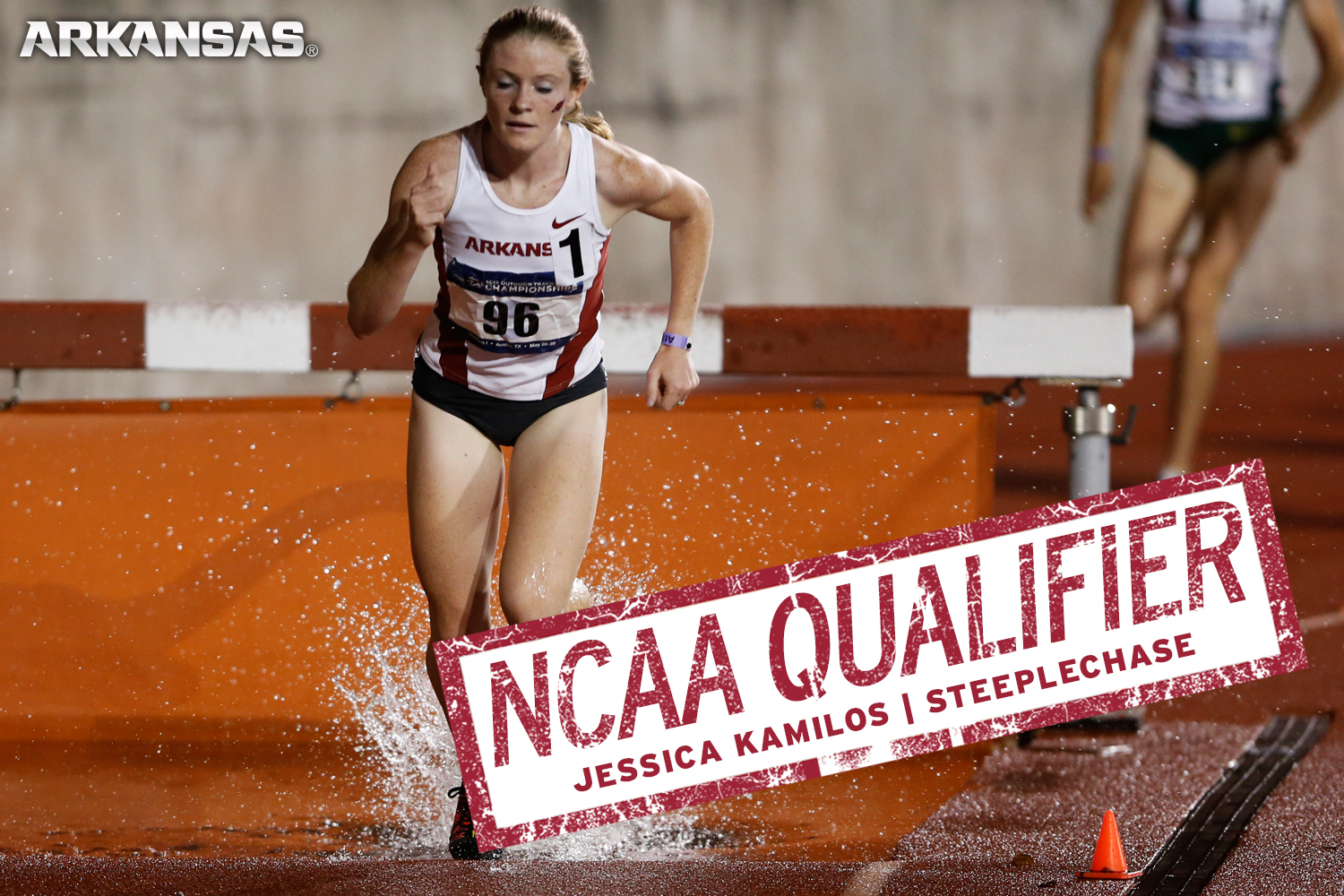 No. 2 Razorbacks Collect Eight #NCAATF Qualifiers Friday
Live Results | Meet Schedule | Start Lists: Track Events • Field Events
AUSTIN, Texas – The No. 2 University of Arkansas women's track and field team racked up eight national qualifiers on day two of the NCAA West Preliminary at Mike A. Myers Stadium in Austin. The Razorbacks have now collected 10 NCAA qualifiers over the first two days of the preliminary meet. Arkansas has eight additional qualifying chances Saturday which begins at 5 p.m. (CT) with the javelin.
#NCAATF Qualifiers
Taliyah Brooks – heptathlon
Taylor Ellis-Watson – 400 meters
Desiree Freier – pole vault
Alex Gochenour – heptathhlon
Jessica Kamilos – 3,000m steeplechase
Shannon Klenke – 3,000m steeplechase
Sandi Morris – pole vault
Diane Robison – 10,000 meters
Dominique Scott – 10,000 meters
Rebekka Simko – 800 meters
Ariel Voskamp – pole vault
Chrishuna Williams – 800 meters
Jessica Kamilos and Shannon Klenke closed out day two with a pair of qualifying efforts in the 3,000-meter steeplechase. Kamilos secured an automatic qualifier by finishing second in 10:02.60 in heat three while Klenke had to wait to see if her time from the opening heat would stand up. When all heats were completed, Klenke's time of 10:12.05 was good enough to grab the final spot to Eugene.
In their first event of the day, the Razorbacks collected three national qualifiers in the pole vault behind the efforts of Sandi Morris, Desiree Freier and Ariel Voskamp. All three cleared 4.24m/13-11 on first attempts to reserve their NCAA spots in Eugene. Morris needed just one jump to qualify, Freier was 4-for-4 during the competition while Voskamp used a third-attempt clearance at 13-7 to stay alive in the competition.
Taylor Ellis-Watson was Arkansas' first qualifier on the track by winning her quarterfinal heat in 51.52 to advance. She will be making her second-consecutive appearance at the NCAA Championships at 400 meters. Ellis-Watson is scheduled to be on the track Saturday evening as part of the Razorbacks' 4×400-meter relay team. The quarterfinal heats of the relays are slated to start at 9:25 p.m. (CT).
The momentum carried over to 800 meters where Rebekka Simko and Chrishuna Williams both qualified for the national meet. Using a late kick over the final 100 meters, Simko crossed the finish line in a personal-best time of 2:03.57 which also stands as the No. 4 time in school history. Williams is making her first individual appearance at the national meet; she is a past NCAA champion with the 4×400-meter relay team in 2013.
Arkansas picked up a pair of quarterfinalists in the 100-meter hurdles with multi-event standouts Taliyah Brooks and Alex Gochenour. Brooks was the sixth-fastest performer in the opening round with a wind-aided time of 13.12 while Gochenour crossed in 13.44. Having already qualified for the national meet in the heptathlon, the Razorback duo will run for another spot Saturday at 7:05 p.m.
2015 NCAA West Preliminary | Day 2
Mike A. Myers Stadium
Austin, Texas
400 Meters (quarterfinal)
3. Taylor Ellis-Watson – 51.52Q
800 Meters (quarterfinal)
2. Rebekka Simko – 2:03.57Q
5. Chrishuna Williams – 2:03.81Q
100m Hurdles (first round)
6. Taliyah Brooks – 13.12wq (+2.8)
21. Alex Gochenour – 13:44wq (+3.0)
3,000m Steeplechase (quarterfinal)
8. Jessica Kamilos – 10:02.60
11. Shannon Klenke – 10:12.05
16. Regan Ward – 10:25.47
High Jump (first round)
33. Alex Gochenour – 1.68m/5-6
40. Taliyah Brooks – 1.68m/5-6
Q – advancing to NCAA Championships; q – advancing to quarterfinal
#NCAAD1W Day 3 Schedule
5 p.m. | Javelin (first round) – Amethyst Boyd
6:30 p.m. | 1,500 Meters (quarterfinal) – Therese Haiss
7:05 p.m. | 100m Hurdles (quarterfinal) – Taliyah Brooks, Alex Gochenour
8:05 p.m. | 5,000 Meters (semifinal) – Dominique Scott, Diane Robison, Valerie Reina
9:25 p.m. | 4x400m Relay (quarterfinal)
For more information on Arkansas track and field including in-meet updates, follow @RazorbackTF on Twitter.