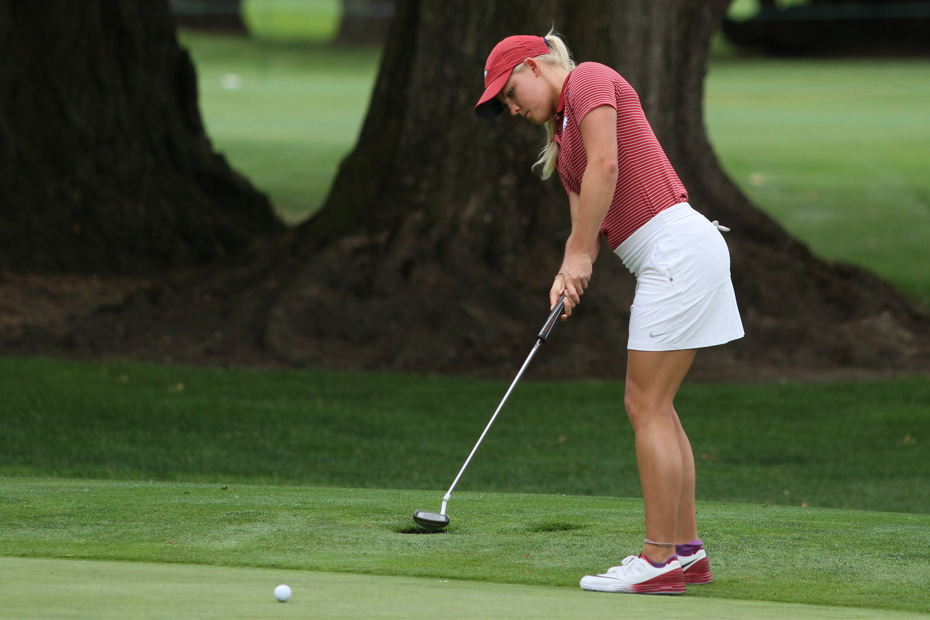 Uriell Under Par for Razorbacks
Results | Golfweek Photo Gallery | Arkansas Photo Gallery
EUGENE, Ore. – University of Arkansas women's golfer Alana Uriell likes the postseason. The Razorback sophomore fired an opening round two-under 37-33 — 70 leading No. 11 Arkansas to a tie for sixth place after day one action at the 2016 NCAA Women's Golf Championship in Eugene, Oregon, on Friday.
Uriell, who also paced the Razorbacks at the NCAA Regional in Palo Alto, California, last weekend posted 11 consecutive par holes on the par 71, 6,331-yard course. She birdied No. 12 and No. 15 helping Arkansas to a four-over 292. Just 17 strokes separate the 24 teams in the field with three rounds of stroke play remaining.
The top 15 teams after three rounds move on to a fourth round of stroke play to determine the individual winner. The top eight teams after the fourth round move on to match play as the championship continues.
Senior Regina Plasencia and freshman Cara Gorlei were both one-over and are tied for 39th overall. Plasencia was up-and-down on the front nine and finished with a bogey on No. 13 and a birdie on No. 16 shooting 38-35 — 73.
Gorlei also finished strong with a pair of birdies on the back nine shooting 40-33 — 73.
Junior Summar Roachell is tied for 85th opening with a four-over 40-36 — 76 and freshman Maria Fassi rounds out the Razorback scoring, shooting 38-40 — 78. Fassi is tied for 111th.
The Field
| | | | |
| --- | --- | --- | --- |
| 1 | No. 5 Oklahoma State | 284 | -4 |
| 2 | No. 3 UCLA | 286 | -2 |
| T3 | No. 13 Washington | 289 | +1 |
| T3 | No. 2 Southern California | 289 | +1 |
| 5 | No. 10 Arizona | 291 | +3 |
| T6 | No. 7 Northwestern | 292 | +4 |
| T6 | No. 11 ARKANSAS | 292 | +4 |
| T8 | No. 15 Virginia | 293 | +5 |
| T8 | No. 25 Ohio State | 293 | +5 |
| T8 | No. 18 South Carolina | 293 | +5 |
| 11 | No. 26 BYU | 294 | +6 |
| T12 | No. 12 Stanford | 295 | +7 |
| T12 | No. 16 Florida State | 295 | +7 |
| 14 | No. 47 Michigan | 296 | +8 |
| T15 | No. 21 Tennessee | 297 | +9 |
| T15 | No. 4 Florida | 297 | +9 |
| T15 | No. 20 Oregon | 297 | +7 |
| T18 | No. 28 North Carolina | 298 | +10 |
| T18 | No. 19 Furman | 298 | +10 |
| T18 | No. 6 Georgia | 298 | +10 |
| T21 | No. 33 Miami | 299 | +11 |
| T21 | No. 5 Duke | 299 | +11 |
| 23 | No. 1 Alabama | 300 | +12 |
| 24 | No. 24 Texas | 301 | +13 |
@RazorbackWGolf Scores
T6
Arkansas
292
292
T11
Alana Uriell (2)
37-33 — 70
T39
Regina Plasencia (3)
38-35 — 73
T39
Cara Gorlei (5)
40-33 — 73
T85
Summar Roachell (4)
40-36 — 76
T111
Maria Fassi (1)
38-40 — 78