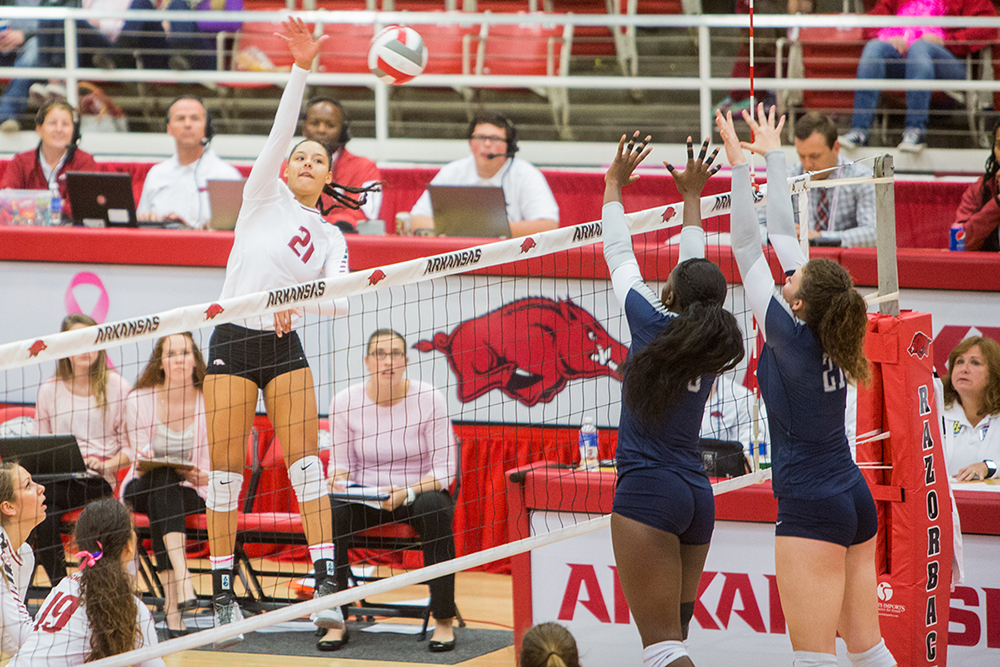 Victoria Leads Volleyball in NCAA Stat Rankings
FAYETTEVILLE, Ark. – Through the first eight weekends of its 2015 campaign, the University of Arkansas volleyball team continues to be represented among the NCAA statistical leaders, paced by a pair of top-10 rankings for junior Pilar Victoria. Additionally, the Razorbacks are mentioned among the nation's top teams and are receiving votes in the most recent AVCA national poll for a fifth-consecutive week.
On the strength of a recent hot streak including Sunday's 35-kill performance against Ole Miss, Victoria has risen to eighth in the NCAA with 4.77 kills per set. She also ranks eighth among the nation's attackers with 5.31 points per set. Victoria leads the SEC in both categories. Over her last two matches, she has totaled 61 kills with 6.78 kills per set and a .313 hitting percentage. Victoria has 11 matches this season with 16 or more kills including six 20-kill efforts and two 30-kill showings.
The Razorbacks are also represented nationally by senior Chanell Clark-Bibbs who ranks 37th in the NCAA with her .390 hitting percentage. She has hit .300 or higher in 16 of 18 matches this season including marks of .474 and .407 in her last two matches against Tennessee and Ole Miss, respectively. Within the SEC, Clark-Bibbs is ranked among the top 10 in three statistical categories at fifth with 1.16 blocks per set, seventh in hitting percentage and 10th with 3.80 points per set.
Collectively, Arkansas is 28th in the NCAA with its .263 hitting percentage this season and continues to be among the top distribution teams with 12.96 assists per set which ranks 39th in the country. The Razorbacks have tallied a .270 or higher hitting percentage in 12 of 18 matches this season. In directing the team's offense, junior Adrien Wohlschlaeger is 45th in the NCAA with 10.79 assists per set.
Arkansas will take its 13-5 overall record and 3-3 mark in SEC play on the road this weekend with matches at No. 15 Florida and South Carolina. Friday's weekend opener against the Gators will be televised on the SEC Network at 6 p.m. (CT) while both matches will be available on ESPN3 and through the WatchESPN app. Arkansas' next home match is Friday, Oct. 30, against Auburn.
For more information about Arkansas volleyball, follow @RazorbackVB on Facebook, Instagram, Snapchat and Twitter.