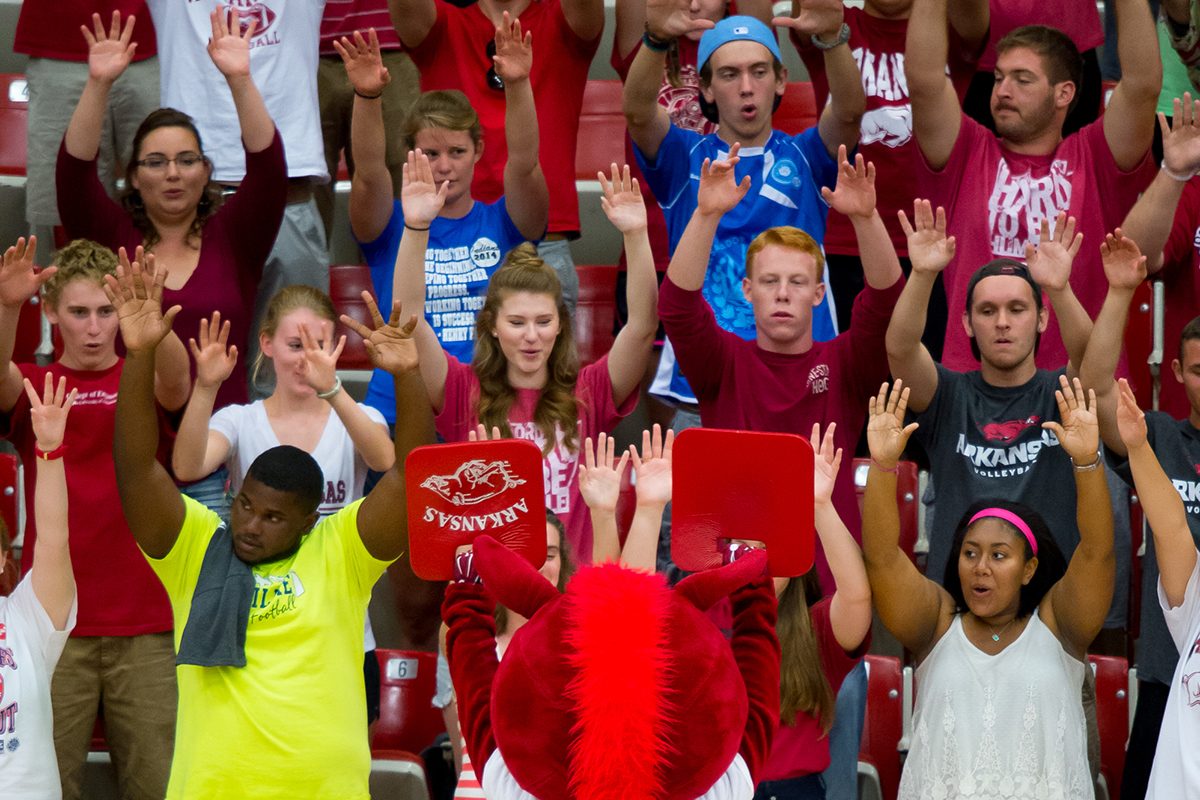 Volleyball Promotions Set for Homecoming Weekend
FAYETTEVILLE, Ark. – Highlighted by Friday's costume contest and Sunday's post-match clinic, fans promotions for this weekend's home matches have been set with the Razorback volleyball team returning to its home floor to host Auburn and Alabama. First serve of the weekend opener against Auburn is scheduled for 7 p.m. (CT) at Barnhill Arena. Individual match tickets are $5 while UA students and fans 17 years and younger receive free admission.
Friday, Oct. 30 vs. Auburn – 7 p.m.
• Costume Contest – top three costumes will be selected to participate in halftime contest between sets two & three; winner of the student division takes home a Fitbit Charge HR and winner of the 12-and-under division win four (4) tickets to Arkansas-UT Martin football game
• Free Food Friday – first 200 students in attendance wearing a costume receive a voucher for free hot dog, popcorn and drink
• Razorback Foundation Appreciation – all Razorback Foundation members receive complimentary admission with valid RF ID card
• Trick or Treat – children in attendance can trick or treat with the Razorbacks immediately following the match
Sunday, Nov. 1 vs. Alabama – 2 p.m.
• Post-Match Clinic – free and open to all children in eighth grade and younger; to register your child, fill out the form at the following link: http://bit.ly/1KmMKsI
• Knit Hat Giveaway – first 50 students in attendance receive a FREE Razorback team knit hat
• Junior Razorbacks Day – all Junior Razorbacks are invited to attend with their parents receiving a voucher for complimentary admission
• Football Ticket Redeem – show your ticket from the Arkansas-UT Martin football game to receive complimentary admission
Beginning with this weekend's home slate, the Razorbacks will play seven of their final 10 matches of the regular season at Barnhilll Arena. Arkansas carries a 6-2 home record this season featuring a tournament title at the Razorback Invitational and a five-set win over then-No. 9 Florida. The Razorback faithful have responded with three top-10 home attendance marks so far this season.
Arkansas enters the weekend with a 13-7 overall record and a 3-5 mark in conference play. Through the first 20 matches of the season, the Razorbacks have a pair of SEC stat leaders in Breana Jones and Pilar Victoria. Jones is first in the league with her .442 hitting percentage while Victoria continues to top the SEC with 4.71 kills per set and 5.25 points per set.
For more information about Arkansas volleyball, follow @RazorbackVB on Facebook, Instagram, Snapchat and Twitter.