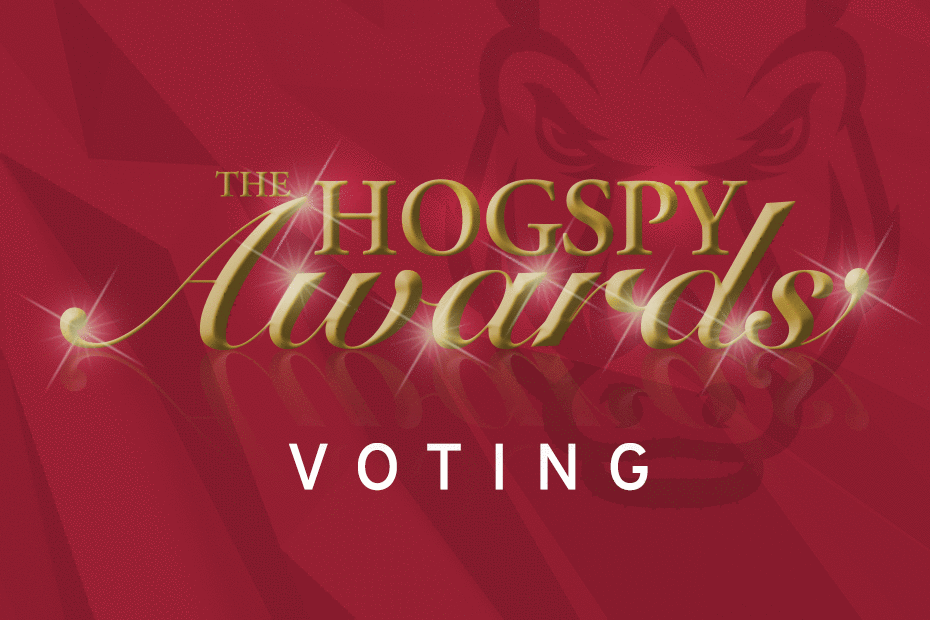 Vote: HOGSPY Top Plays (No. 4 seed vs. No. 5 seed)
FAYETTEVILLE, Ark. – Lots of memorable plays in 2016-17, but now it's time to put it to a vote to dwindle down the finalists from six to two. Here's how it will work:
• Bracket style voting
• The No. 1 and No. 2 seeds both receive first-round byes
• Winner announced at the 2017 HOGSPY Awards Show on May 3
Round 1
No. 1 Seed: Austin Allen vs TCU – BYE
No. 2 Seed: Cameron Carter save vs. Duke – BYE
No. 3 Seed: Moses Kingsley block vs. Seton Hall vs. No. 6 Seed–Clive Pullen wins Triple Jump (Vote TODAY!)
No. 4 Seed: Dominique Scott contributes 20 points at the NCAA Championships vs. No. 5 Seed: Charles Kim at the Suntrust Invitational (Vote TODAY!)
How to vote: Use the green up arrows to vote on the play you think should advance in the bracket. You can only vote once.
HOGSPY Award nominations are submitted by student-athletes, the Student-Athlete Advisory Committee, coaches and staff. Winners are determined by a vote of selected groups for each award.
Fans and members of the University of Arkansas community are invited to join their favorite University of Arkansas student-athletes and coaches in this celebration on Wednesday, May 3, 2017 at Bud Walton Arena. Doors open at 6:30 p.m., with the formal program set to begin at 7:30 p.m.
General admission tickets for the HOGSPY Awards are available for $5 and are now available online through the Razorback Ticket Center. Faculty and students will receive free general admission tickets, with a valid University ID at the door.
In addition, a limited number of tickets for the HOGSPY Awards VIP Experience are available online for $20. This VIP Experience will include access to the pre-show red carpet experience, dinner, and floor seating.