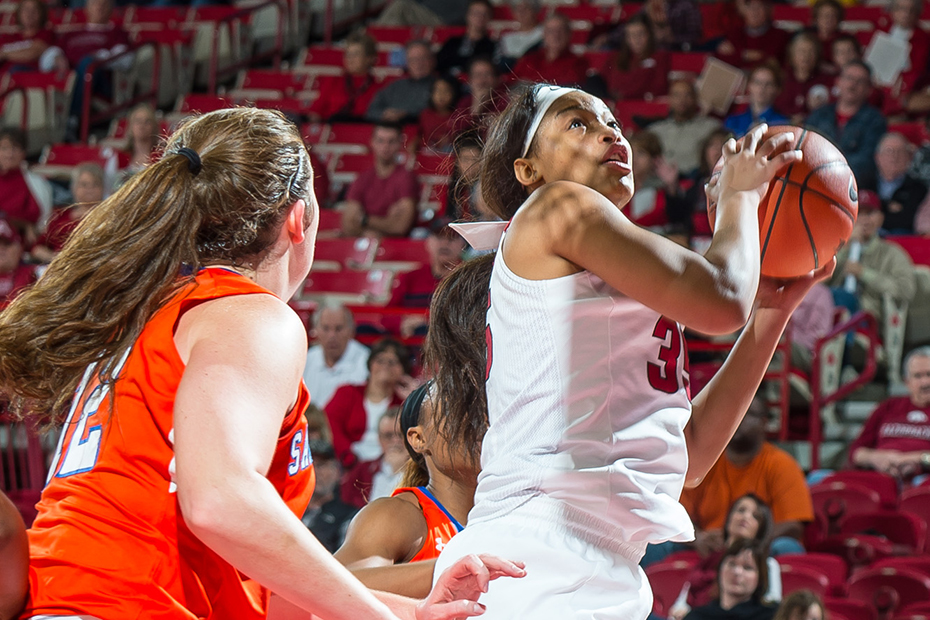 W. Basketball Hosts Tulsa Tonight
FAYETTEVILLE, Ark. – The University of Arkansas women's basketball team returns to the hardwood Monday hosting Tulsa in an SEC Network Plus game that is set to tip at 7 p.m.
Fans who bring two canned food items will receive  complimentary admission.  Proceeds benefit the University of Arkansas full Circle Food Pantry.  Kids 17 and under can get it for just $3.
Tickets: Single game tickets are $5 general admission and season passes are $45. Tickets can be purchased at the Razorbacks Tickets Center or here.
Radio: Arkansas women's basketball games are part of the Razorback Sports Network from IMG. Phil Elson calls the games with former Razorback Erin Gatling as the analyst. Tune in at any one of our affiliates:
Little Rock – KABZ-FM-103.7 | Fayetteville – KQSM-FM-92.1 | Ft. Smith – KFPW-AM-1230; KFPW-FM-94.5 |
Rogers – KURM-AM-790; KURM-FM-100.3.
Listen online here
Video: Watch Live Here | The game airs live on the SEC Network Plus with Alex Perlman and Blair Cartwright on the broadcast
Live Stats: Click Here
Social: Facebook.com/@RazorbackWBB | Twitter: @RazorbackWBB | Instagram: @RazorbackWBB
The Opponent
• Arkansas defeated Tulsa, 64-53, last year in Oklahoma
• Former Razorback Jhasmin Bowen and Kelsey Brooks each scored 17 and Jessica Jackson had 15 in that win
• Bowen had a double-double with 17 points and 12 rebounds
• Arkansas held Tulsa to 27.9% from the floor on 17-for-61 shooting
#BeArkansas Notes
• Arkansas has taken more shots than all of its opponents
• Arkansas has out-rebounded all of its opponents
• Arkansas has made at least four three-pointers in every game
• Arkansas is averaging more than 50 rebounds per game (50.3)
• Arkansas had double digit steals in the win over Southeastern Louisiana (14)
Jessica Jackson
• Scored her 1,000th-career point with her second basket at South Dakota State
• She is the second fastest Razorback to the 1,000-point plateau (Bettye Fiscus)
• She opened the year with back-to-back double doubles
• She has scored in double figures in all three games this year
• Jackson has two 20+ point games this year (SHSU, SDSU)
• Jackson has led Arkansas in scoring twice (1-1)
• Jackson has led Arkansas in rebounding three times
Kelsey Brooks
• Has scored in double figures in all three games this year
• Brooks has been among the assist leaders in every game
For more information on Arkansas women's basketball, follow @RazorbackWBB on Twitter.