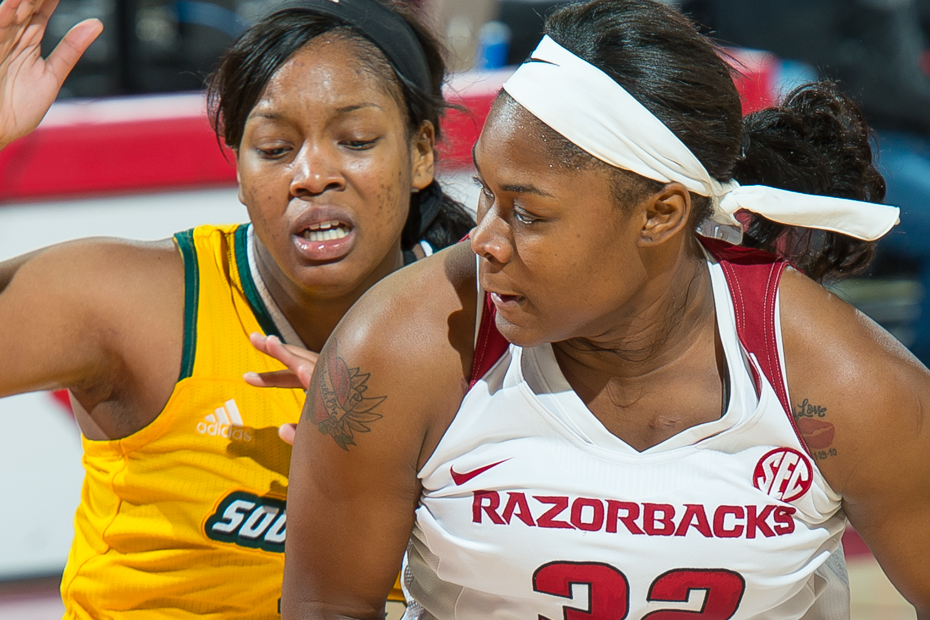 W. Basketball Returns To Bud Walton Arena
FAYETTEVILLE, Ark. – The University of Arkansas women's basketball team returns to Bud Walton Arena Thursday hosting Oral Roberts in an 8 p.m. tip as non-conference action continues.
Sophomore Devin Cosper has emerged in recent games posting back-to-back double figure performances for Arkansas. She enters the ORU game averaging 5.4 points per game and 2.8 rebounds per game this year.
Cosper is not the only newcomer to step up in the early games this year. Junior college transfer Alecia Cooley averages 7.6 ppg and is second on the team with 5.8 rpg while freshman Jordan Danberry checks in with 7.5 ppg and 3.1 rpg.
Oral Roberts comes into Bud Walton with two wins but an offense that forces opponents to adjust and make plays. Arkansas' approach to the contest is to allow players to create on the offensive side of the ball and step up and play tough defense going the other way.
The Golden Eagles steal the ball and make baskets in transition. They have 73 steals on the season compared to Arkansas' 59 and ball security will be among the priorities for the Razorbacks.
FROM COACH DYKES
Every opponent for us is a huge challenge for us right now. We are such a young team and we continue to have growing pains under fire. I love how we fought at Rutgers. They are a good team and C. Vivian Stringer is a Hall of Fame coach and we battled them even on the boards – the ball just didn't go in for us. Now we have ORU and they are a hard, scrapping team. They really try and scramble the game up. I love where we are in building this program. How we go about doing things right now is more important than winning the games right now. We can't skip the process.
STORY LINES
-Oral Roberts has lost four in a row and Arkansas has dropped its last six games
-Arkansas ranks fourth in the SEC in offensive rebounds this week averaging 16.6 per game
-The Razorbacks are seventh in defensive rebounds with a 26.4 mark and fifth in defensive rebound percentage with .718
-Jessica Jackson ranks fifth in the SEC in scoring averaging 17.6 ppg
-Jessica Jackson ranks eight in the league with 8.0 rpg
-Jessica Jackson is 11th in the SEC for free throw percentage with .750
-Kelsey Brooks ranks second in the SEC in assist/turnover ratio with 21 assists and just five turnovers
-Arkansas has been even with or out-rebounded six of eight opponents this year
SERIES HISTORY
-Arkansas leads the series, 18-8
-The series began in 1977
-Arkansas and ORU last meet in 2013 with Arkansas coming away with a 91-33 win in Fayetteville
-Arkansas has won 13 in a row against ORU
-Jessica Jackson led all-scorers with 19 points in 24 minutes in 2013
-Kelsey Brooks added 15 points and Melissa Wolff had eight points and seven rebounds
-The last time these teams met, Bria Pitts was a Razorback. She transferred to ORU after her first season with Arkansas.
UP NEXT
-Thursday, Dec. 10 vs. Oral Roberts | 8 p.m. | SEC Network
—First 50 students in attendance receive a Finals Survivor Kit
—First 500 fans will receive an Arkansas Razorback Santa Hat
—Family Four-Pack | families of four will pay $34 for four tickets and a concession voucher
-Sunday, Dec. 13 at Butler | 1 p.m.
-Sunday, Dec. 20 vs. Texas at Oklahoma City | 1:30 p.m.
-Monday, Dec. 28 vs. Mississippi Valley State | 7 p.m. | SEC Network Plus
-Wednesday, Dec. 30 vs. New Orleans | 7 p.m. | SEC Network Plus
For more information on Arkansas women's basketball, follow @RazorbackWBB on Twitter