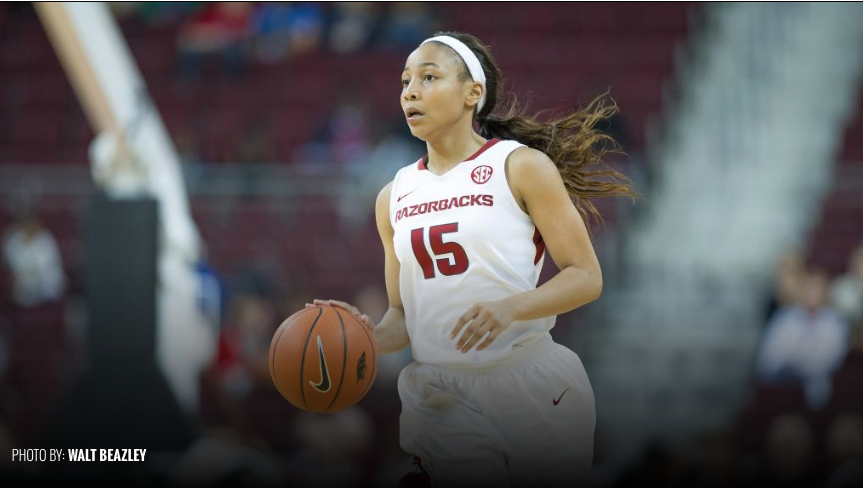 W. Basketball Upsets No. 17/16 Iowa
LAS VEGAS – In upset-fashion, the University of Arkansas women's basketball team won its fifth straight game to open the season after upending No. 17/16 Iowa, 77-67, at the South Point Resort in Las Vegas. The Razorbacks (5-0) received a combined 46 points from sophomores Kelsey Brooks and Jessica Jackson.
Brooks led all scorers as she tallied a career-high 24 points on eight of 14 shooting, including 19 points in the second half. Brooks also grabbed eight rebounds. Jackson poured in 22 points, including shooting four of six from behind the arc, and had seven rebounds.
Junior Melissa Wolff pulled down 10 rebounds as Arkansas had four players register seven rebounds or more. As a team, the Razorbacks owned the boards, doubling up the Hawkeyes and enjoying a 51-24 edge on the glass. In fact, Arkansas grabbed 19 offensive rebounds while the Hawkeyes had 24 total rebounds and only four offensive.
Iowa entered the game averaging 90.4 points per game and was held well below their average as Arkansas' defense held them to 67 points.
To open the game, Jackson gave Arkansas its first bucket at the 18:35 mark. After Iowa made a pair of baskets to take a 4-3 lead with 17:21 left in the half, the Razorbacks went on a 9-0 run over the next 5:39 to grab a 12-4 lead. It was the seventh time this season the Razorback defense has held their opponent to without a field goal for over five minutes.
The No. 17 Hawkeyes answered back with a 9-0 run of their own over the next three and a half minutes to regain the lead at 13-12. Brooks stopped the run with a banked three ball at the 8:15 mark. Neither team made a significant move over the last eight minutes of the half as Iowa took a 27-25 edge into the locker room. There were a total of five ties and five lead changes in the first half.
Arkansas held a 23-9 advantage on the glass in the first half.
Opening the second half, Iowa led 31-29 until Jackson nailed back-to-back triples to put Arkansas ahead 35-31. The Razorbacks would not trail again for the rest of the game. In total, Arkansas was in the lead for 26:51 of the game.
Iowa cut the lead to two at the 15:29 mark, but senior Jhasmin Bowen came right back on the next possession with a layup to give Arkansas a 40-36 lead. Bowen finished with 14 points and nine rebounds.
Jackson's third three of the second half gave Arkansas a 46-38 lead with 12:42 left.
Each time, especially in the game's last 12 minutes, that Iowa cut the lead down five, Arkansas had an answer either with a basket or a defensive stop to maintain the lead. Brooks came up clutch down the stretch, scoring 12 points in the game's final nine minutes.
Arkansas shot 20-33 from the free throw line and was 10-15 from the line in the last four minutes.
All game long, the Razorbacks stayed patient against the Hawkeyes' trapping 2-3 zone defense, as Arkansas scored a number of baskets with the shot clock under 10 seconds. Senior Calli Berna directed the offense effectively, dishing out nine assists while committing only two turnovers.
Iowa had four players score in double figures as Ally Disterhoft led the team with 23 points on 11 of 17 shooting.
Arkansas hits the court Saturday at 1 p.m. PST to play Richmond at South Point Resort in Las Vegas.
QUOTABLE
"I can't be any prouder of my players. You come out here on a neutral floor and take on the No. 17 ranked team in the country and they just fought. We're not a very pretty team, I know that, but we fight hard. I'm really, really proud of them. I'm going to let them enjoy this until dinner tonight, and then we've got to get our minds on Richmond because Richmond is a good ball club.
Jessica Jackson had 22 points and seven, Jhas had 14 and nine, Kelsey Brooks was tremendous again with 24 and eight. Mo was one point away from a double-double. It was a very, very good team win. Joey Bailey came in and got big defensive boards. Katie Powell plays eight minutes and scores four big points in this ball game. I put Mac in the game, she's just a freshman, she doesn't turn it over. Here we are at 5-0, and we get a chance to get to 6-0 tomorrow, that's all I can tell you.
We really defended well without fouling. We only fouled 15 times, Iowa fouled 26 times. I thought we were good at driving the ball. It's a great team win." – Head coach Jimmy Dykes
POST GAME NOTES
– Arkansas knocked off its first ranked opponent since taking down No. 14 LSU last Feb. 27, 2014.
– Arkansas has won 27 consecutive non-conference games.
– Sophomore Kelsey Brooks tallied a career-high 24 points. She has scored in double figures in all five games this season.
– Senior Calli Berna totaled nine assists today, giving her 529 for her career. She remains in third place in program history, trailing current Director of Basketball Operations Amber (Nicholas) Shirey who is in second place with 538.
– Berna has 370 career rebounds after recording five today and needs just three more to move into the top 35 all-time rebounders at Arkansas.
– Sophomore Jessica Jackson finished with 22 points, including 10 in the first half, the fourth time in five games she's been in double figures at the break.
– Jackson's scored in double figures in six consecutive games dating back to last season.
– Jackson has scored 20+ points nine times in her career. Arkansas is 5-4 when she does so.
– Jackson currently has 570 points, which ranks 53rd in program history
– Senior Jhasmin Bowen has 577 career points, which ranks 52nd in program history.
– Arkansas held Iowa to without a field goal for a 5:39 stretch in the first half (17:21-11:42), the 10th time Arkansas has held their opponent to without a field goal for over four minutes and the seventh time Arkansas has held their opponent to without a field goal for over five minutes
– Arkansas improved to 3-0 all-time against the Hawkeyes
– Arkansas held Iowa to 67 points, well below their season average of 90.4
– The Razorbacks own a 108-70 (.605) all-time record in games played on a neutral floor.
– All-time, the Razorbacks are 96-42 (.693) in tournaments held in-season, including winning their last four games in a row in an in-season tournament setting.
– Arkansas owns a 4-2 overall record in games played in Las Vegas. The Cardinal and White are making their third overall appearance in Las Vegas.
– As the 2014-15 campaign continues, Arkansas is in the midst of its 39th season of women's basketball, owning an overall program record of 697-435 (.615).
– Arkansas owns a 135-30 (.818) record in November games.
– Arkansas is 10-2 all-time in games played on Nov. 28, including 4-1 on a neutral court.
– Arkansas improved to 22-7 on games played the Friday after Thanksgiving.
For more information on Arkansas women's basketball, follow @RazorbackWBB on Twitter.