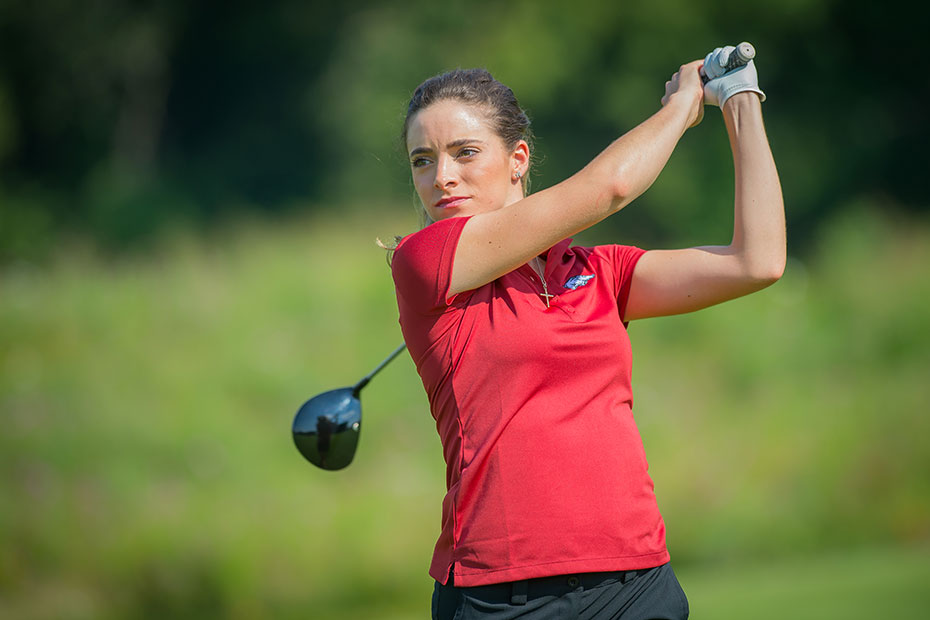 W. Golf Leads After Second Round
CHARLESTON, S.C. – The fourth-ranked University of Arkansas women's golf team maintained its lead with four players in the top-10 after second round action at the Powerade Cougar Classic in Charleston, South Carolina.
Arkansas posted the second-best round of the day with a five-under 283 and is in the clubhouse with a 565, 10 strokes better than second place.
Senior Gabriela Lopez leads the Razorbacks and is in third place overall with a six-under 138 with rounds of 68-70. Lopez bogeyed 11 and 13 but rallied to finish strong with birdies on four of her final five holes Monday.
Senior Regina Plasencia and Summar Roachell are tied for sixth place overall with 142. Plasencia shot 70-72 while Roachell moved up two spots with rounds of 71-71. Plasencia was steady with two birdies on the front nine and two bogeys on the back nine finishing even while Roachell counted three birdies on the front to go along with two bogeys in the round.
Sophomore Alana Uriell made the biggest jump moving up 14 spots on the leaderboard shooting 73-70=143. She is tied for 10th place overall. Uriell opened with a bogey but posted back-to-back birdies on the fourth and fifth holes and added a third on the ninth hole of her round. Junior Samantha Marks rounds out the Razorback scoring with a 151 with rounds of 75-76. Marks is tied for 58th overall. Marks finished strong with two birdies in her final four holes.
From Shauna Estes-Taylor
It was just another great team effort today. I feel like we have a great game-plan for this golf course and obviously we are in a position to go out and accomplish our goal tomorrow. We have to go out and focus on hitting good shots and really getting into our game plan. We have to be mentally focused and prepared for being in contention.
I can't say enough about Alana's (Uriell) round of golf today. To shoot two-under par shows her fight. Summar (Roachell) has been really solid for us. Gaby (Lopez) birdied four of her last six holes to shoot two-under. It just shows the quality of play she has right now. On a day that she didn't have her best round, to finish strong and help our team out is really awesome. Regina (Plasencia) was solid today from top-to-bottom. Sam (Marks) struggled a bit but has plenty of game and can move up tomorrow.
The Field
| | | |
| --- | --- | --- |
| No. 4 Arkansas | -11 | 282-283=565 |
| No. 15 Virginia | -1 | 293-282=575 |
| No. 66 Georgia | -1 | 290-287=577 |
| No. 24 Florida | +1 | 290-287=577 |
| No. 98 Clemson | +11 | 297-290=587 |
| No. 32 Furman | +12 | 298-290=588 |
| No. 10 Wake Forest | +13 | 289-300=589 |
| No. 31 UCF | +14 | 288-302=590 |
| No. 37 Auburn | +14 | 298-292=590 |
| No. 39 NC State | +15 | 294-297=591 |
| No. 80 Michigan | +19 | 297-298=595 |
| No. 52 North Carolina | +20 | 299-297=596 |
| No. 82 Indiana | +20 | 294-302=596 |
| No. 17 Mississippi State | +22 | 302-296=598 |
| No. 104 Penn State | +23 | 304-295=599 |
| College of Charleston | +29 | 303-302=605 |
| No. 119 Charleston Southern | +40 | 319-297=616 |
| No. 55 Wisconsin | +42 | 303-315=618 |
| No. 110 Maryland | +51 | 308-319=627 |
| No. 176 UNCG | +51 | 320-307=627 |
Arkansas Individuals
| | | |
| --- | --- | --- |
| 1 | Arkansas | 282-283=565 |
| 3 | Gabriela Lopez | 68-70=138 |
| T6 | Regina Plasencia | 70-72=142 |
| T6 | Summar Roachell | 71-71=142 |
| T10 | Alana Uriell | 73-70=143 |
| T59 | Samantha Marks | 75-76=151 |