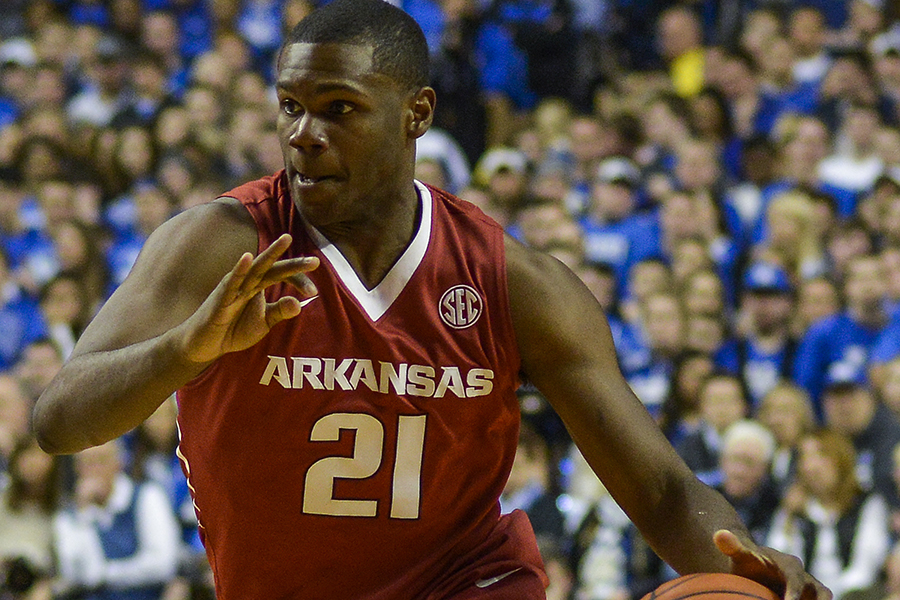 Watkins Beats The Buzzer At Ole Miss
OXFORD, Miss. (AP) – Manuale Watkins hit a short jumper with 6.4 seconds remaining to lift No. 24 Arkansas over Mississippi 71-70 on Saturday night.
Arkansas (20-5, 9-3 Southeastern Conference) won for the seventh time in eight games to take sole possession of second place in the league.
The loss snapped a six-game winning streak for Ole Miss. The Rebels (17-8, 8-4) trailed for nearly the entire game until LaDarius White hit a short jumper with 8:35 remaining to give them a 58-57 lead. It stayed close until the end, but Watkins' jumper proved to be the difference.
Ole Miss' Jarvis Summers had a chance to win it with a mid-range jumper in the final seconds, but it bounced off the rim. M.J. Rhett and Stefan Moody led the Rebels with 16 points each.
Michael Qualls led Arkansas with 15 points. Anton Beard scored 14.
It was a fast-paced game between two of the league's best offenses, but only the Razorbacks were hitting shots with any regularity early. Arkansas jumped out to a 40-36 lead by halftime thanks to 51.4 percent shooting (18 of 35) from the field and 10 points from Bobby Portis.
Arkansas avenged a 96-82 home loss to Ole Miss last month. The Rebels shot 56.4 percent in that game, embarrassing the Razorbacks' defense.
Arkansas was better on that end of the floor Saturday, holding Ole Miss to just 34.3 percent shooting in the first half. The Rebels stayed in the game thanks to 21 offensive rebounds and a 45-31 overall rebounding advantage.
Ole Miss pushed into the lead late in the second half thanks to improved shooting. Rhett continually made 15-foot jumpers, finding small holes in the Arkansas defense and connecting on mid-range shots.
But Arkansas stayed in it until the end and the 6-foot-3, 205-pound Watkins, who scored eight points in the game, had good touch on the game-winner after finding some room to work along the baseline.
Worthy Of A Hog Call (#WPS)
With his three-pointer midway through the second half, senior Rashad Madden became the 36th player in program history with 1,000 career points. Just one game removed from passing Razorback great Todd Day for seventh on the all-time career assists list, Madden is the first Arkansas native to go for 1,000 points and 300 assists as a Razorback.
#RazorStat Of The Game
Arkansas' SEC road win is its seventh in its last 11 tries dating back to last year. Prior to the current 11-game run, it took the Razorbacks 50 games to win its previous seven SEC road contests.
@RazorbackMBB Quick Hits 
• First time since 1997-98 Arkansas has won 20 of its first 25 games.
• Arkansas is 7-4 as a ranked team this season.
• Third road win over a team that is currently in the top 40 of the RPI.
• Arkansas is 5-2 in SEC games decided by five points or less.
• Four SEC road wins are the most since 1994-95.
• Arkansas has won seven of its last 11 SEC road games.
• Arkansas has won eight in a row in February and is 10-2 the last two seasons.
• Arkansas has won 26 straight games when leading at the half.
• Senior Rashad Madden became the 36th player in program history score 1,000 points.
• Madden is the first Arkansas native to score 1,000 points and dish out 300 assists as a Razorback.
• Madden has led Arkansas in assists 21 of 25 games.
• Madden and Qualls each have 49 career double figure games.
• Freshman Anton Beard set season-bests of 14 points and four (4-4) three-pointers.
• Beard has reached double figures in five SEC games compared to one non-conference game.
• Beard's top two scoring efforts have come on the road in SEC action.
• Sophomore Bobby Portis extended his double figure points streak to 20 games.
• Portis set a season-high with four blocks.