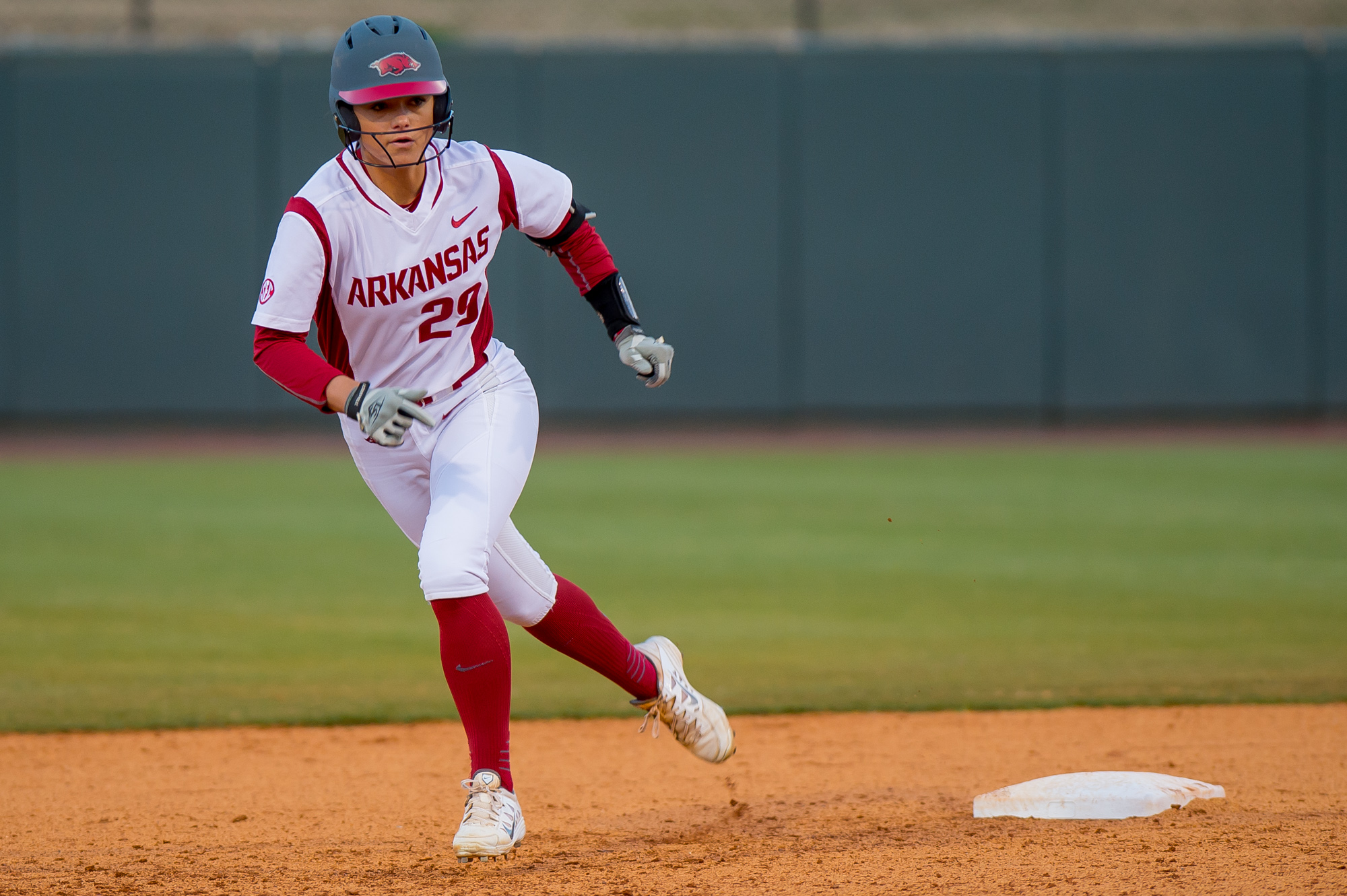 Weekend Trip to Fullerton for Easton Tournament
FULLERTON, Calif. – Continuing its week-long break from SEC play, the University of Arkansas softball team makes its second trip to California for the Easton Tournament hosted by Cal State Fullerton. The Razorbacks' five-game slate begins with a second matchup of the season with New Mexico Friday at 1 p.m. (CT). All games are set to be streamed live with a subscription through FloSoftball.
2016 Easton Tournament | Anderson Family Field (Fullerton, Calif.)
March 18 vs New Mexico – 1 p.m. (CT)
March 18 vs UNLV – 6 p.m.
March 19 vs #23 Nebraska – 5:30 p.m.
March 19 at Cal State Fullerton – 8:30 p.m.
March 20 vs Grand Canyon – 12 p.m.
In addition to its opener, Arkansas (11-13) will also play UNLV on Friday with games Saturday against No. 23 Nebraska and host Cal State Fullerton before closing out the tournament Sunday against Grand Canyon. This weekend will mark the first-ever meetings with Fullerton and Grand Canyon. As part of the nine-team field, which also features Alabama, DePaul and Oklahoma, the Razorbacks will split time between Field 1 and 2 at the Anderson Family complex.
As a team, the Razorbacks enter the weekend with a .305 batting average and rank third among SEC teams with 31 home runs this season. Freshman Ashley Diaz continues to lead the team with her .471 batting average, which also sits seventh in the conference. She also has a team-high nine home runs and 29 RBI, followed by teammates Shelby Hiers and Nicole Schroeder who have six big flies each.
Earlier this season, Arkansas posted a 4-1 mark during the Mary Nutter Collegiate Classic in the team's first trip to California this season. One of those wins came in a 2-1 decision over New Mexico in which junior Grace Moll registered a career-high nine strikeouts. During the five-game competition, the Razorbacks' offense generated 11 home runs. Arkansas' 2016 roster features three Californians in Diaz, Schroeder and sophomore transfer Betina Beringhele.
Following the Easton Tournament, the Razorbacks will return to Fayetteville for their SEC home opener March 25-27 when it hosts No. 15 Kentucky at Bogle Park. Saturday's game of the Arkansas-Kentucky series will be aired on the SEC Network. All games will be streamed lived on SEC Network+ and through the WatchESPN app.
Season tickets are now on sale for $45 through the Razorback Ticket Center. For more information about purchasing season tickets, call 800-982-HOGS (4647) or 479-575-5151, email raztk@uark.edu or visit the Razorback Ticket Center located next to Baum Stadium. For more information about Arkansas softball, follow @RazorbackSB on Twitter.