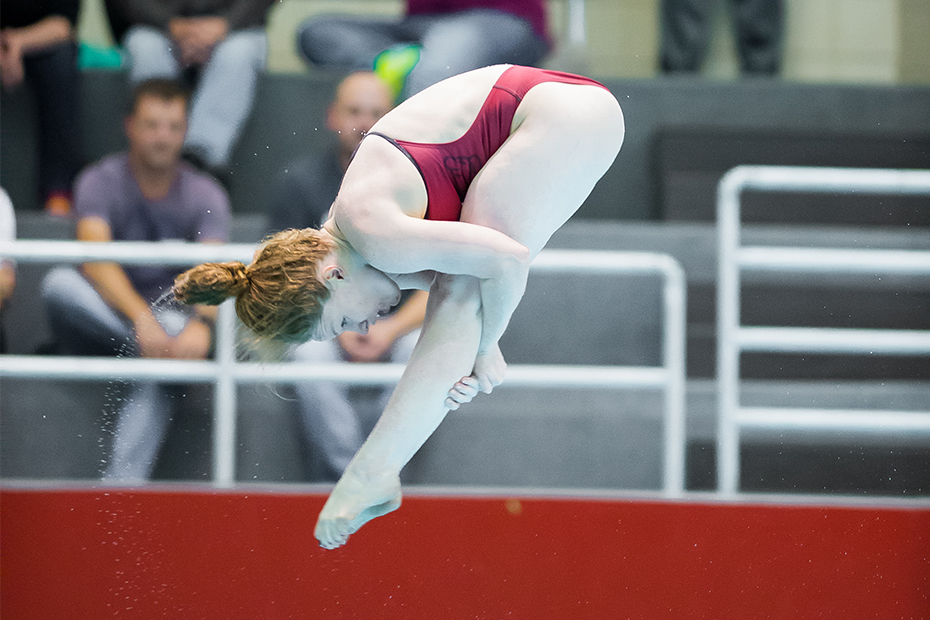 Weekly Conference Honors Continue For Schultz
FAYETTEVILLE, Ark. – For the seventh time this season, freshman diver Brooke Schultz has earned a weekly honor from the Southeastern Conference, being named SEC Female Diver of the Week for the sixth time on Tuesday.
Over the weekend at Houston, Schultz claimed the one-meter and the three-meter titles against the Cougars. On the one-meter, Schultz outscored the field by 15.82 points, winning with a score of 326.70. On the 3m, Schultz broke her own school record for the fourth time this season, scoring a 384.53 and outscoring her opponents by 58.58 points.
Of her 20 six-dive efforts this season, Schultz has 17 first-place showings, having never finished outside the top three.
In dual meets this season, Schultz has yet to finish off the top of the podium, recording 12 first-place performances. She also holds the top scores in the conference on both dives.
Records Broke This Season
Arkansas school record – 1m (twice – 369.90) and 3m (four times – 384.53)
Arkansas pool record – 1m (369.90) and 3m (366.38)
UCLA pool record – 3m (345.20)
Arkansas returns to the pool this Friday, as the Razorbacks travel to Lawrence, Kansas, for their regular-season finale against the Jayhawks.
For more information on Arkansas Swimming and Diving, follow @RazorbackSD on Twitter.