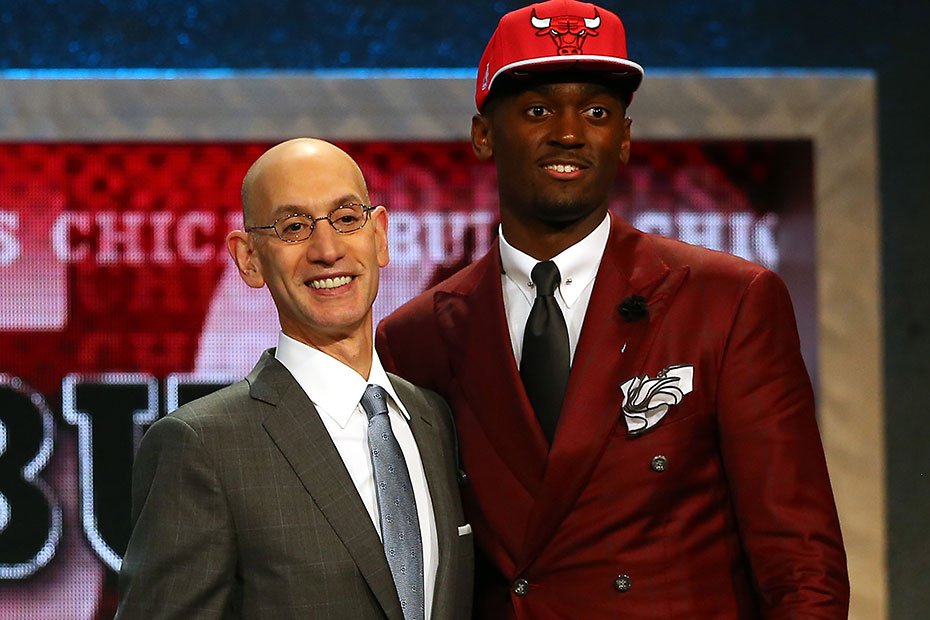 From The #FASTEST40 To The Windy City
FAYETTEVILLE, Ark. – Accompanied by his mother and three younger brothers in the Green Room of the Barclays Center at the 2015 NBA Draft in Brooklyn, N.Y., former Arkansas All-American and reigning SEC Player of the Year Bobby Portis' dream came true in a matter of seconds when NBA commissioner Adam Silver read his name.
"With the 22nd pick in the 2015 NBA Draft, the Chicago Bulls select Bobby Portis from the University of Arkansas."
Portis is the 12th player in Arkansas history to be selected in the first round of the NBA Draft and the first since 2006.
The Little Rock native became the first player in program history with 1,000 points and 500 rebounds by the end of his sophomore season, breaking Arkansas' eight-year run without an All-American in a big way in 2014-15, earning AP All-America second team, USBWA All-America second team and Sporting News All-America third team honors. He was a finalist for the inaugural Kareem Abdul-Jabbar Award (5 Players), Oscar Robertson Trophy (14 Players) and the Lute Olson Award (21 Players), while also making the Wooden Award Final 15 and Naismith Trophy Midseason Top 30.
One of just three high-major players to average at least 17.5 points and 8.5 rebounds in 2014-15, Portis ranked in the top 5 of the SEC in scoring (17.5/2nd), rebounding (8.9/4th), offensive rebounds (3.7/1st), defensive rebounds (5.2/5th) and field goal percentage (.536/2nd). Portis was a walking double-double for much of the second half of the season, producing an SEC-best nine double-doubles in league play, highlighted by the first five-game streak in program history. Taking on a league full of future NBA first round draft picks and some of the best big men in the country, Portis posted a double-double or 20-point game against 12 of the 13 SEC members in the regular season.
Razorbacks Selected In The First Round Of The NBA Draft
| | | | |
| --- | --- | --- | --- |
| Year | Player | Team | Pick |
| 2015 | Bobby Portis | Chicago Bulls | #22 |
| 2006 | Ronnie Brewer | Utah Jazz | #14 |
| 2001 | Joe Johnson | Boston Celtics | #10 |
| 1995 | Corliss Williamson | Sacramento Kings | #13 |
| 1992 | Todd Day | Milwaukee Bucks | #8 |
| 1992 | Lee Mayberry | Milwaukee Bucks | #23 |
| 1992 | Oliver Miller | Phoenix Suns | #22 |
| 1985 | Joe Kleine | Sacramento Kings | #6 |
| 1984 | Alvin Robertson | San Antonio Spurs | #7 |
| 1983 | Darrell Walker | New York Knicks | #12 |
| 1979 | Sidney Moncrief | Milwaukee Bucks | #5 |
| 1978 | Ron Brewer | Portland Trail Blazers | #7 |
BP In-Season & Postseason Awards
Sophomore (2014-15)
Wooden Award Final 15
Kareem Abdul-Jabbar Award Finalist (5 Players)
Oscar Robertson Trophy Finalist (14 Players)
Lute Olson Award Finalist (21 Players)
Associated Press SEC Player of the Year
SEC Player of the Year (Coaches)
USBWA All-District VII Player of the Year
Scout.com SEC Player of the Year
Associated Press All-America Second Team
USBWA All-America Second Team
Sporting News All-America Third Team
Associated Press All-SEC First Team (Unanimous)
All-SEC First Team (Coaches)
USBWA All-District VII Team
NABC All-District 21 First Team
Scout.com All-SEC First Team
Naismith Trophy Midseason Top 30
CBS Sports National Player of the Week (Jan. 12)
SEC Player of the Week (Jan. 12 & Feb. 16)
NCAA.com Player of the Week (Feb. 9)
Naismith Trophy Player of the Week (Feb. 10)
Freshman (2013-14)
All-SEC Second Team
SEC All-Freshman Team
USWBA All-District VII Team
Finalist for the Kyle Macy National Freshman of the Year Award
Three-time SEC Freshman of the Week