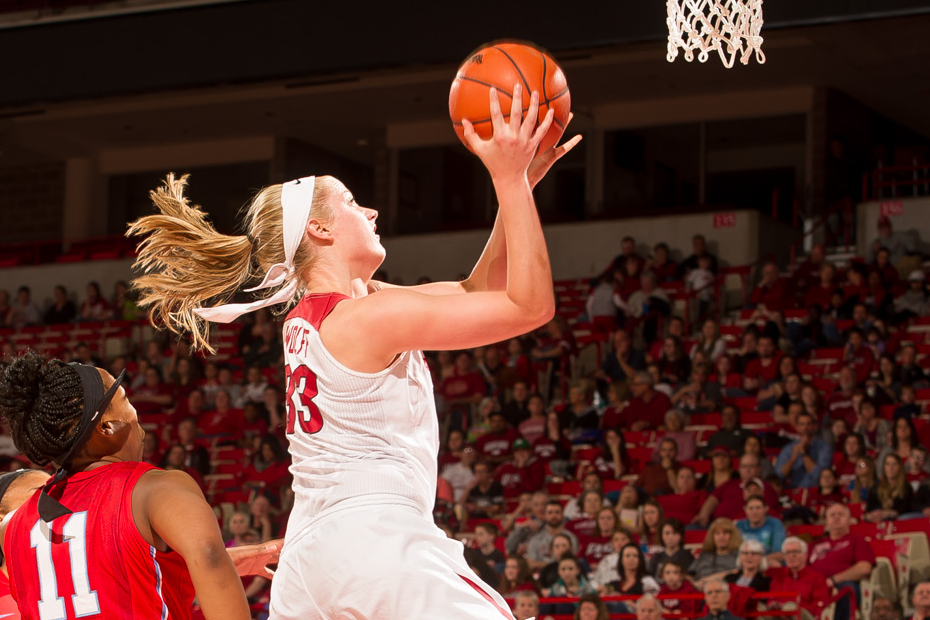 Wolff Leads To Senior Day Win
Box Score | Photo Gallery
FAYETTEVILLE, Ark. – Lone senior Melissa Wolff led the University of Arkansas women's basketball team to a 60-49 win over Ole Miss on Senior Day in Bud Walton Arena Sunday.
Wolff finished with six points and a game-high 13 rebounds as the Razorbacks improved to 12-17 overall and finish 7-9 in the SEC. Ole Miss falls to 10-19 overall and 2-14 in the league. Wolff is just the fifth player in Razorback women's basketball history to record 700+ points and 700+ rebounds in her career.
With the win Arkansas becomes the 10th seed in the 2016 SEC Tournament. The Razorbacks face seventh-seeded Tennessee in the second round Thursday at 5 p.m. central.
In addition to Wolff's solid game, Arkansas had three players in double figures led by Jessica Jackson with 17 points. Freshman Jordan Danberry added 13 points and seven rebounds while junior Kelsey Brooks had 12 points in the win.
Arkansas' offense struggled to start the game. After a 2-all tie, Ole Miss went on an 8-0 run holding Arkansas to an 0-6 performance for more than four minutes. The Razorbacks finished the period going 1-for-3 and the Lady Rebels took a 19-8 lead after the first 10 minutes.
The Razorbacks shifted the momentum after four consecutive defensive stops in the second frame. Arkansas forced two quick turnovers and got themselves to the foul line jumping out to a 7-2 run. The Razorback offense stalled at that point going 2-for-10 and they struggled from the free throw line going 4-for-10 in the second period.
Despite the struggles, Arkansas won the period, 12-6, and closed within five, trailing 25-20 at the half.
Arkansas stepped up the defense to start the third frame and held Ole Miss to six points for the second consecutive period. The Razorbacks got to the foul line a season-high 40 times in the game and managed to tie the contest after Danberry drained two bonus shots at the 5:04 mark of the third frame.
It was the first tie of the game since the teams were knotted at 2-all at 8:44 in the first quarter. Arkansas would never trail again going on to the 11-point win.
The Razorbacks finished the game shooting 32.1% going 17-for-53 from the floor. Arkansas was 23-for-40 from the line, season-bests for both makes and attempts, and matched Ole Miss on the boards with 45 rebounds. Arkansas took good care of the ball with just 11 turnovers and had six blocks, tying the second-best block total for the season.
Big for the Razorbacks was the 17 bench points paced by Danberry's 13 and Arkansas tallied 10 assists on 17 made baskets in the victory.
NOTES
• Arkansas' Starters: Jessica Jackson, Kelsey Brooks, Devin Cosper, Melissa Wolff, Alecia Cooley
• Ole Miss won the tip
• Melissa Wolff was honored as a senior and for her 700th career rebound in a pregame ceremony
o Wolff scored her first basket at the 8:24 mark of the second period giving her 701 career points
o She is the fifth player in program history with 700 points and 700 rebounds
o Wolff finished the game with 13 rebounds and six points
o It is the fourth double-digit rebounding game of the year and the 15th of her career
• Jessica Jackson finished with 17 points
o It is her 25th game of the season with double digit points and the 76th of her career
• Jordan Danberry scored 13 points
o It is her 10th double-figure scoring game of the year/career
• Arkansas' 23 made free throws and 40 free throw attempts are both season highs
• With the win Arkansas moves to 15-24 all-time against the Lady Rebels
• Arkansas is now 11-5 against Ole Miss in Fayetteville
• Arkansas picks up its seventh SEC win – the most under head coach Jimmy Dykes
• The seventh league win is the most since the 2011-12 season