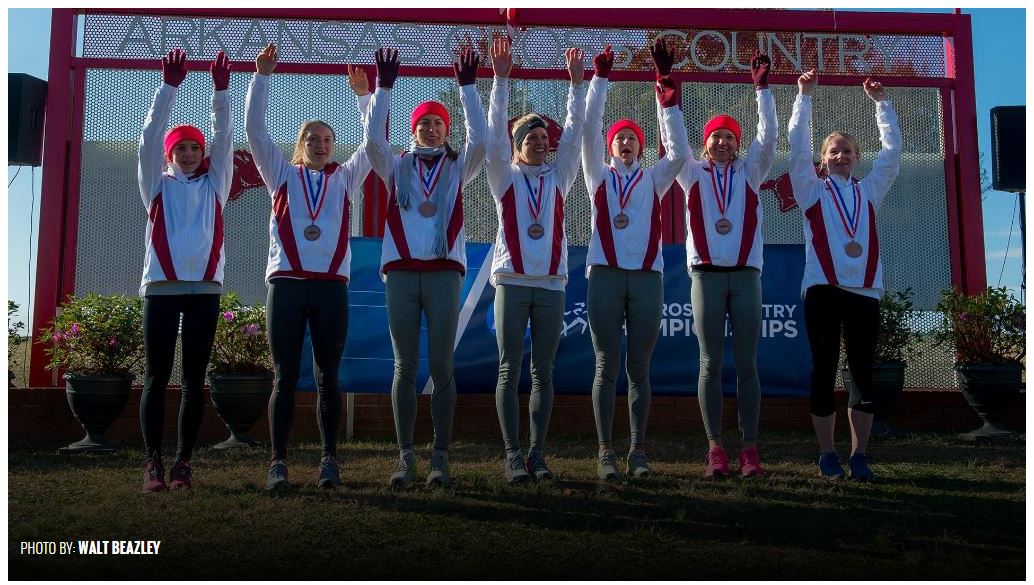 Women's @RazorbackTF Closes the USTFCCCA Poll at No. 4
NEW ORLEANS – On Monday, the United States Track & Field and Cross Country Coaches Association announced its final Top 30 Poll of the 2014 season and the Arkansas women's cross country team closed out the regular season ranked No. 4 in the nation.
The No. 4 ranking marks the second-straight poll that head coach Lance Harter's team has held the position in the USTFCCCA Poll. They moved into that spot during the Week Six Poll after a dominating performance at the SEC Championship to successfully defend its conference crown for back-to-back years.
Last Friday, the Razorbacks captured their fourth-consecutive NCAA South Central Regional Championship with an outstanding display that saw all five runners in Arkansas' scoring rotation finish inside the top 11. The Razorbacks continued their dominate 2014 campaign on that day, as they posted 29 points, 53 less than No. 26 Baylor who claimed the race's second spot with 82 points.
The victory gave Arkansas one of two automatic bids from the South Central Region for this week's NCAA Cross Country Championship in Terre Haute, Ind. This year will mark the second-straight season that Arkansas has entered the NCAA Championship race ranked inside USTFCCCA Top 5, as they were No. 3 going into last year's race.
Arkansas' performance produced six NCAA All-Region selections, as redshirt junior Dominique Scott set the pace for the entire race to capture her first career NCAA South Central Region Individual Title.  Scott completed the 6-kilometer course at Agri Park in 19:43.80 to capture her fifth individual event title of 2014 to give her the most individual titles for a single-season in school history.
The women's USTFCCCA Top 5 remained intact from last week's poll, as Michigan State, Georgetown and Oregon will be 1-2-3 heading to Terre Haute, while Iowa State comes in one spot behind the Razorbacks at No. 5. Fellow SEC school, Vanderbilt, jumped to No. 12 in the regular season's final poll after upsetting Florida State last Friday to win the South Region.
The Arkansas women's cross country team concludes its 2014 campaign on the sport's biggest stage, as they'll travel to Terre Haute, Ind., to participate in the 2014 NCAA Cross Country Championship. Race time from Wabash Valley Family Sports Center set for 11 a.m. Check back with ArkansasRazorbacks.com later this week for a full preview on the Championship Race.
For more information on the Arkansas women's cross country team, follow @RazorbackTF on Twitter.