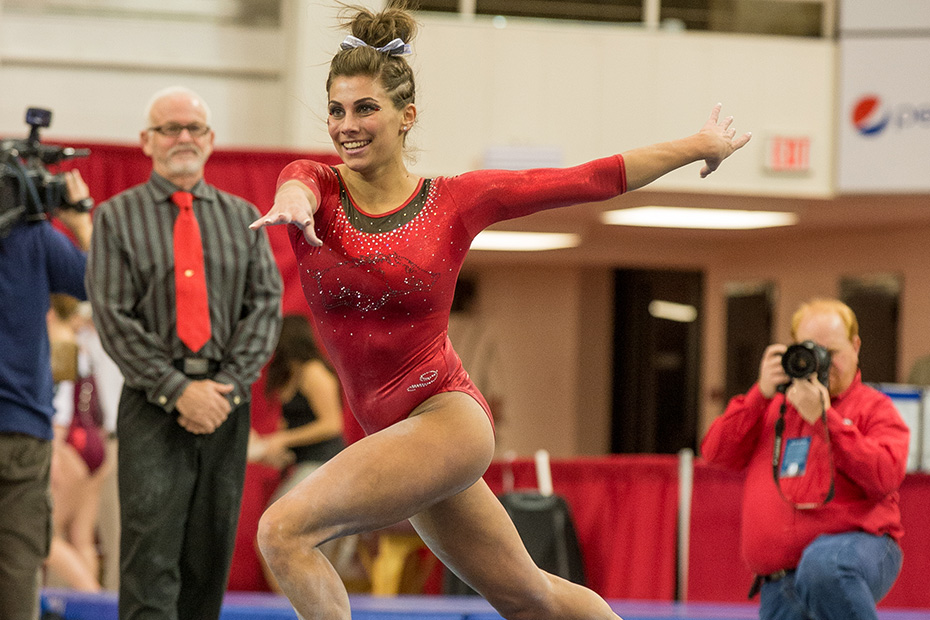 Zaziski Earns First-Ever SEC Freshman of the Week Honor
BIRMINGHAM, Ala. — On Tuesday, the Southeastern Conference announced that Arkansas gymnast, Paige Zaziski, was named as the SEC Freshman of the Week for her efforts at No. 12 Auburn last Friday.
It is the first-ever SEC Freshman of the Week award for Zaziski, and the first time this season that a Razorback gymnast has garnered the honor. The Chesterfield Township, Mich., native set personal-best on the uneven bars and balance beam against the Tigers to help Arkansas post its second-straight 196.000-plus score.
Competing in the all-around, Zaziski's score counted on three of the four rotations and posted the team's highest score on both the uneven bars and balance beam. Altogether, the freshman collected three 9.800-plus scores on the night.
On the bars, Zaziski tied her career-high of 9.850 to start her night. The score was tied for a team-best in the event, as Arkansas tied a season-high 49.125 on the bars. She followed that performance with a 9.825 on the vault to help the Razorbacks score a 49.095.
The freshman concluded her night by setting a new personal-best on the balance beam by scoring a 9.800. The mark led the Razorbacks in the rotation and helped the team collect its season-best score in the event.
The No. 8-ranked Razorbacks will be in action this Saturday, as they will face off against the two best teams in the nation at the MetroPlex Challenge in Fort Worth, Texas. Arkansas will take on No. 1 Oklahoma for a second time this season, SEC foe, and second-ranked, LSU, along with Big 12 opponent Iowa State. The meet will be held at the Fort Worth Convention Center and will begin at 7 p.m.
For more information on Arkansas gymnastics, follow @RazorbackGym on Twitter.