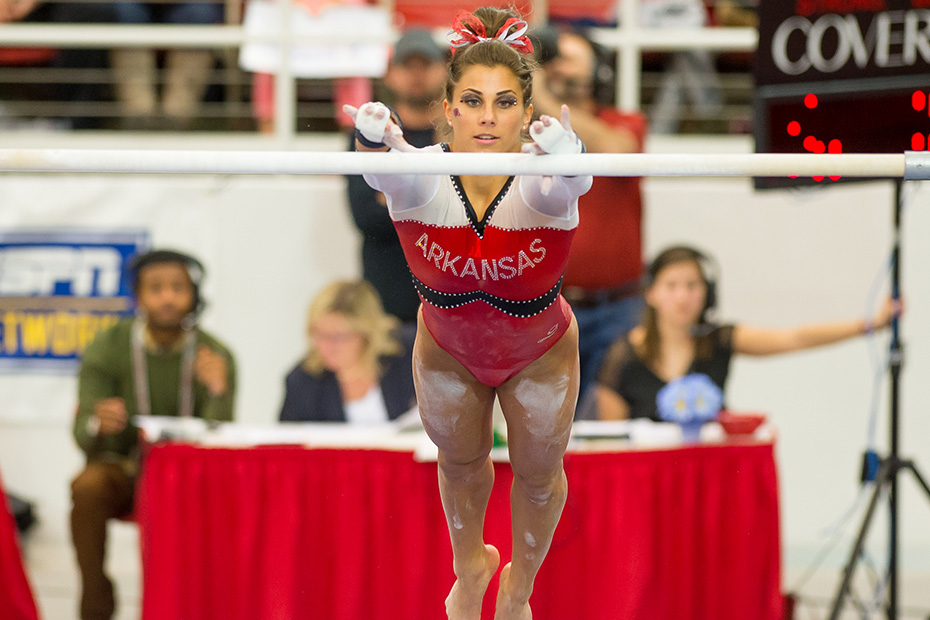 Zaziski Picks Up Two Event Titles Against Co-Defending Champ Florida
FAYETTEVILLE, Ark. – Freshman Paige Zaziski had another memorable night on Friday, as the freshman set a personal-best in two events and won a pair of event titles to lead the No. 8-ranked University of Arkansas women's gymnastics team to a 195.375 score against co-defending champion, and second-ranked, Florida, in Barnhill Arena.
Zaziski, who set three career-highs last weekend at the Metroplex Challenge, set two more personal-best on Friday in front of a home crowd which was the eighth-highest largest in program history, as she set new career-best on the vault and balance beam. The freshman also captured the first two event titles of her career, as she won the uneven bars and balance beam.
The freshman got the night started off with a bang, as she posted a career-best 9.925 on the vault. It was the third time this season that the Chesterfield Township, Michigan, native posted a 9.9-plus score this season, as she previously tallied a pair of 9.900.
Her performance on the vault, sparked a season-high 49.425 in the event for the Razorbacks, as five gymnasts scored a 9.800 or higher, including a 9.900 from junior Heather Elswick and a 9.925 from sophomore Amanda Wellick.
Zaziski followed her vault performance with a 9.850 on the uneven bars, marking the fifth-straight meet that she has posted a 9.8-plus score on the event en route to capturing her first career event title. She would later pick up her second career title as she turned in the best performance on the balance beam this season for an Arkansas gymnast with a 9.875. Junior Sydney Dillard would later match Zaziski's score from the anchor position on the beam to claim a share of the title.
Arkansas ended its night with a 49.125 in the floor exercise to give them a 49-plus score in two events for the evening. The Razorbacks collected four 9.8-plus scores in the event, as Elswick and Wellick posted back-to-back 9.875's from the fifth and sixth spot in the rotation to lead the team.
The defending co-defending national champion, Florida, collected a 49-plus score in all four events, as they totaled a 197.200 to beat the Razorbacks.
Razorback of the Meet – Freshman Paige Zaziski
• Won her first two career event titles (Uneven bars, Balance Beam)
• Set a career-high on the vault (9.925) and balance beam (9.875)
• Posted her third 9.90 on the vault this season.
• Scored a team-best 9.875 on the balance beam.
• Posted a 9.8-plus score in three events.
9.80-Plus Routines
Vault– Canizaro (9.800), Elswick (9.900), MacMoyle (9.875), Zaziski (9.925), Wellick (9.925)
Bars – Zaziski (9.850)
Beam – Freier (9.800), Zaziski (9.875), Dillard (9.875)
Floor – Canizaro (9.825), Dillard (9.825), Elswick (9.875), Wellick (9.875)
Arkansas All-Around Scores
Paige Zaziski: 39.250
Amanda Wellick: 38.800
Career-Best Scores
Vault: Zaziski (9.925)
Beam: Zaziski (9.875)
Team Scores
No. 2 Florida: 197.200
No. 8 Arkansas: 195.375
Event Winners
Vault: Alex McMurtry, Florida, (9.950)
Bars: Paige Zaziski, Arkansas, Bridgette Caquatto, Florida (9.850)
Beam: Sydnie Dillard & Paige Zaziski, Arkansas, Rachel Spicer & Claire Boyce, Florida (9.875)
Floor: Kytra Hunter, Florida (9.925)
All-Around: Ericha Fassbender, Florida (39.375)
Post-Meet Sound: Head Coach Mark Cook
On His Team's Performance
"We were a little flat tonight. I thought we came out really strong on vault. On bars, we got some nice sets over there. I was really pleased with that, but our scoring was a little lower than normal for that event. Balance beam, we just didn't perform. It was like a domino effect, just like what happened against Alabama. We have to get tougher mentally. We performed in floor and finished up strong. We have to tighten up our minds, and just get a little tougher mentally and we will be fine."
Post-Meet Sound: Freshman Paige Zaziski
On Her Performance
"I think I did pretty well, my thought process was to just back up my teammates. We had a little bit of a rough go on beam I just wanted to make sure I had their backs and perform my best for them."
On Breaking the 9.900 Mark on Vault and Setting a Career-Best on Beam
"It means a lot to me. I had a little bit of a rough vault the last home meet and I wanted to prove to my team that I could help them out. I really like doing beam, so I just had some fun up there. It was cool that I got to embrace it and do that."
#RazorFacts
• Tonight's attendance of 4,654 was the eighth-highest attended meet in program history.
• Arkansas scored the fifth-highest vault team score in program history with a 49.425.
• The Razorbacks led, 49.425-49.200 after the first rotation.
• Freshman Paige Zaziski picked up her first career event titles, by winning the uneven bars and the balance beam.
• Junior Sydnie Dillard won her first event title of the 2015 season and her fourth career beam title.
• Freshman Paige Zaziski posted a career-best on the vault (9.925) and balance beam (9.875).
• Zaziski's 9.875 on the beam is the highest total posted by an Arkansas gymnast in the event this year.
• Senior Stephani Canizaro set a season-high score on the vault with a 9.800.
• Junior Sydnie Dillard set a season-high on the balance beam with a 9.875.
• Junior Erin Freier set posted a season-best score of 9.800 on the beam.
Up Next
Arkansas will conclude a two-meet home stand next Friday, Feb. 13, as they step out of SEC action to host both Illinois State and Southeast Missouri State in a tri-meet at Barnhill Arena. Events begin at 6:45 p.m. CST.
For more information on Arkansas gymnastics, follow @RazorbackGym on Twitter.