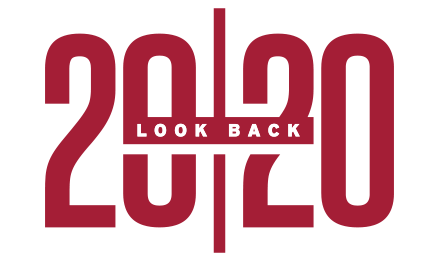 Introduction
Hello Fellow Razorbacks!
It seems like a long time ago since we have had the opportunity to enjoy the excitement of Razorback Athletics. After a hiatus of more than four months, we are all looking forward to the day when our 465+ student-athletes can return to the playing fields and courts to represent our University and the entire state of Arkansas.
Little did we know in mid-March as the men's basketball team won its opening round game at the SEC Basketball Tournament and Coach Dave Van Horn earned his 700th career win at Arkansas that the final hours of a shortened 2019-20 athletics year were upon us. After all, the women's basketball team was awaiting its bid to the NCAA Tournament, our gymnastics team was preparing for Senior Night and our men's and women's track and field programs were set to take the track in New Mexico to compete at the NCAA Indoor Track and Field Championships.
Then suddenly, the world of intercollegiate athletics stopped and we turned our focus to a shared foe – a pandemic that continues to test our will both individually and collectively. The next few weeks and months will help define what our future will look like in the year to come. We are hopeful that very soon, we will be able to gather again to support our student-athletes and Call the Hogs together.
However, even as we face daunting challenges ahead, it is important that we take a moment to look back and celebrate the tremendous accomplishments of our program in what proved to be an abbreviated athletics year.
From the classroom to the field, our community and throughout the world, the accomplishments of our student-athletes, coaches, fans and former Razorbacks were truly extraordinary in our quest to meet our mission of Building Champions and Razorback for Life. I want to invite you to join us this week as we take a look back at what we accomplished together as ONE Razorback last year.
Beginning tomorrow, our "20/20 Look Back" series will kick off here on ArkansasRazorbacks.com and across our social media platforms. I hope you will take an opportunity to check in each weekday to celebrate the phenomenal year that was 2019-20.
If you miss one, don't worry. You can visit the website to see previous topics throughout the series. There is so much to celebrate. So please plan on joining us as we reflect on a tremendous year of Razorback Athletics.
Go Hogs!

2020 Timeline

Top Photos of 2020
The 2019-20 athletic year featured many memorable moments. Whether it was the joy of championship celebrations, the emotional dedication of Nolan Richardson Court at Bud Walton Arena Court or the countless moments before and after, longtime Razorback photographer Walt Beazley and his team were there to capture it all. As we celebrate the year that was, we look back at the iconic moments that helped define the year for Razorback Athletics.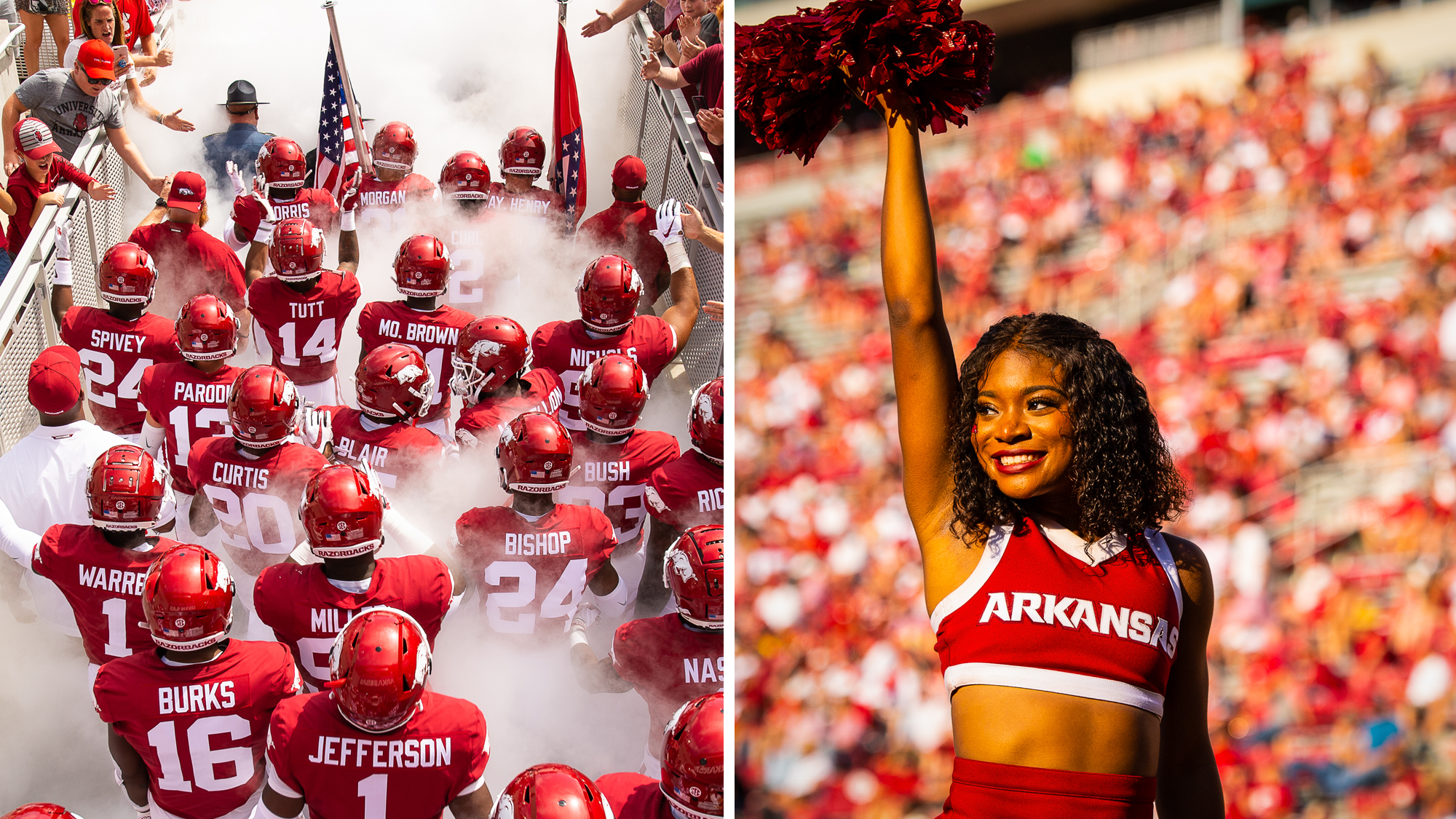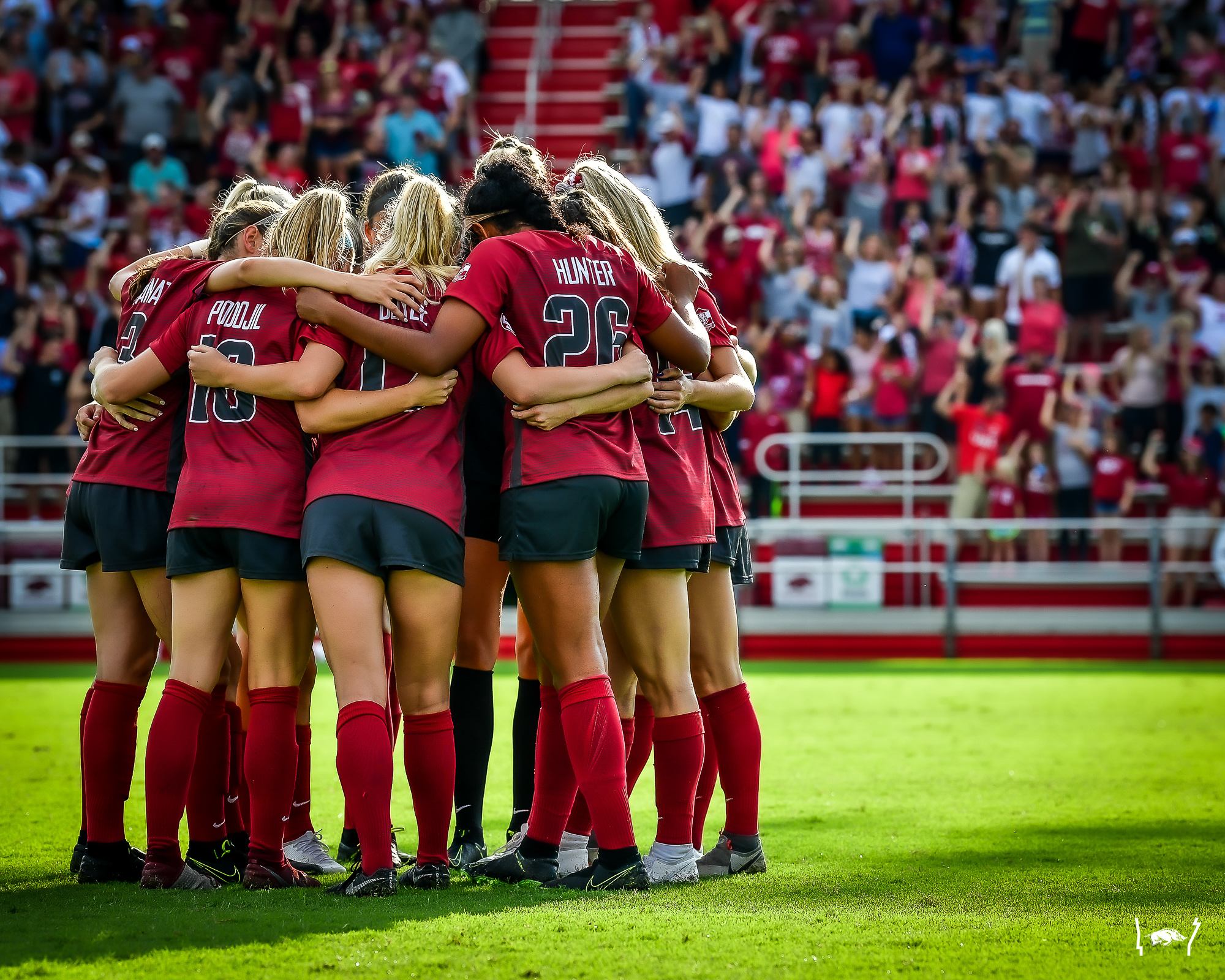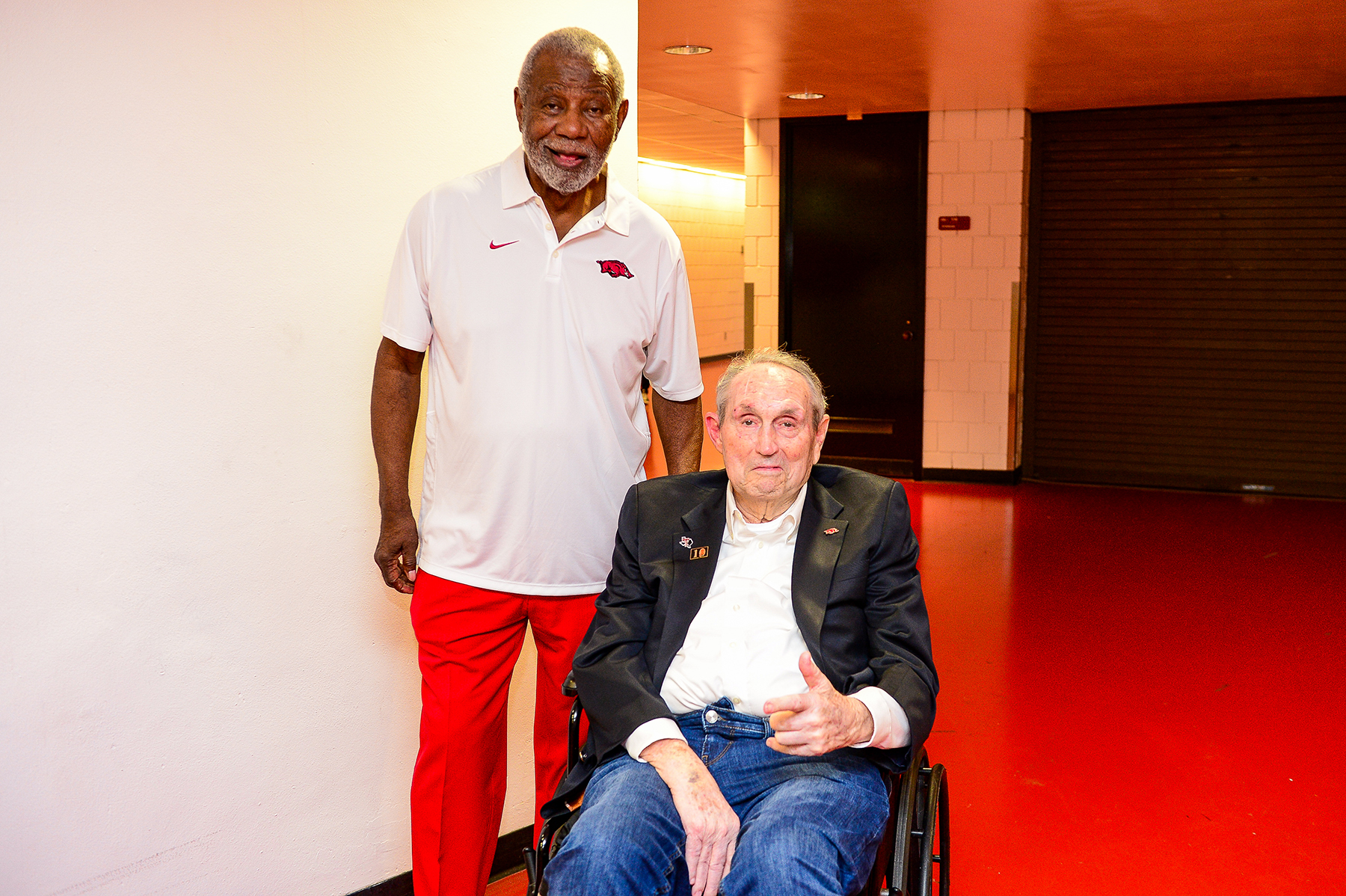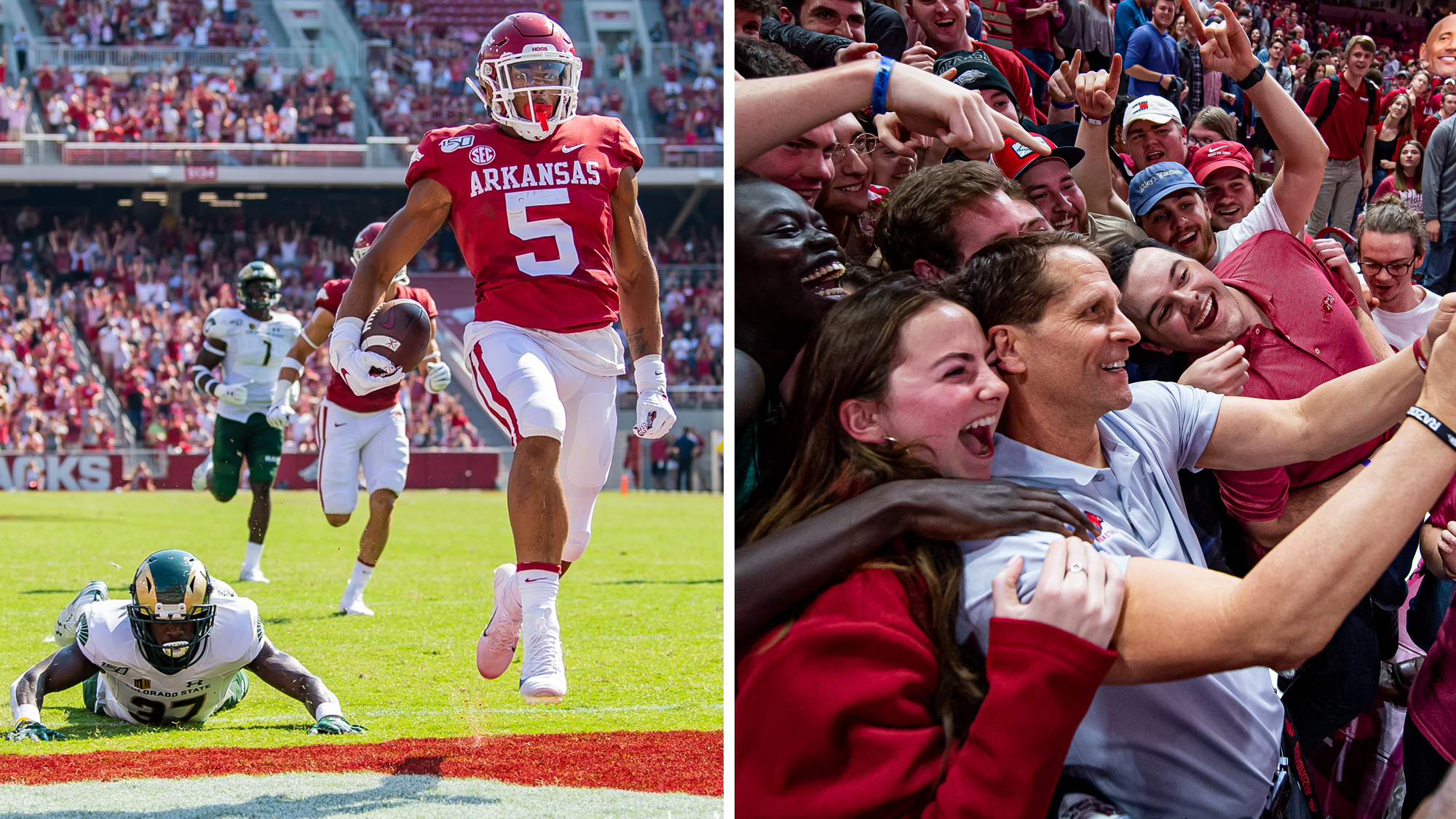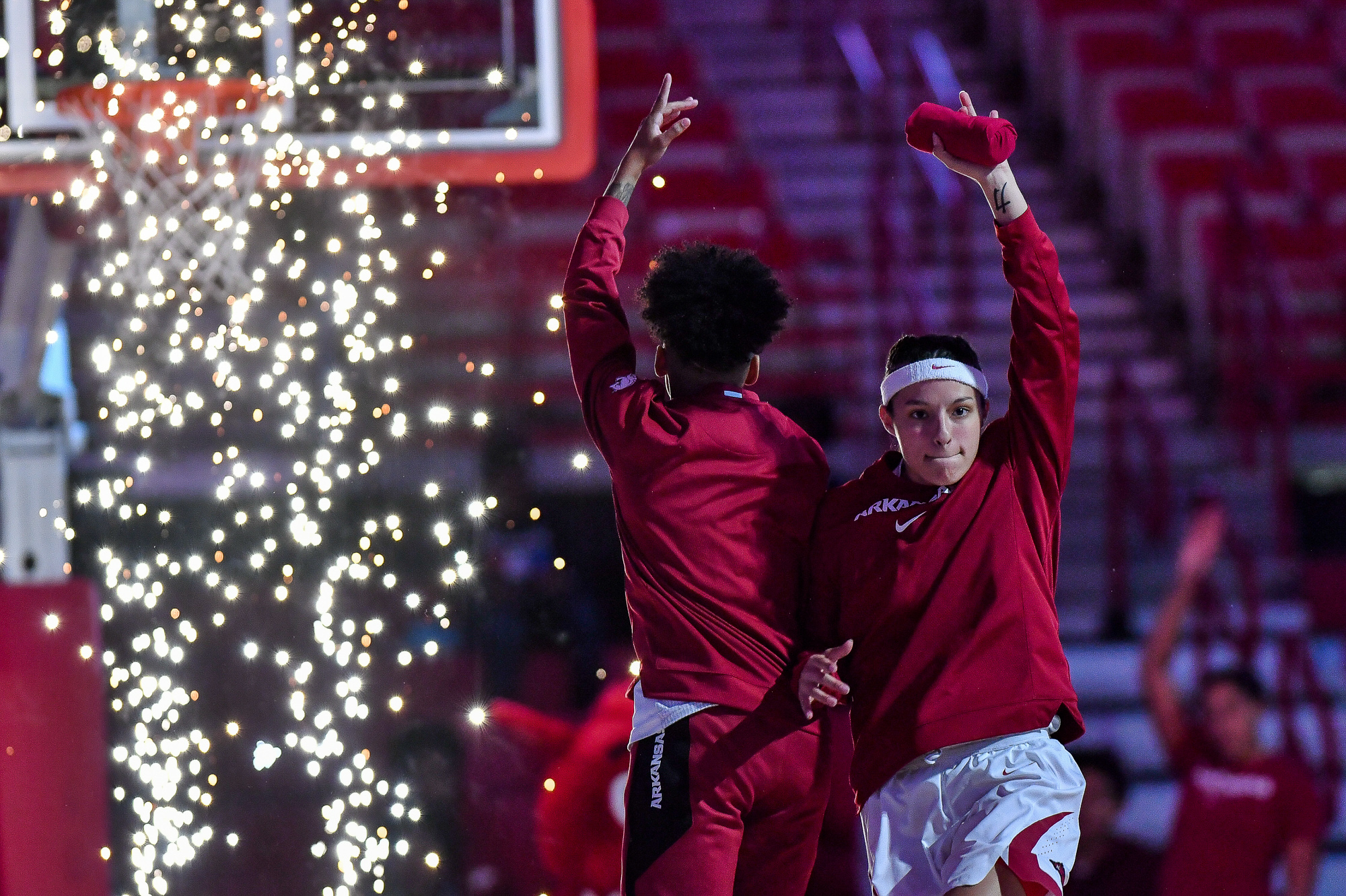 By The Numbers
1. The ONE Razorback Fund was launched to generate support from EVERY Razorback alumnus, friend, family member and Hog fan.
3. Senior Anna Hopkin won 3 medals at the 2020 SEC Swimming & Diving Championships. Hopkin was also named the SEC Scholar-Athlete of the Year.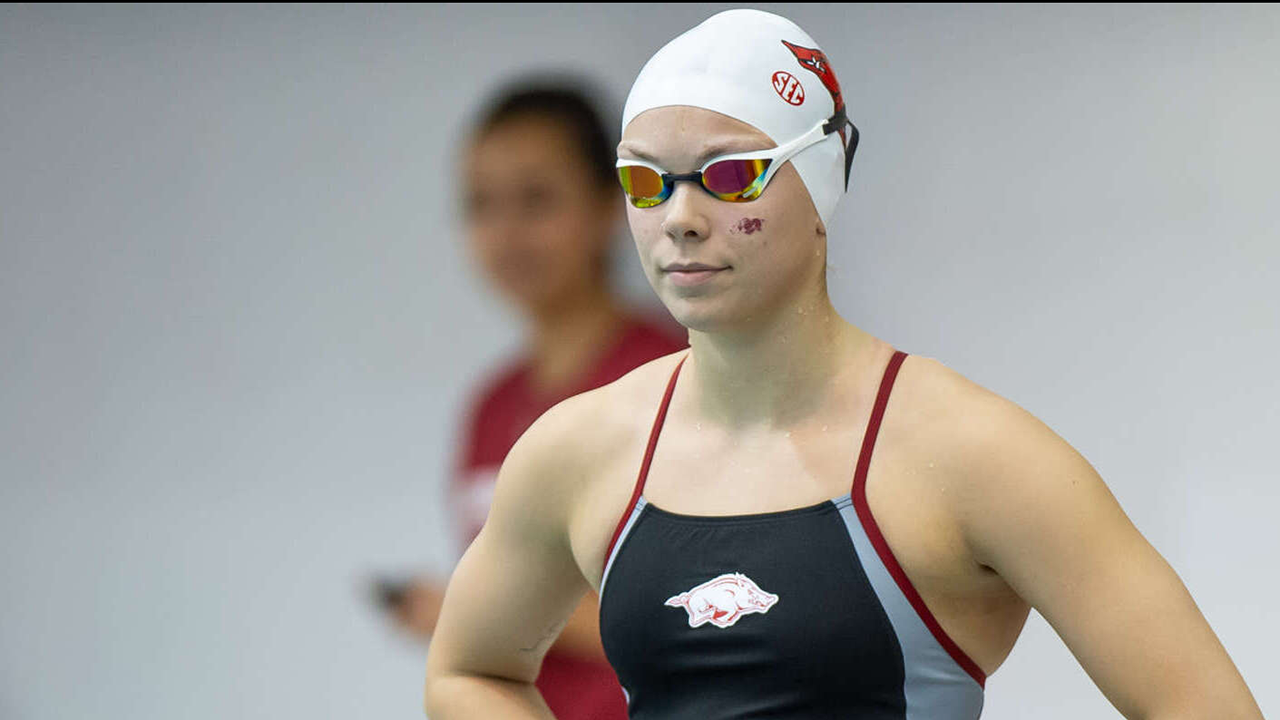 4. Razorback Soccer advanced to the SEC Tournament Championship Game for the 4th year in a row in 2019.
5. Razorback Athletics hosted 5 Virtual Razorback Roadshows in 2019-20, including appearances by UA head coaches, Bobby Bones, Justin Moore, Eddie Jackson and other former Razorbacks.
10. Women's basketball won 10 SEC games in 2019-20, marking the most wins by Arkansas in conference play since 2012.

11. A total of 11 Razorback programs were ranked in top 25 during their respective seasons (MXC, WXC, SC, GYM, S&D, MITK, WITK, WBK, BA, SB, WGF)
15. For the first time, Arkansas earned a perfect score of 15 points (top 5 finishers) in winning the NCAA South Central Cross Country Regional. The Razorbacks would go on to win their first NCAA Cross Country title.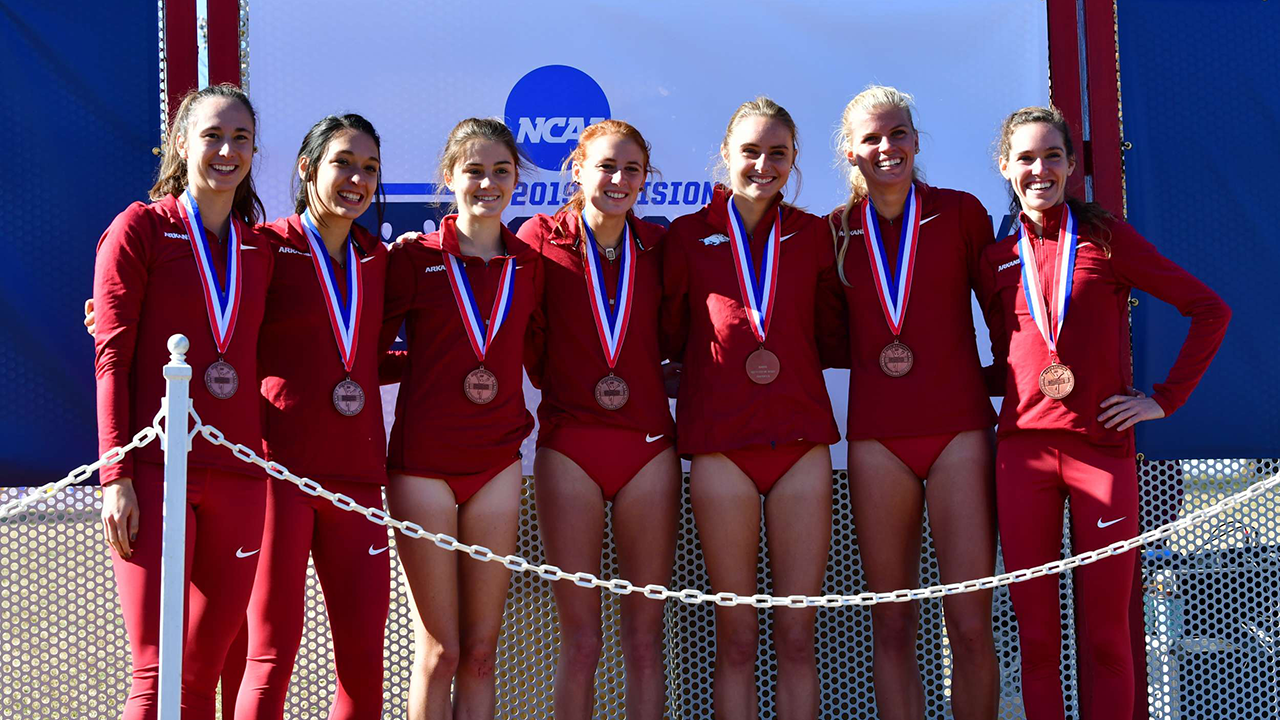 19. All 19 Razorback sport programs earned a term GPA of 3.0 or better in the spring 2020 semester.
20. Arkansas earned its first softball win at Alabama in 20 years with a 1-0 win over the Crimson Tide in the 2020 SEC opener.

24. Arkansas was ranked No. 24 in the final IMG-Learfield Sports Directors' Cup Fall Standings
33. Men's cross country improved its APR multi-year rate by 33 points from the previous year
40. Razorback student-athletes participated in 40 different student-athlete development programs in 2019-20.
42. The Razorback Foundation includes members from 42 states and the District of Columbia as well as members from all 75 counties of Arkansas.
55. Arkansas racked up 55 points in a 55-34 win over Colorado State at Donald W. Reynolds Razorback Stadium on September 14, 2019.
70.38. Sophomore Julian Perico set a school record with a 70.38 stroke average during the 2019-20 men's golf season.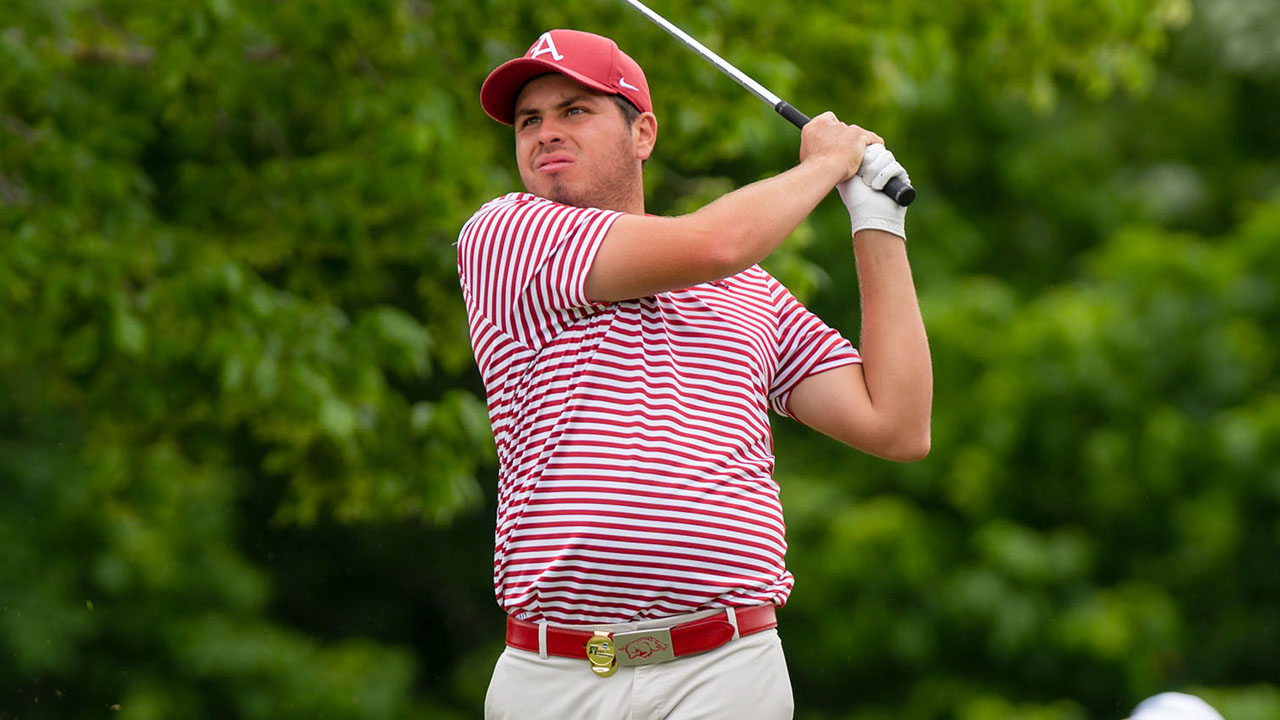 75. More than 75 on-campus meetings were conducted connecting Razorback student-athletes with prospective employers.
84. Arkansas earned a program record 84 percent graduation success rate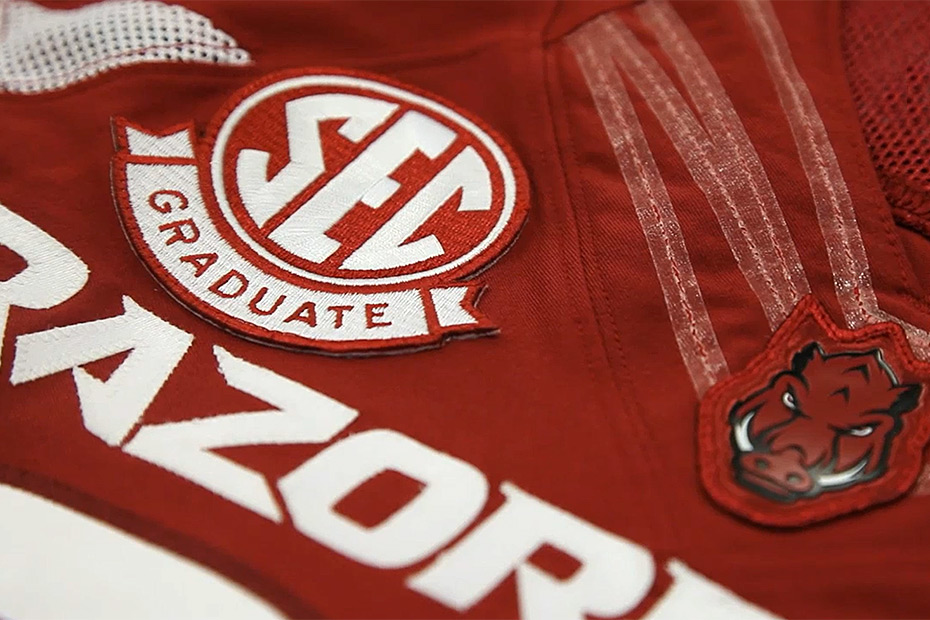 100. Razorback Athletics has averaged more than 100 graduates for the past five years.
106. The Razorback Men's Track and Field Team won the 2020 SEC Indoor Track & Field Championship with 106 points. It was the 23rd SEC indoor title in program history.

150. More than 150 Razorback student-athletes participated in career development programming.
225. Razorback student-athletes earned 225 personal academic bests during the 2019-20 academic year.
347. The men's basketball team set a school record with 347 free throws made in SEC games.
938.5. Program Average Multiyear APR Rate of 983.5 was more than 53 points above the APR benchmark standard
1,300. More than 1,300 Razorback Foundation members celebrated their 40th anniversary of Foundation membership in 2019-20.
3,022. Razorback student-athletes volunteered for more than 3,022 hours of community engagement in 2019-20.
3,768. Senior Rachel Rippee became the all-time Arkansas career leader during the rally era with 3,768 total assists.
19,200. Bud Walton Arena hosted five sellout crowds of 19,200 during the 2019-20 men's basketball season.
$85,911. The average investment per year for an out-of-state scholarship student-athlete is $85,911.
116,387. A total of 116,387 fans attended games at Baum-Walker Stadium in an abbreviated 2020 season, a mark that ranked the Razorbacks second in the nation in attendance.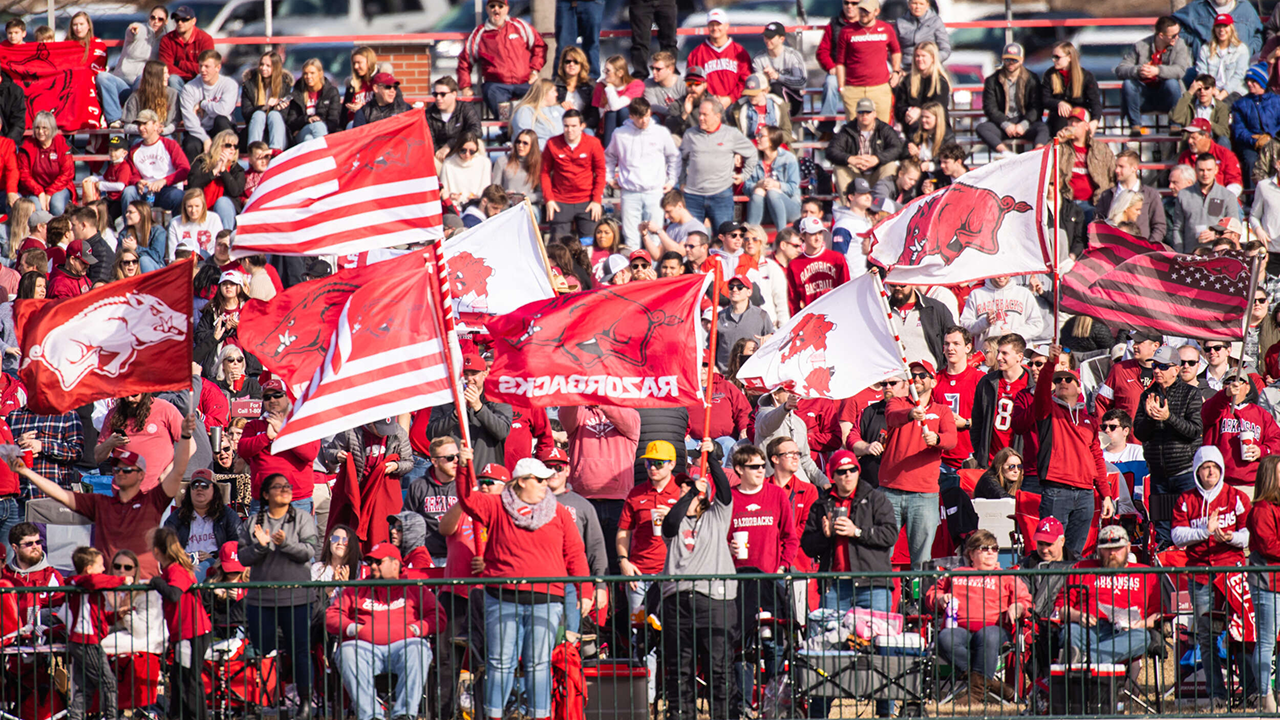 $21.7M. More than $21.7M in total gift support raised through June 30, 2020 for the J.B. and Johnelle Hunt Family Baseball Development Center, the Frank O'Mara High Performance Center and the Randal Tyson Track Center renovation.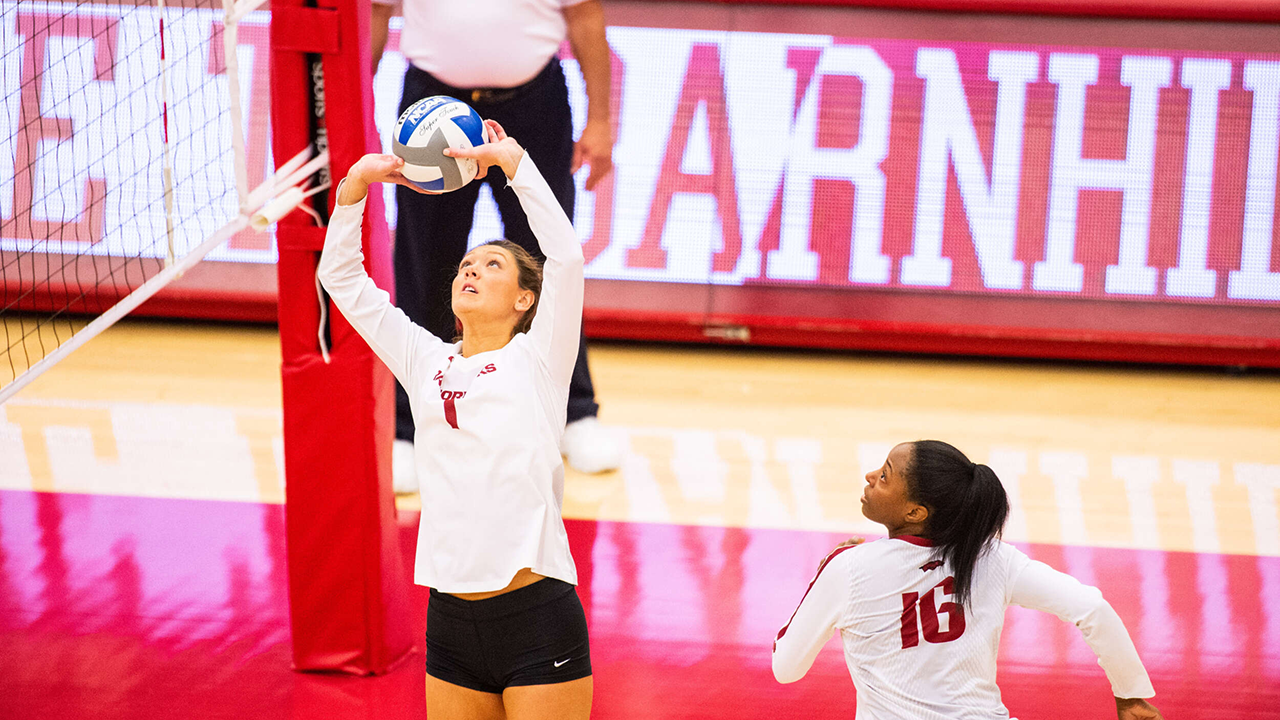 BEST OF SIGHTS AND SOUNDS

A-Z
A: Razorbacks fans helped the University of Arkansas rank among the nation's best in in ATTENDANCE in multiple sports, including BA (2), GYM (9), MBK (8), SB (15), SC (20), WBK (27) and FB (28).
B: Junior running back Rakeem BOYD became the first Razorback football player since 2016 to rush for 1,000 or more yards in a season. Boyd returned to Arkansas for the 2020 football season.
C: The Razorback Foundation launched the CARDINAL & White Society, a philanthropic society to support facility construction and renovations, student-athlete development opportunities, scholarships and other operations of the Athletic Department designed to enhance the student-athlete experience.
D: Eric Musselman (men's basketball) and Jordyn Wieber (gymnastics) made their Razorback head coaching DEBUTS in 2019-20.
E: Razorback Student-Athlete Development teamed with Startup Junkie to host a ENTREPRENEURSHIP and Innovation Workshop for student-athletes.
F: Razorback Soccer earned its FIRST national seed for the NCAA Tournament in program history.
G: A total of 107 Razorback student-athletes were eligible for commencement as GRADUATES of the University of Arkansas.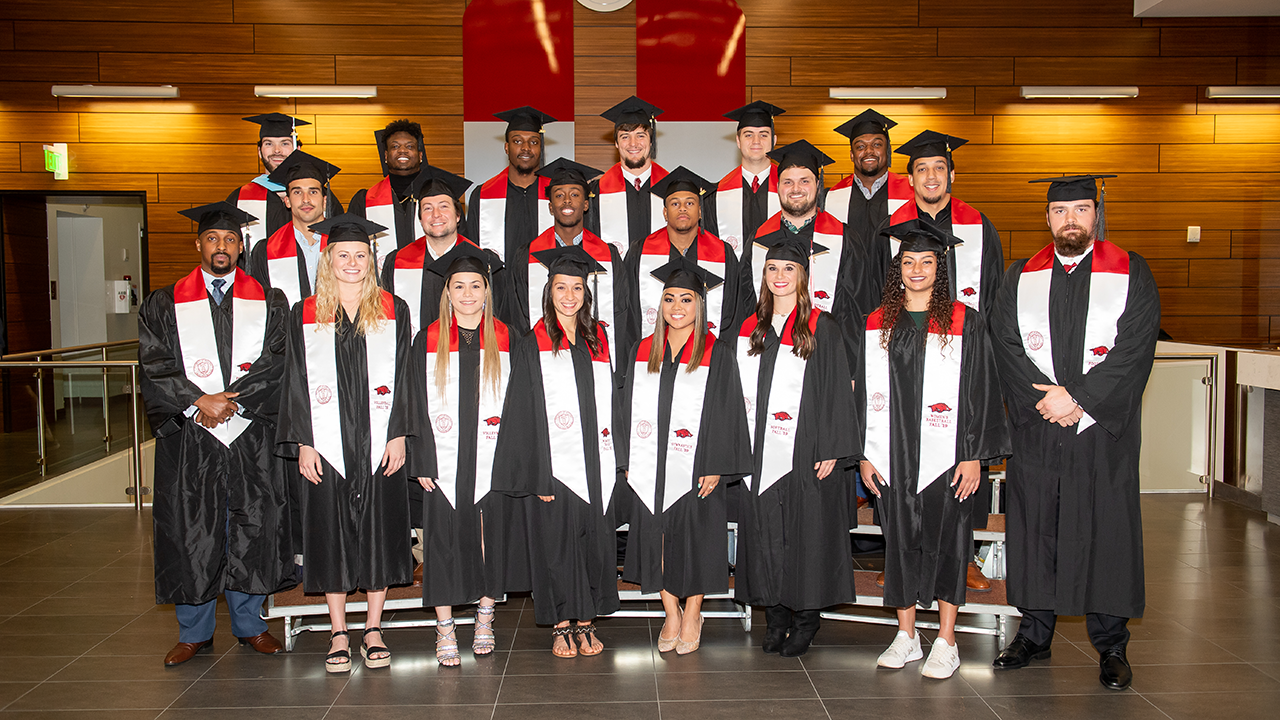 H: Arkansas HOSTED two NCAA events on campus during the 2019-20 athletic year – a 2019 NCAA Women's Soccer First Round match and a 2019 NCAA Cross Country Regional.
I: Razorback Athletics INVESTS approximately $70,000-$85,000 in support of every scholarship student-athlete each year.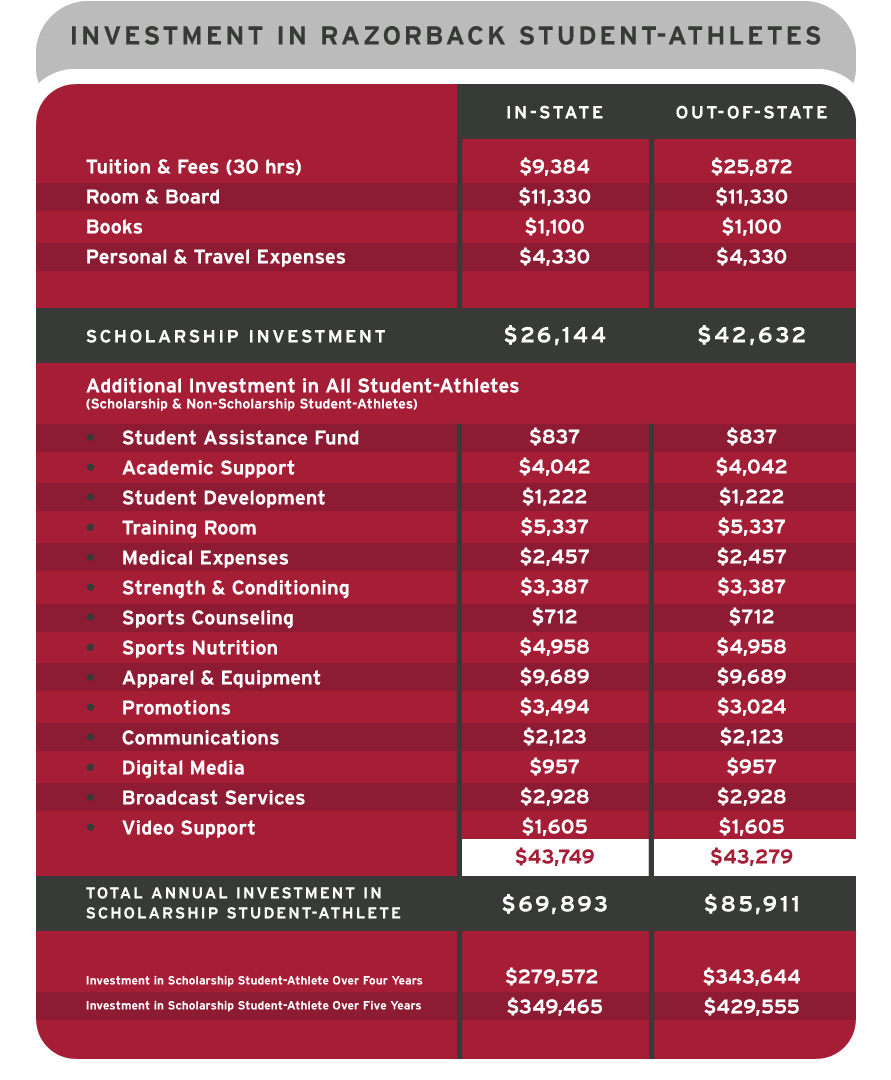 J: Junior men's basketball guard Mason JONES capped a spectacular season by being recognized by the Associated Press as the SEC Co-Player of the Year. Jones also earned honorable mention All-America honors.
K: Heston KJERSTAD was selected with the No. 2 overall pick in the MLB Draft by the Baltimore Orioles. Kjerstad was the highest Razorback MLB draft pick since Jeff King was selected No. 1 overall in 1986.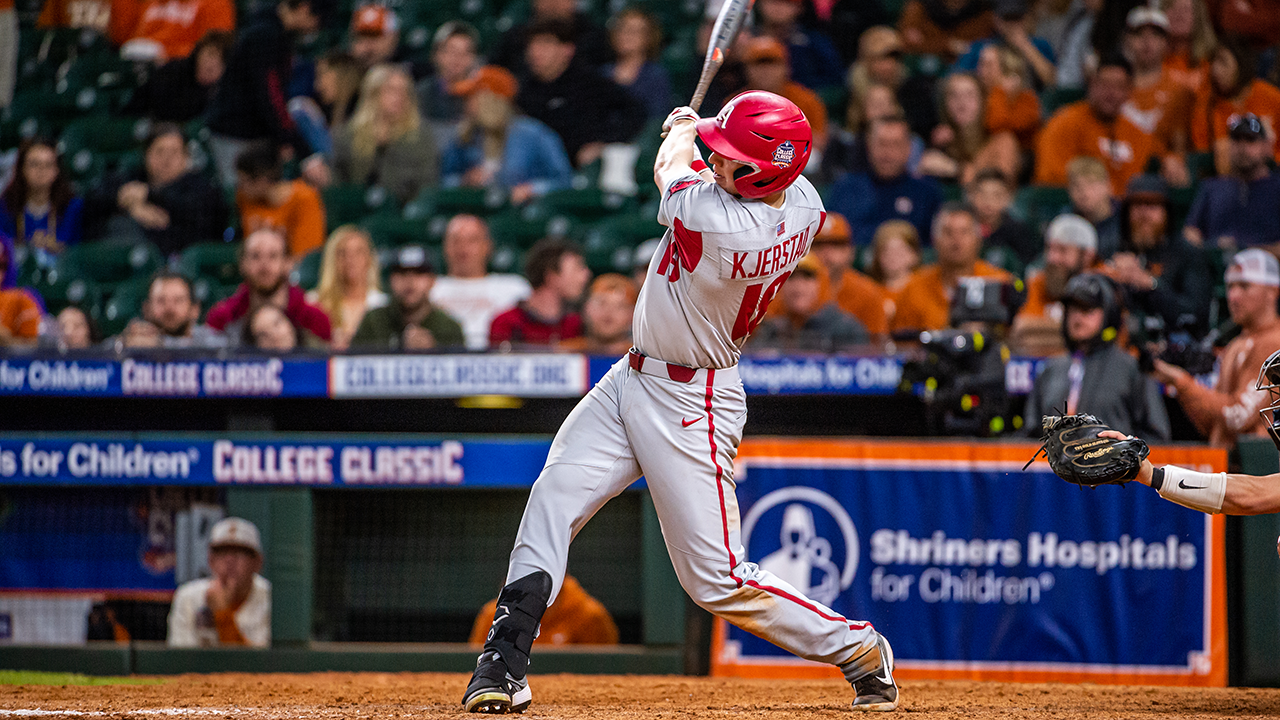 L: Coach LANCE Harter led the Razorback women's cross country team to the program's first NCAA Cross Country Championship. Arkansas has now won 5 NCAA Titles in women's cross country, indoor and outdoor track and field.
M: Tamara Kuykendall (WTK) and Mason Overstreet (MGF) were finalists for the SEC H. Boyd McWHORTER Award, an honor recognizing the SEC's top female and male scholar-athletes.
N: On Ocober 20, 2019, Arkansas officially unveiled NOLAN Richardson Court at Bud Walton Arena in a pre-game ceremony before the Razorbacks played UALR.

O: In spring 2020, construction was initiated on the Frank O'MARA High Performance Center at John McDonnell Field.
P: A PROGRAM record seven teams earned APR Public Recognition Awards for academic performance from the NCAA.
Q: Arkansas had racked up a total of 22 QUALIFIERS (11 men, 11 women) for the NCAA Indoor Track and Field Championships, before the event was cancelled due to the pandemic.
R: A new RAZORBACK Career READY website was created to provide student-athletes resources to assist them in preparing for life after graduation.
S: Even an abbreviated athletics season, Arkansas won four SEC team championships: Women's Cross Country, Soccer, Men's Indoor T&F and Women's T&F.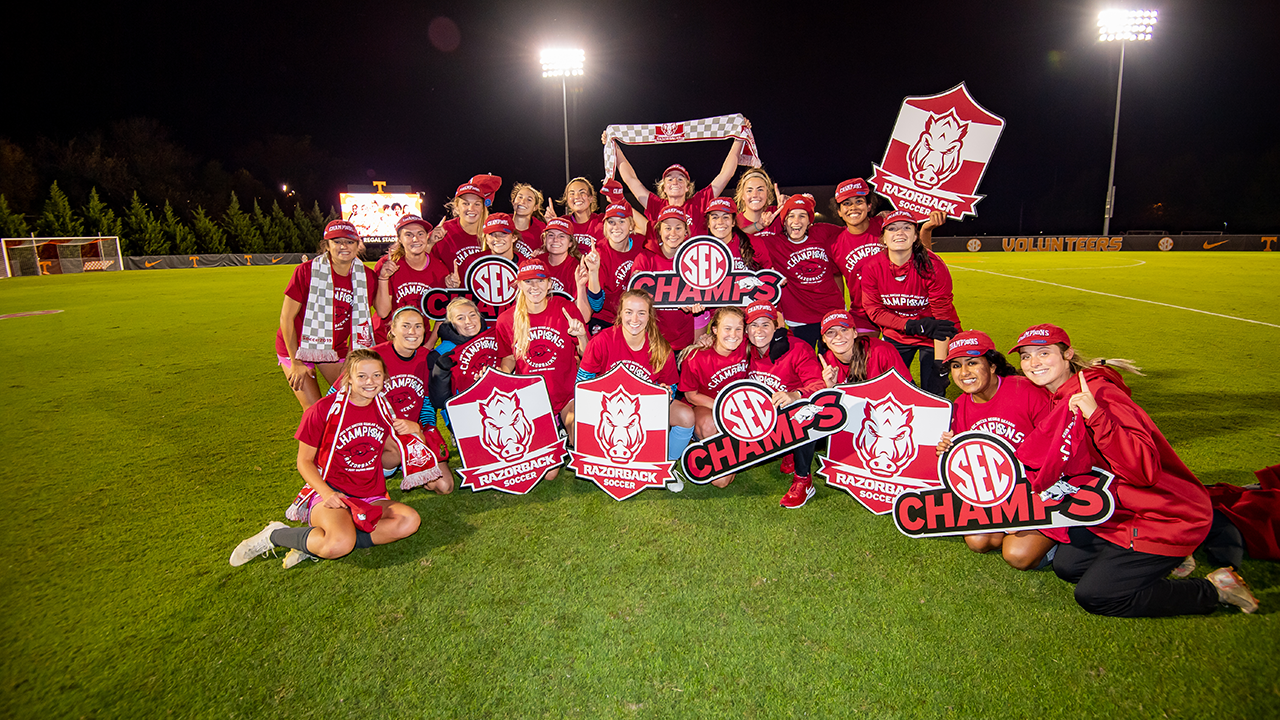 T: Razorback student-athletes earned a record TERM GPA of 3.43 in the spring 2020 semester.
U: The men's tennis team turned in an early-season UPSET with a 4-3 win over No. 5 Baylor at the Dills Indoor Tennis Center on February 1.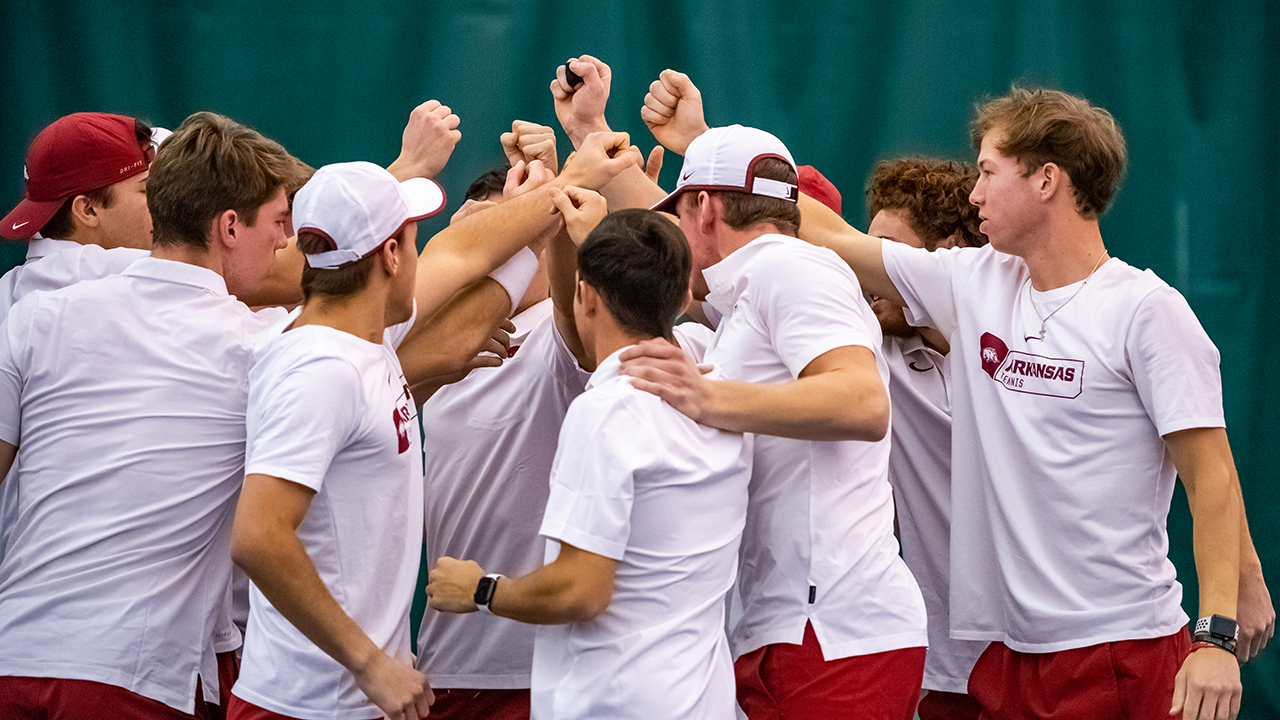 V: SEC Commissioner Greg Sankey VISITED campus to participate in a round-table discussion with members of the Razorback Student-Athlete Advisory Committee (SAAC).
W: Razorback fans became more connected than ever before with the installation of WIFI networks in Donald W. Reynolds Razorback Stadium, Bud Walton Arena and Baum-Walker Stadium.
X: EX-Razorbacks received several distinguished honors: Darren McFadden (College FB HOF), Sidney Moncrief (Naismith BK HOF). In 2020-21: Steve Atwater and Jimmy Johnson (Pro FB HOF) and Eddie Sutton (Naismith BK HOF).

Y: In a YEAR-long initiative, 86% of Razorback student-athletes participated in at least on community engagement event around the state.
Z: As a financially self-supporting program, Razorback Athletics receives ZERO dollars from tuition, student fees or other state appropriated support.