Gates Open
Gates will open 90 minutes prior to the start of competition for the general public and premium areas. The Player Pass Gate (Gate C) will open 2.5 hours prior to the game. Limited entry for scouts is allowed beginning 2.5 hours prior to the start of competition at Gate C.
Metal Detectors
Metal detectors will be used at all baseball games this spring at Baum-Walker Stadium.
Metal detectors will be located at each entrance of Baum-Walker Stadium. Screening of fans entering the ballpark will be conducted directly at the gates. At each of the entrances to Baum-Walker Stadium, there is a metal detector designed to accommodate fans utilizing a wheelchair. Gate personnel will direct fans to the designated metal detector at each location.
Fans will not be required to remove keys, shoes, belts, wallets, coins, watches, jewelry, coats or hats before passing through metal detectors. To expedite entry, it is recommended that fans hold their cell phone near their chest while walking through the metal detectors.  
Fans must pass through the metal detector screening BEFORE scanning their ticket for the game. Ticket scanning at Baum-Walker Stadium will take place inside each gate, a short distance after passing through the metal detectors.

Re-entry Policy
Re-entry is permitted at Baum-Walker Stadium with the appropriate re-entry hand stamp and ticket.
Food & Beverage
No outside food or beverages are permitted inside the ballpark, with the exception of the Hog Pen. There are concession stands located throughout the concourse on both the third and first base lines. Beer and wine will be sold throughout the concourse in the main seating bowl area. Beer and wine will be sold until the top half of the 7th inning is over.
There is a clear bag exception in the Hog Pen for containers carrying food and beverages. Food items may be brought into the Hog Pen in coolers or disposable bags. Beverage items may be brought in a cooler. Personal bags with no food or beverage brought into the Hog Pen must follow the clear bag policy. Per previous guidelines, any coolers, bags or containers carrying food and beverages admitted at the Hog Pen gates must stay in the Hog Pen area and will not be allowed past the checkpoint into the regular seating bowl.
Rain Out / Game Cancelation Policy
In the scenario a game is canceled or moved due to inclement weather, season tickets, including suite tickets, for that date are null and void (i.e. you cannot exchange them for a different date) if the game is played as part of another scheduled dates. For example: If there is a doubleheader on Saturday after Friday is canceled – game tickets for Friday will not grant you admission.

Single game tickets for games that are canceled or moved to another date may be exchanged for another regular-season game (subject to ticket availability)
Fan Services & First Aid
Fan First Aid is located in the Fan Services office on the concourse level on the first base side of the stadium behind section 105. If you need assistance of any kind during your time at the ballpark, please contact your nearest usher. Fans in need of service (first-aid, issues inside the ballpark etc.) are encouraged to go to the Fan Services room located behind Section 105.
Lost Children
Parents/Guardians with a lost child should contact the nearest police officer or event staff member. If a child gets separated, he/she should notify the nearest police officer or event staff member. Lost children will be taken to the Fan Services office located on the concourse on the first base side of the Stadium behind section 105.
Merchandise
There is a merchandise stand inside Baum-Walker Stadium located on the concourse behind home plate. Official game programs are on sale (for $2 each) by the Diamond Dolls, located at each gate throughout the concourse. A merchandise trailer is also available in the Hog Pen.
Will Call / Customer Service
Will Call is located at the Razorback Ticket Office located near Baum-Walker Stadium's Gate A. Photo identification must be presented in order to receive tickets. Will Call will open 2 hours prior to first pitch on game days.
Clear Bag Policy
Fans can bring in one (1) clear bag (no larger than 12" x 6" x 12") AND one small clutch purse (no larger than 4.5" x 6.5", the size of the palm of your hand, with or without a handle or strap). All bags and purses not meeting the above requirements will not be permitted. Although permitted, childcare items, including diapers, must also be carried in an approved clear bag.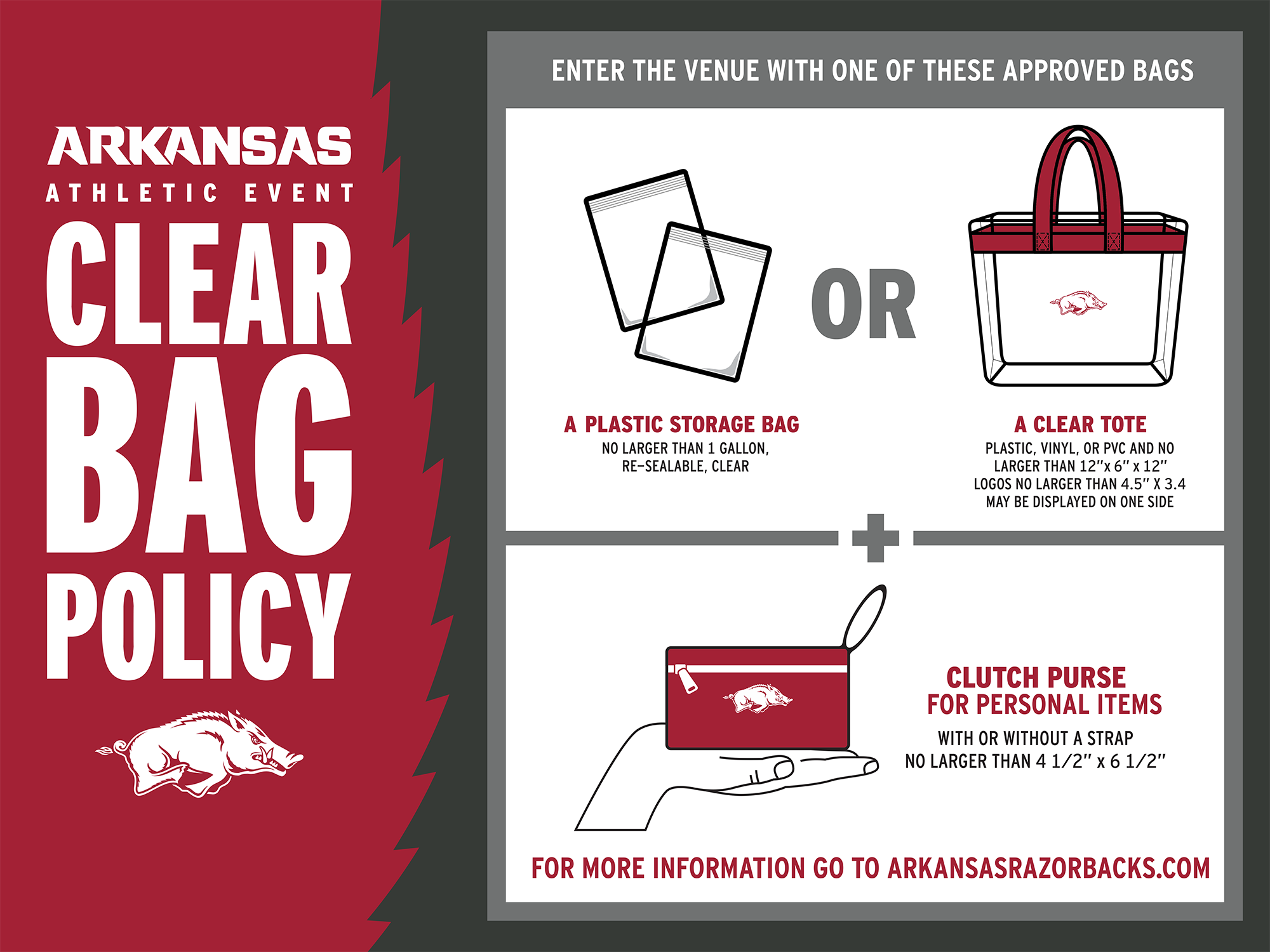 ADA Seating
Wheelchair and companion seating is available on the concourse level. Please ask the nearest usher for assistance with ADA seating.
Public Entrances
The public entrances to Baum-Walker Stadium are located at Gates A, B, C, D and E. Gates A & B are located along the third base side, Gate C is behind home plate, and gates D and E are located along the first base line. Will call is located at Gate A at Baum-Walker Stadium. The player family pass gate is located at Gate C.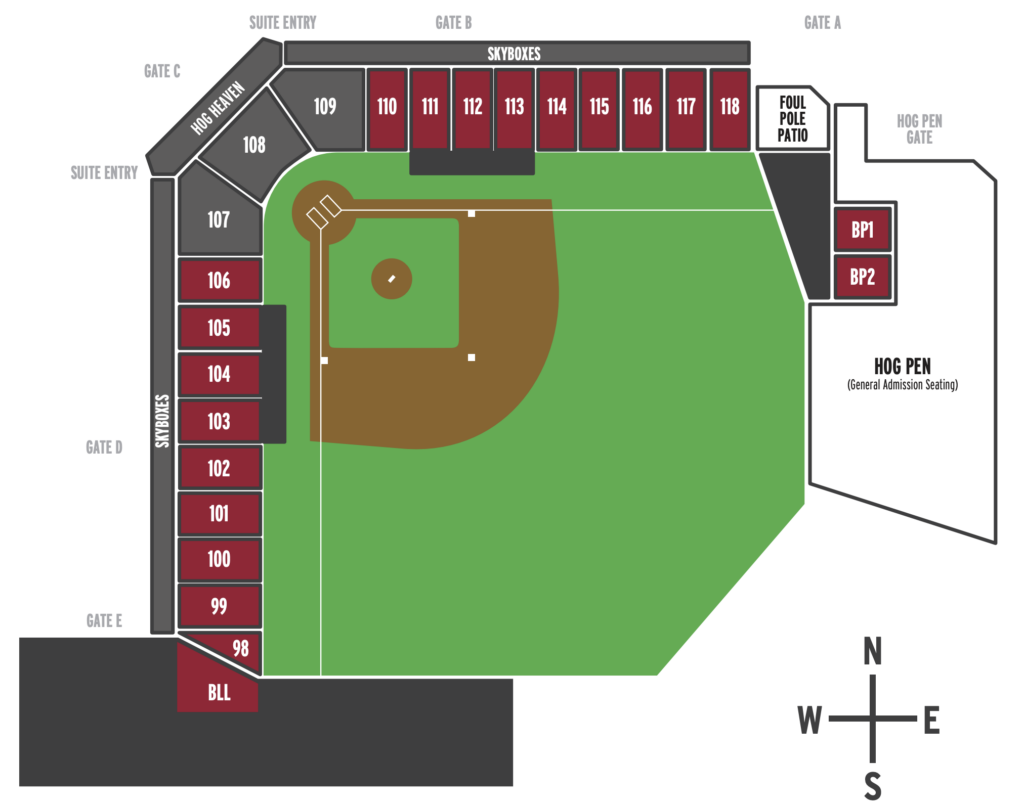 Prohibited Items
The following items are NOT permitted in Razorback Athletic Facilities:
– Alcoholic beverages
– Baby seats
– Baby strollers
– Backpacks
– Banners, sign
– Beach Balls
– Cameras (professional equipment or cameras with long telephoto lenses longer than six inches)
– Explosives. guns, knives, or weapons
– Laser pointers
– Pets (with exception of service animals used by disabled guests)
– Stadium seats with armrests and/or over 16 inches wide
– Umbrellas
– Video cameras
– Noisemakers of any type (i.e. bells, horns, whistles, etc.)
– Drones
– Selfie Sticks
Camera Policy
Point-and-shoot cameras are permissible. No video cameras, professional camera equipment or long telephoto lenses (longer than six inches) allowed.
Tobacco Policy
Effective July 1, 2008 The University of Arkansas campus is tobacco free. This means no cigarettes,  e-cigarettes, pipes, cigars, dip or chew anywhere on campus and includes no exiting for tobacco use outside Baum-Walker Stadium.
Emergency Contact Numbers
From a campus phone dial 9-911.
From a cell phone dial 911
UA Police Department: 479-575-2222
Fayetteville Police Department: 479-587-3520
Washington Regional Medical Center: 479-713-1000
UA Student Health Center: 479-575-4451
View Stadium Map