DIRECTIONS/LOCATION
Basketball Venue: Bud Walton Arena
Location: Intersection of Razorback Road and Leroy Pond Drive
Address: 1240 Leroy Pond Drive
For a university of Arkansas campus map, directions and more information, please click on the links.
GAME DAY SCHEDULE
Doors open for women's basketball games 60 minutes before game-time.
Doors open for men's basketball games 90 minutes before game-time.
TRAFFIC FLOW
Pregame traffic flow follows the regular traffic routes.
SHUTTLE SERVICE – DAY OF GAME OPERATION
MEN'S BASKETBALL
Bud Walton Express (Begins 90 min before tip) & Muss Bus (begins 2 hours before tip)
There are two complimentary shuttle services for men's basketball games. Route 81 will be named the "Bud Walton Express" and Route 82 is named the "Muss Bus." (See below for diagrams of both routes.)
• Both routes will drop off and pick up riders along Leroy Pond Drive in front of Bud Walton Arena.
• Both the "Bud Walton Express" and the "Muss Bus" are ADA compliant.
• The "Bud Walton Express" (Route 81) will serve both the priority and public lots on the men's basketball parking map and will take approximately 10 minutes to loop around.
• The "Muss Bus" (Route 82) will serve more of a campus loop to include dorms on the north end of campus and sororities/fraternities on the east of campus as well as stops on Dickson Street and Union Station. This loop will take approximately 20 minutes.
• Fans are highly encouraged the use of Lot 44 on the north side of the Frank Broyles Center at Razorback Stadium for convenient free public parking as well as additional ADA parking. The "Bud Walton Express" will pick up and drop off from Lot 44 on both Razorback Road and Stadium Drive.
Fans can track the locations of both the "Bud Walton Express" and the "Muss Bus" in real-time by downloading the "Passio GO" mobile app or by visiting: www.uark.passiogo.com.
• After downloading the mobile app, fans will want to select "Razorback Transit" then click "view" at the bottom. Fans can click on a bus icon to track or determine which is the "Bud Walton Express" or the "Muss Bus."
Muss Bus Route 82 | Bud Walton Express Route 81
Entry Information
Gates will open 90 minutes prior to tipoff for men's basketball and one hour prior to tipoff for women's games.
PARKING
Parking lots to be used for men's and women's home basketball games are indicated on the basketball parking maps located on the back of your parking hang tags. The maps for parking, pre- and post-game traffic flows are also available with these links:
• 2021-22 Men's Basketball Parking Map
• Men's Postgame Traffic Flow Routes
• 2021-22 Women's Basketball Parking Map
GENERAL PUBLIC PARKING
Public parking is limited on campus on game days. Fans are encouraged to arrive early. Public parking is available in Lots 44, 72 & 73. Pay parking is available at the Stadium Drive Parking Deck and at the Harmon Avenue Parking Garage located north of Center Street on Harmon Avenue. Spaces are available on a first-come, first-serve basis.
PRIORITY PARKING
Certain lots will be reserved on game days. Parking passes for games at Bud Walton Arena are available through the Razorback Foundation.
Rideshare Drop-off and Pick-up Points
A rideshare drop-off/pick up location will be located in front of the Jones Student-Athlete Success Center on Meadow Street for vehicles displaying Lyft or Uber signage.
ADA PARKING
For men's basketball, ADA parking with a state-issued hang tag is available in Lot 56 which is at the corner of Martin Luther King Jr. Boulevard and Razorback Road. ADA parking is also available in Lot 44. Both lots will be serviced by the "Bud Walton Express."
For women's basketball, guests with a state-issued ADA parking permit may use the ADA spaces in all lots on a first-come, first-served basis
BUS PARKING
Bus parking is available at Baum-Walker Baseball Stadium off of Razorback Road approximately one mile south of Bud Walton Arena. There is no charge for bus parking and space cannot be reserved. There is no public shuttle service from the Baum-Walker Stadium Parking Lots.
TICKET INFORMATION
The Razorback Ticket Center is located next to Baum-Walker Stadium at 1295 S. Razorback Road, Suite B. Free parking is available in the large lot in front of the office. The Razorback Ticket Center is open Monday through Friday from 8:30 a.m. to 5:00 p.m. for advance ticket sales. Guests can also order tickets by calling 479-575-5151 (local calls), 1-800-982-HOGS (4647) or by ordering online at www.ArkansasRazorbacks.com.
SELF SCANNING TICKET
All ticket holders will be able to scan their own tickets upon entry to Bud Walton Arena. Please present one ticket per person.  Complete your downloading or transferring of mobile tickets BEFORE you arrive at the arena. This will eliminate the possibility that poor cell service/Wi-Fi prevent you from being able to access your tickets. If you need assistance accessing your mobile tickets please contact the Razorback Ticket Center at 479-575-5151 during business hours. If you need assistance accessing your mobile tickets on gameday, please visit the South Box Office at Bud Walton.
WHEELCHAIR SEATING
For information on wheelchair seating call the Razorback Ticket Office at 479-575-5151 (local calls), 1-800-982-HOGS (4647), or visit the ticket office located on Razorback Road next to Baum Stadium at 1295 S. Razorback Road, Suite B.
ADA tickets may be purchased in advance through the Razorback ticket office at 479-575-5151 (local calls), 1-800-HOGS (4647), or visit the ticket office located on Razorback Road next to Baum-Walker Stadium at 1295 S. Razorback Road, Suite B.
Wheelchair seating is offered the day of the game by purchase or exchange but availability is on a first-come first-served basis and must be done through the Razorback Ticket Window at Bud Walton Arena, at the South Entrance.
Wheelchair spaces are located on the concourse level.
PRIORITY SEATING TICKETS
Priority ticket seating guidelines are established by the athletic department and administered by the Razorback Foundation, Inc. The guidelines provide the donor with an efficient and equitable method to determine seating eligibility for season tickets as well as post-season tickets. For information on the Razorback Foundation, Inc. and priority ticket seating, please go to www.razorbackfoundation.com.
| | |
| --- | --- |
| South Entrance/Media Door | Razorback Band Entrance |
| | Media Entrance |
| South Entrance/Public Entrance | Razorback Player Family/Guest Entrance |
| | U of A Student Entrance for WBKB |
| Guest Services Office | Lost & Found |
| West Entrance | Public Entrance, Visiting Team |
| | Player Family/Guest Entrance |
| East Entrance | U of A Student Entrance for MBKB |
| North Entrance | Public Entrance |
ELEVATORS
Elevator access is extremely limited this year. Fans are encouraged, unless for health reasons, to take the stairs.
South Entrance Floor, Ground & Concourse Levels
East Entrance Floor, Ground & Concourse Levels
Loading Dock Entrance Floor, Ground & Concourse Levels
CAMERA POLICY
Point-and-shoot cameras are permitted inside the arena. Professional camera equipment, selfie sticks, camera bags or cameras with telephoto lenses longer than six inches are prohibited inside the arena.
CLEAR BAG POLICY
The clear bag policy is intended to enhance public safety while minimizing time spent searching bags at gate security checkpoints.
Each ticketed fan is permitted to bring in only one clear bag and/or a small clutch purse. Fans are encouraged to arrive early, know which items are prohibited and avoid bringing a bag, if at all possible.
All clear bags and clutch purses will be screened prior to entry. All bags and purses not meeting the above requirements will not be permitted. Although permitted, childcare items, including diapers, must also be carried in an approved clear bag.
Fans will not be prohibited from carrying necessary medical supplies or devices into the stadium, but will need to go through the bag check line at their entry gate for a thorough screening of the items. The person requiring these supplies or devices must accompany the bag at all times. Medical exception bags will be tagged once cleared through security.
Working personnel, including media, will continue to enter the stadium through designated gates where they will be subject to screening and bag inspections already in effect.
The University of Arkansas' policy is consistent with a Southeastern Conference Bag Policy that is in effect for games at all league institutions.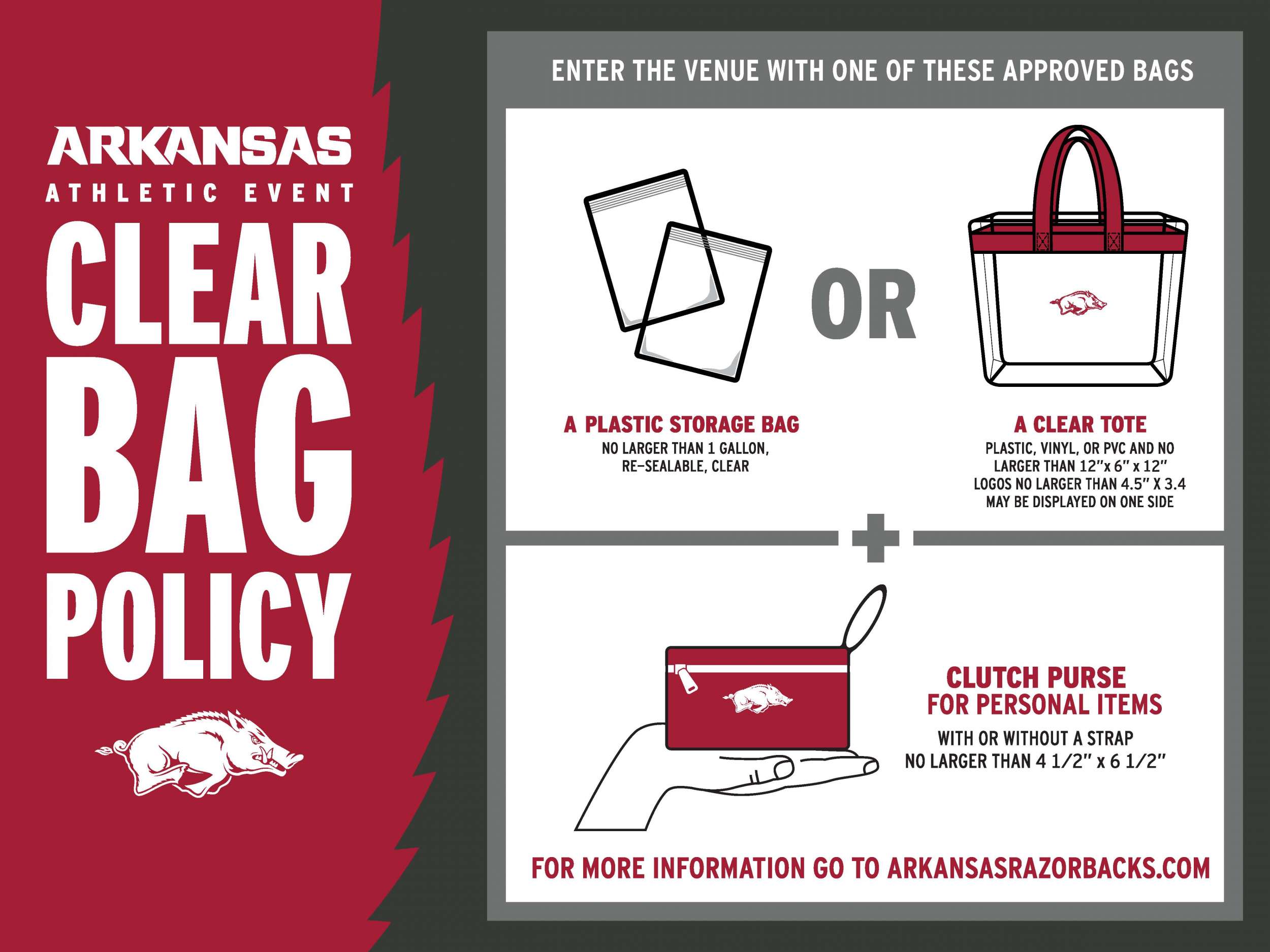 CLEAR BAG POLICY – FAQ
Click here
CONCESSIONS
The concession stands located throughout Bud Walton Arena, offer a great menu for fans. No outside food or beverages are permitted. Hospitality and dining partner Levy will offer a wide variety of signature and locally inspired menu options, as well as quality fan favorite concession fare. Menus will feature classic Ballpark Hot Dogs, gourmet pretzels, and Petit Jean smoked sausage across all core concession stands. Local partners will also will bring their signature offerings to Razorbacks fans throughout the arena.
EVACUATION
In case of evacuation, instructions will be given over the public address system. Arena personnel and ushers will assist directing fans to the appropriate exits.
INCLEMENT WEATHER
In the event of inclement weather (i.e. dangerous winds, tornado, etc.) emergency instructions will be delivered via the public address system and the messages boards when possible.
EXITING AFTER GAMES
Guests will leave the facilities via the main exits. No guests are permitted on the arena floor.
FAN CODE OF CONDUCT
Razorback fans are the best of the best. They model this by loudly supporting the Razorbacks and displaying respect and good sportsmanship toward the visiting team and visiting fans. The NCAA, SEC, and UA have assigned a high priority to assuring athletic events are conducted in a safe and enjoyable atmosphere which promotes good sportsmanship by spectators, student-athletes and coaches. We request cooperation by supporting the participants, officials, those around you, and event management in a positive manner and treating others with courtesy and respect.
Rowdy, threatening, unsafe or inappropriate conduct including profane, racial, sexist, abusive, or intimidating comments or actions, fighting, smoking, drunkenness and throwing of any object in the arena will not be tolerated and can result in ejection, arrest and/or loss of ticket privileges. UA policy strictly prohibits anyone from entering the arena floor without proper credentials. Violators will be arrested. The UA reserves the right to remove the ticket holder from the premises if, in the sole discretion of security personnel, the ticket holder's conduct endangers or disrupts the environment. All people must have a ticket, regardless of age, to enter the arena. Per SEC rules, no re-entry is permitted at any gate. All bags will be searched at the gates upon entering the arena. Public address announcements are restricted to emergency situations only and must be requested through University of Arkansas Police (UAPD).
FIRST AID
If any patron requires first aid, there is a First Aid Station on the West Concourse across from Section 108 in Room C-164.
Five (5) AED's (Automated External Defibrillators) are located throughout the arena including one in the First Aid Station (Section 108, Room C-164).
There are four AED's on the concourse level:
North: Across from Section 117
South: Across from Section 135
East: Across from and between Sections 125/1256
West: Across from and between Sections 107/108
One AED is also located on the Arena Floor Level in the center court vomitory.
LOST CHILDREN
Parents/guardians with a lost child should contact the nearest police officer or event staff member. That person will then contact the proper personnel to insure the quickest remedy to the situation. A lost child will be taken to the Arena Control Center on the North Concourse.
If a child gets separated from his/her party, he/she should notify the nearest police officer or event staff member. If the child knows his/her seat locations, attempts will be made to return the child to that location.
LOST & FOUND
During the game you may check one of the guest service information tables on the concourse for lost items. After the game, all unclaimed items will be turned over to the Bud Walton Arena Guest Services Office. If you have any questions, please contact Mark Scobey at 479-575-5152.
MASKING
Masks are REQUIRED upon entry for ages 12+ and in indoor areas where six feet of social distancing is not possible.
MERCHANDISE & GAME PROGRAMS
The Hog Heaven Store will be open for all home games and is located off of the South Entrance of Bud Walton Arena, ground floor. Merchandise stands are also located throughout the Arena on the concourse level. Official game programs are available select locations inside the arena.
Metal detectors will be located at each fan entrance of Bud Walton Arena. Screening of fans entering gates on the north, east and west sides of Bud Walton Arena, will be conducted OUTSIDE Bud Walton Arena on the respective gate plazas. Screening of fans at the south entrance of Bud Walton Arena will be conducted INSIDE the south lobby of Bud Walton Arena. At each of the main entrances of Bud Walton Arena, there is a metal detector designed to accommodate fans utilizing a wheelchair. Gate personnel may direct fans to the designated metal detector at each location.
Fans will not be required to remove cell phones, keys, shoes, belts, wallets, coins, watches, jewelry, coats or hats before passing through metal detectors.
Fans must pass through the metal detector screening BEFORE scanning their ticket for the game. Fans entering the north, east and west entrances of Bud Walton Arena will scan their tickets upon entry into venue, after completing the security screening outside the arena. Those entering the south entrance of Bud Walton Arena will complete security screening inside the lobby, before scanning their tickets at the top of the main staircases, located at the entrances of the arena concourse. Those using the elevator or auxiliary stairs located on the lobby level, may scan their tickets at those locations.
PAGING AND ANNOUNCEMENTS
The public address system is used for game related information and emergency announcements only. In the event of an emergency in which guests attending the game must be located, please contact an usher, a uniformed officer or a guest service representative at the information tables located on the concourse level.
RADIOS/TELEVISIONS
Singles speaker radios with ear phones and hand-held televisions are allowed into the arena as long as their use does not interfere with other guests' enjoyment of the game.
RE-ENTRY POLICY
Once a guest leaves the arena, they will not be permitted back in. This is a University of Arkansas and Southeastern Conference Policy and applies to every ticket holder. Guests should plan accordingly and bring everything they need to the arena upon initial entry.
SMOKING/TOBACCO FREE
The University of Arkansas campus is tobacco free. This means no cigarettes, e-cigarettes, pipes, cigars, dip or chew anywhere on campus and includes no arena exciting for tobacco use outside the stadium.
THROWING ITEMS
The throwing of items is strictly prohibited and will not be tolerated.