New in 2023
All-In-1 Pass
•  Now, just download ONE season ticket to your mobile wallet and it will automatically update on a per game basis.
•  For example, if you have 2 season tickets you will now just have 2 tickets in your mobile wallet instead of 2 for every home game.
•  The ALL-IN-1 pass will update if tickets are transferred, and you can still transfer and manage tickets from My Account.
New Scan Technology
•  No more QR codes on tickets.
•  Simply tap your phone against the scanner when entering.
•  Mobile tickets must be downloaded into your mobile wallet and pulled up on the screen of your mobile device for the tap entry to work.
•  Screenshots of tickets will no longer work.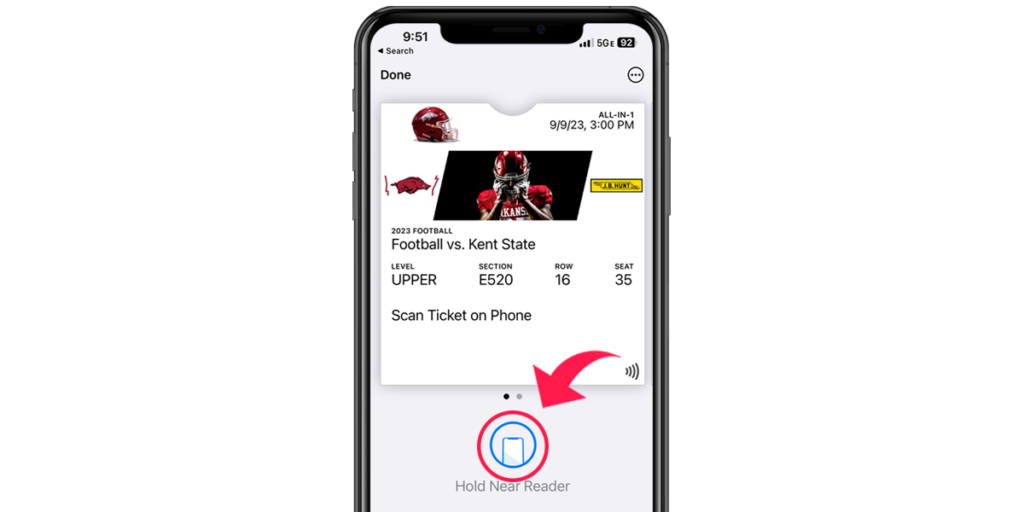 SeatGeek
•  Can't make a game? You can now sell your tickets on SeatGeek from right within your account. SeatGeek is the new official resell marketplace of the Razorbacks.
•  How does it work? SeatGeek will help you price your tickets, let you know when they have sold, transfer them to the buyer, and send your payout within 48 hours of the event. All tickets listed on SeatGeek are fully verified and delivered seamlessly. To sell your tickets, log in to your account and tap the "Sell Tickets on SeatGeek" icon.