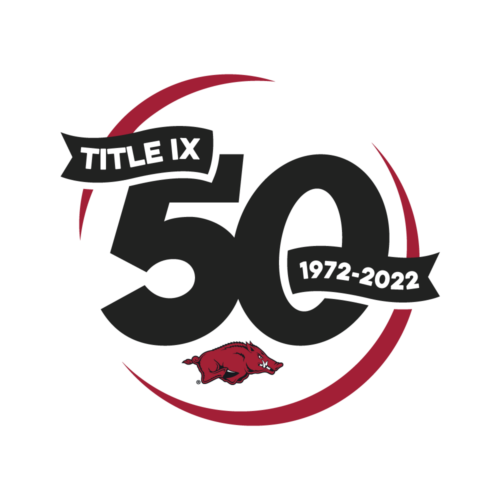 Introduction
"No person in the United States shall, on the basis of sex, be excluded participation in, be denied the benefits of, or be subject to discrimination under any educational program or activity receiving Federal financial assistance."
Title IX of the Educational Amendments of 1972
Intercollegiate competition for women became a reality only in the later part of the 20th century after the passage of Title IX of the Equal Opportunity in Education Act of 1972. Prior to this, women competed only in local "sports days" or "play days," which evolved into intramural and extramural teams. Female educators at the University of Arkansas helped to shape women's athletics both at the university and in the state of Arkansas. Women's sports began in what was then called the College of Education, where physical education teachers volunteered their time to coach girls who wanted the opportunity to compete.
June 23, 1972
Historical Events
22nd Berlin International Film Festival: "The Canterbury Tales" wins the Golden Bear
45 countries leave the Sterling Area, allowing their currencies to fluctuate independently of the British Pound
Bernice Gera becomes first female umpire in US pro baseball, Geneva Senators and Auburn Twins in Geneva, New York
Hurricane Agnes becomes America's costliest natural disaster, affecting 15 states, with 119 deaths and $3 billion in damage
US President Nixon signs act barring sex discrimination in college sports
Famous Birthdays
Cory Schlesinger, American football fullback (Detroit Lions), born in Columbus, Nebraska
Larry Whigham, NFL safety (NE Patriots)
Roell Preston, NFL wide receiver (Atlanta Falcons)
Ron Corning, American television anchor
About June 23, 1972
Day of the Week: Friday
How Long Ago? 49 years, 7 months and 15 days
Leap Year: Yes
Music: The Candy Man by Sammy Davis Jr.
Generation: Generation X
Chinese Zodiac: Rat
Star Sign: Cancer
Also in 1972
The beginning of the Watergate Scandal
US Supreme Court ruled against the death penalty
The first pay cable network, HBO, was transmitted by Time Inc.
MASH premiered on CBS
Gloria Steinem's Ms Magazine debut
The first video game, Pong's arcade version, was introduced by Atari
RCA developed the compact disk
In Their Own Words
3.18.22 | Bev Lewis | I Grew Up In Title IX
Former Director of Women's Athletics Bev Lewis recounts her early experiences as a high school athlete growing up in the midst of a nation-wide women's movement. Everything from sports – The Battle of the Sexes – between Billie Jean King and Bobby Riggs, to politics with the beginning of Ruth Bader Ginsburg's career, to music as Helen Ready crooned "I Am Woman" was changing.
4.5.22 | Linda Bedford Jackson | Being a scholarship athlete was just not something we thought about
Former track and field star Linda Bedford came to campus and earned one of the first scholarships for women in the 1970s. She split that with another athlete and was happy to get $250. Bedford Jackson knew things were changing and talks about the foundation for what is now one of the best track and field programs in the nation.
4.10.22 | Marsha Lackey-Vining | We just wanted to win
Marsha Vining walked on to the first University of Arkansas women's basketball team after the passage of Title IX. It wasn't easy. They had to fight for court time but it was worth it. Vining reflects on laying the foundation for today's teams.
5.6.22 | Bev Lewis | NCAA Joins Support For Women's Athletics
Bev Lewis recalls the NCAA adoption of women's sports and how Arkansas handled its women's teams in the early 80s and 90s. At Arkansas we were fortunate but that was not always the case.
6.22.22 | Arkansas Softball | The addition of a new sport
Three of the founding members of the Arkansas softball program reflect back on how it all started and how far it's progressed.
Historic Photos
Athletics for women at the University of Arkansas has featured many memorable moments. Whether it was the joy of championship celebrations, the grind of practice, the challenges of balancing coursework and sport or the laughs shared around the dinner table or on the bus, countless lives were shaped by sport and sport was shaped by the women who played.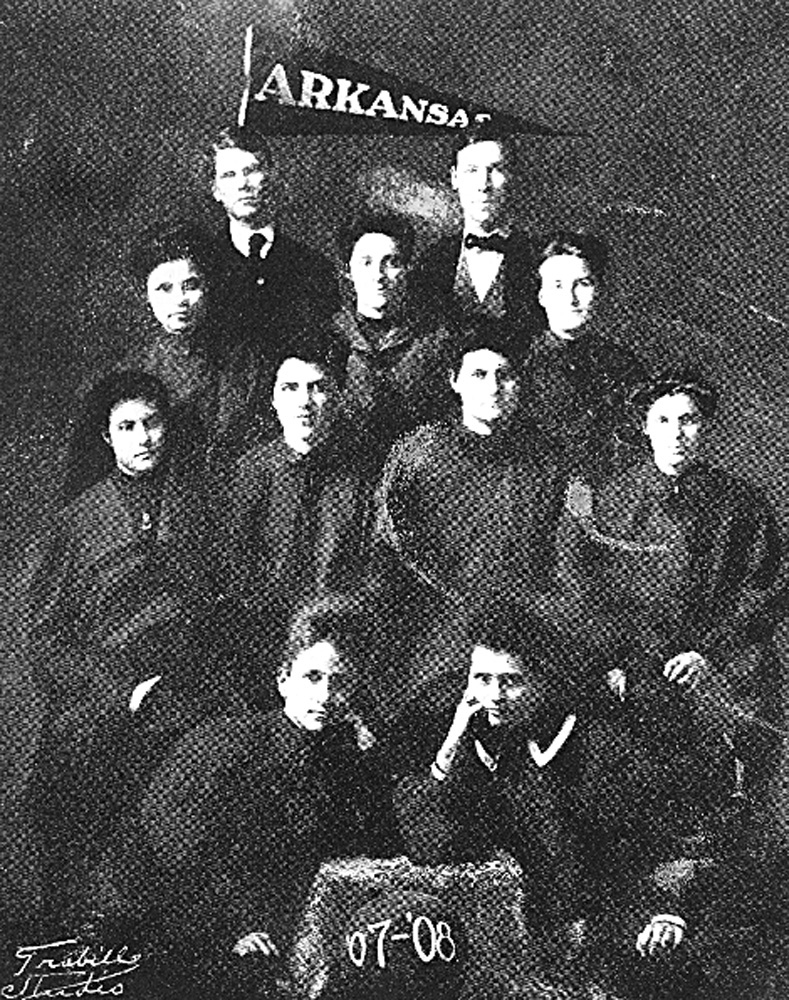 The 1907-08 women's basketball team photo.  Almost since the turn of the century, women have banded together to play basketball at the University of Arkansas. In fact, yearbook references to women's basketball predate men's basketball at Arkansas. There are photographs of at least three teams of women's basketball players prior to 1910. From the 1930s until the late 1950s, some of the nation's best AAU players and teams came from the state of Arkansas. After years of "extramural" women's basketball in the late 1960s and early 1970s at the University, the first varsity Razorback basketball team took the court in Barnhill Arena in 1976-77.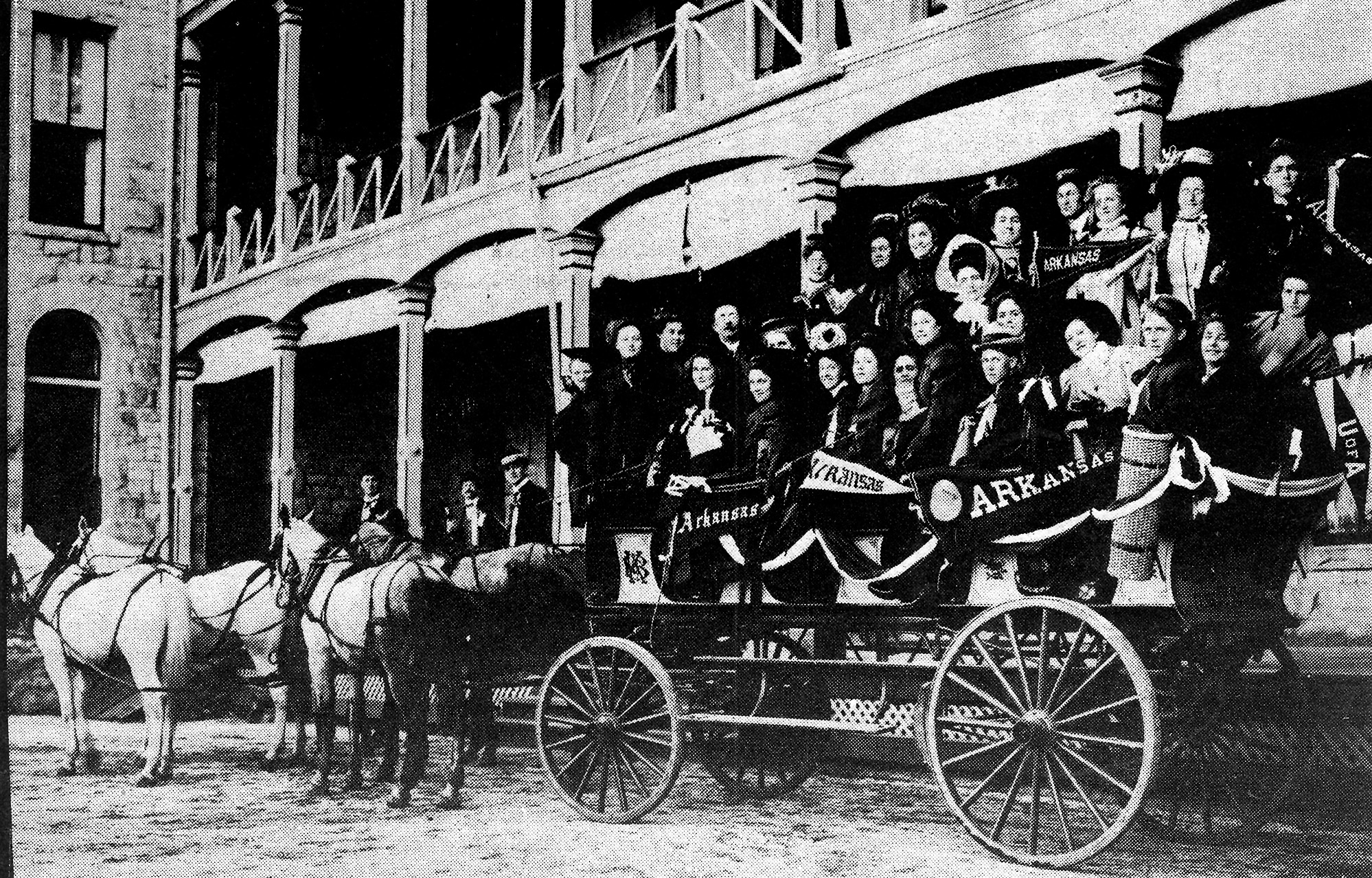 The 1909 extramural women's basketball team loads up for a road game.
Seated, from left: Stella Boustany (tennis), Janan Trimble (tennis). Standing from left: Leah Krueger (swimming), Kelly Elliott (track), Ruth Cohoon (Coordinator of Women's Intercollegiate Sports), Lorraine Sessions (swimming), Deb Thompson Billingsley (tennis coach), Betty Robinson (track and swimming coach).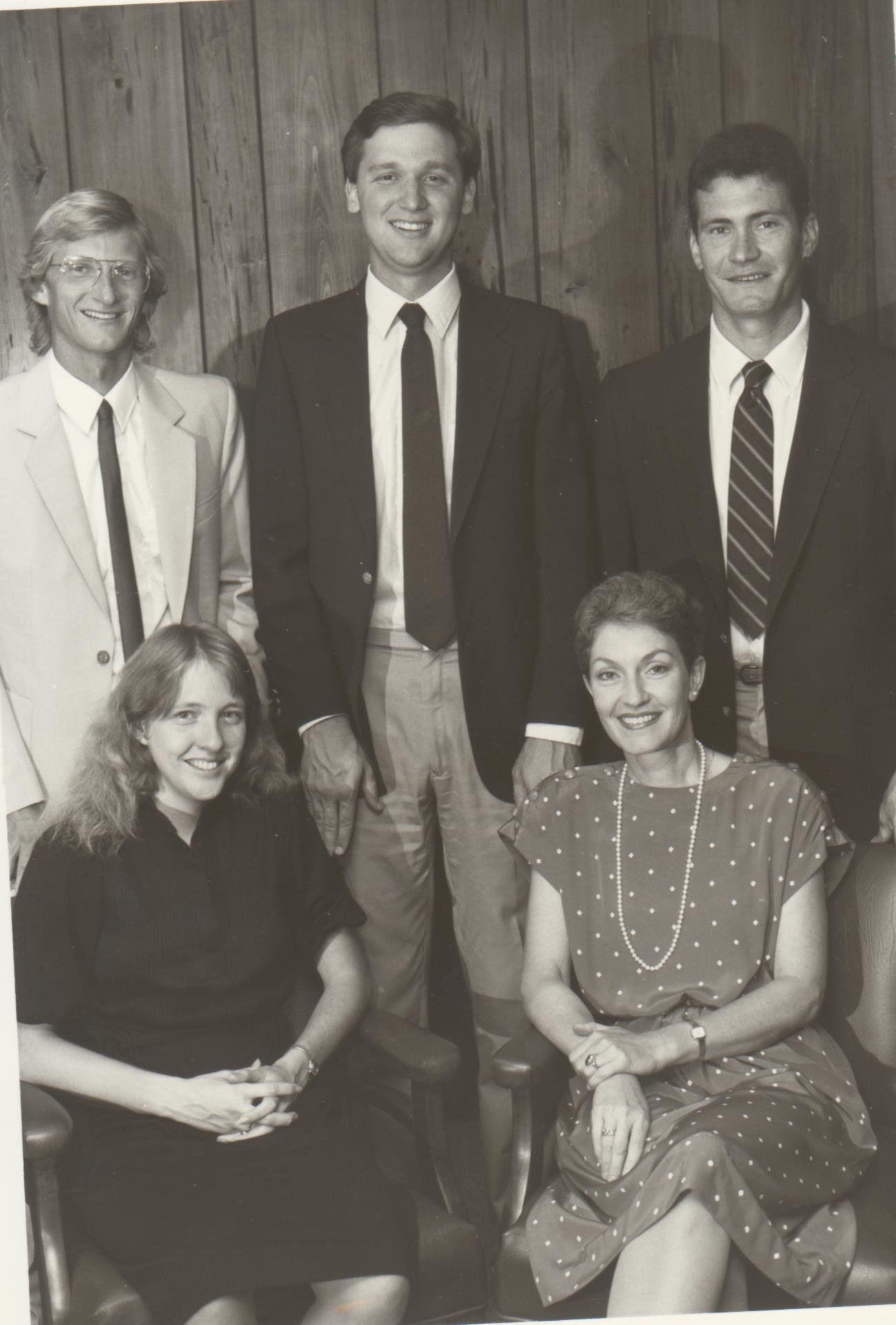 Seated, from left: Bev Rouse (track and field coach), Ruth Cohoon (Athletic Director). Standing (L-R): Martin Novak (tennis coach), John Sutherland (basketball coach), Kent Kirchner (swimming and diving coach).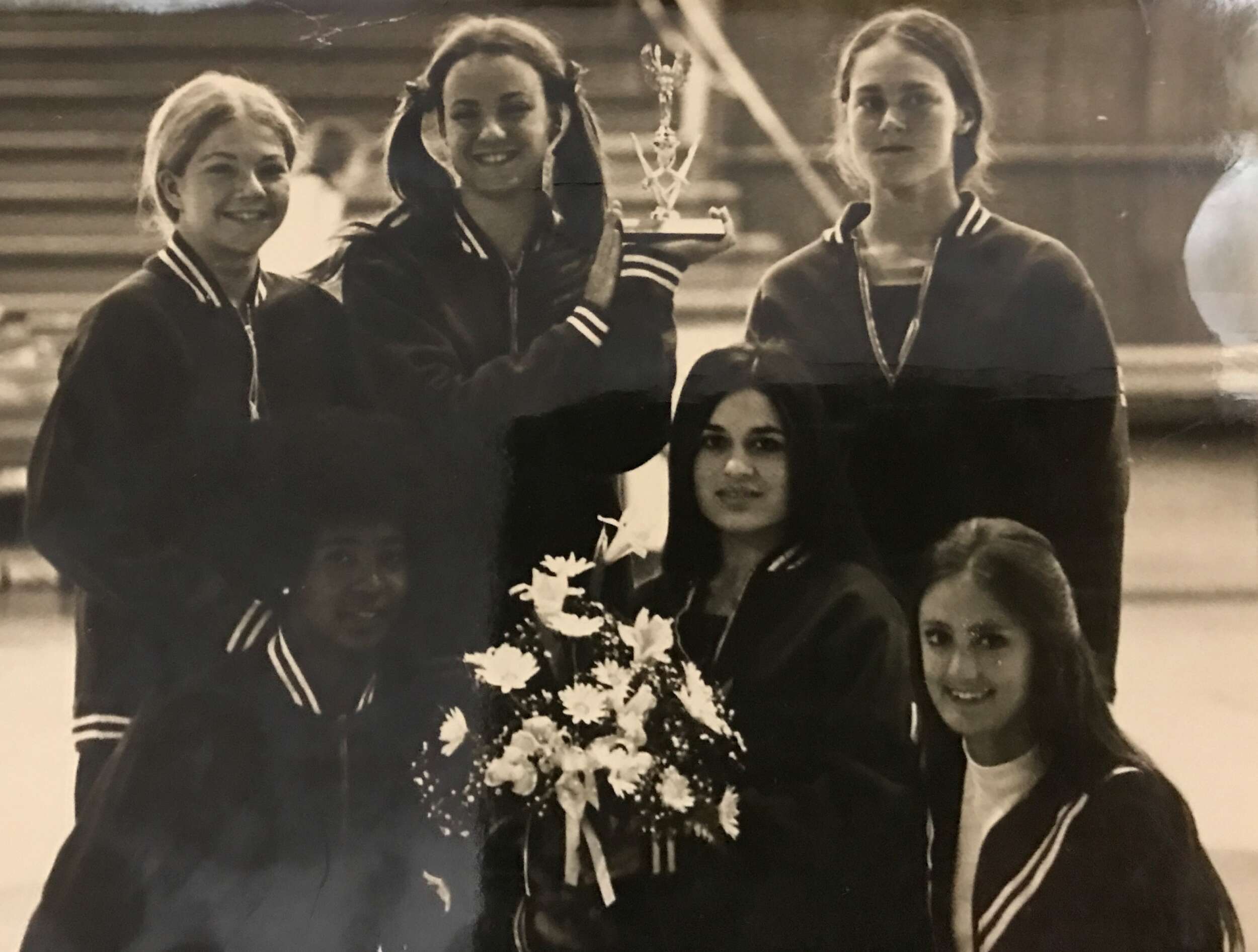 One of the earlies photos of the Razorback gymnastics team from 1972-73.
The first volleyball team in the modern era. The 1994 team included (standing, from left) Jennifer Blankenbeckler, Krystal Osborne, Jaimie Torrmeo, Tina Rico. Seated from left: Denise Baez, Dani Pfeffer, Melanie Davis, Amanda Sweat.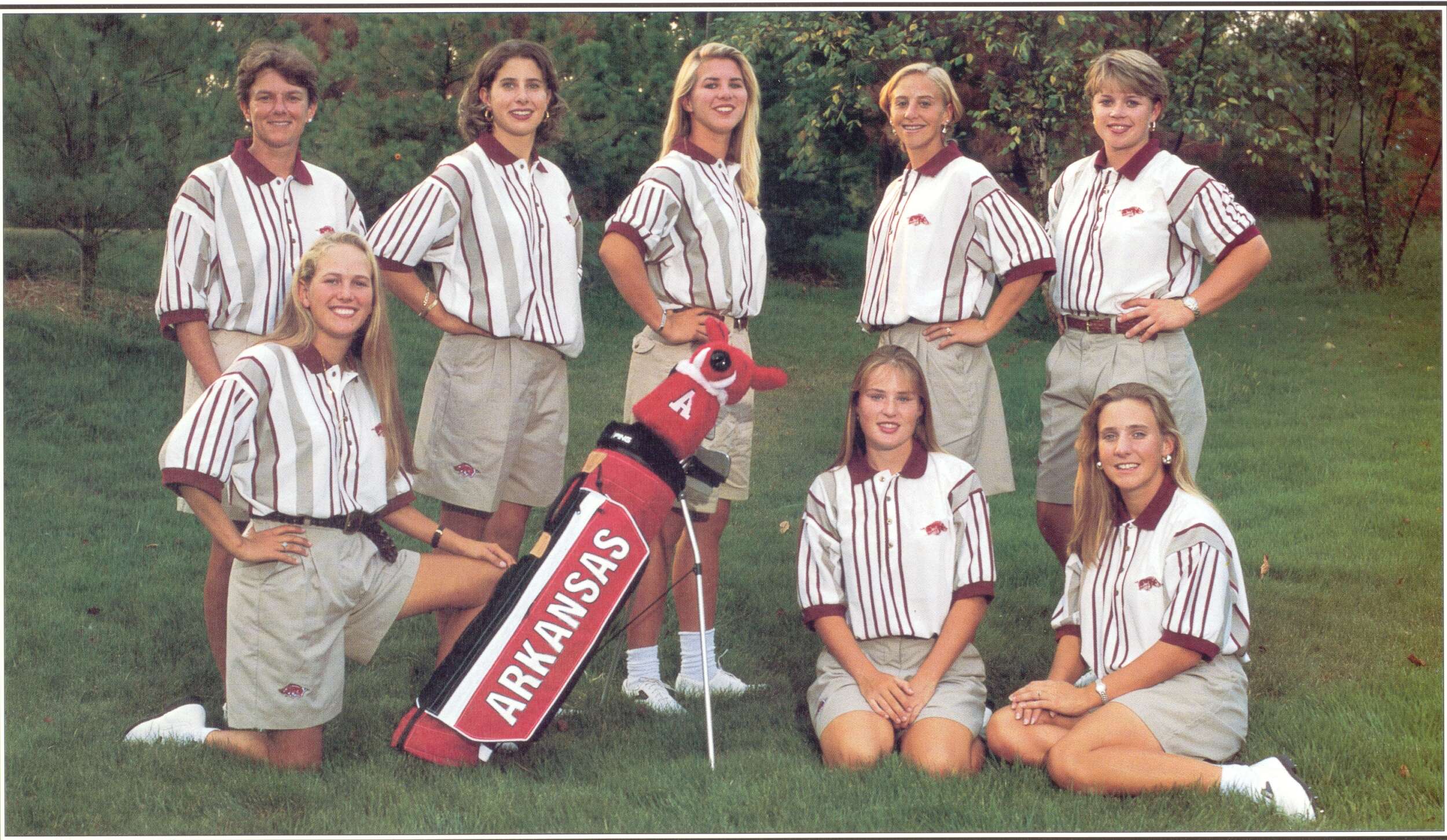 The first golf team in the modern era. The 1995-96 team included Standing (l-r): Head Coach Sue Ertl, Erika Iding, Julie McMahon, Kellie Dennis, Lisa Cornwell. Kneeling (l-r): MacKenzie Cato, Sarah Williams, Jane Hilburn.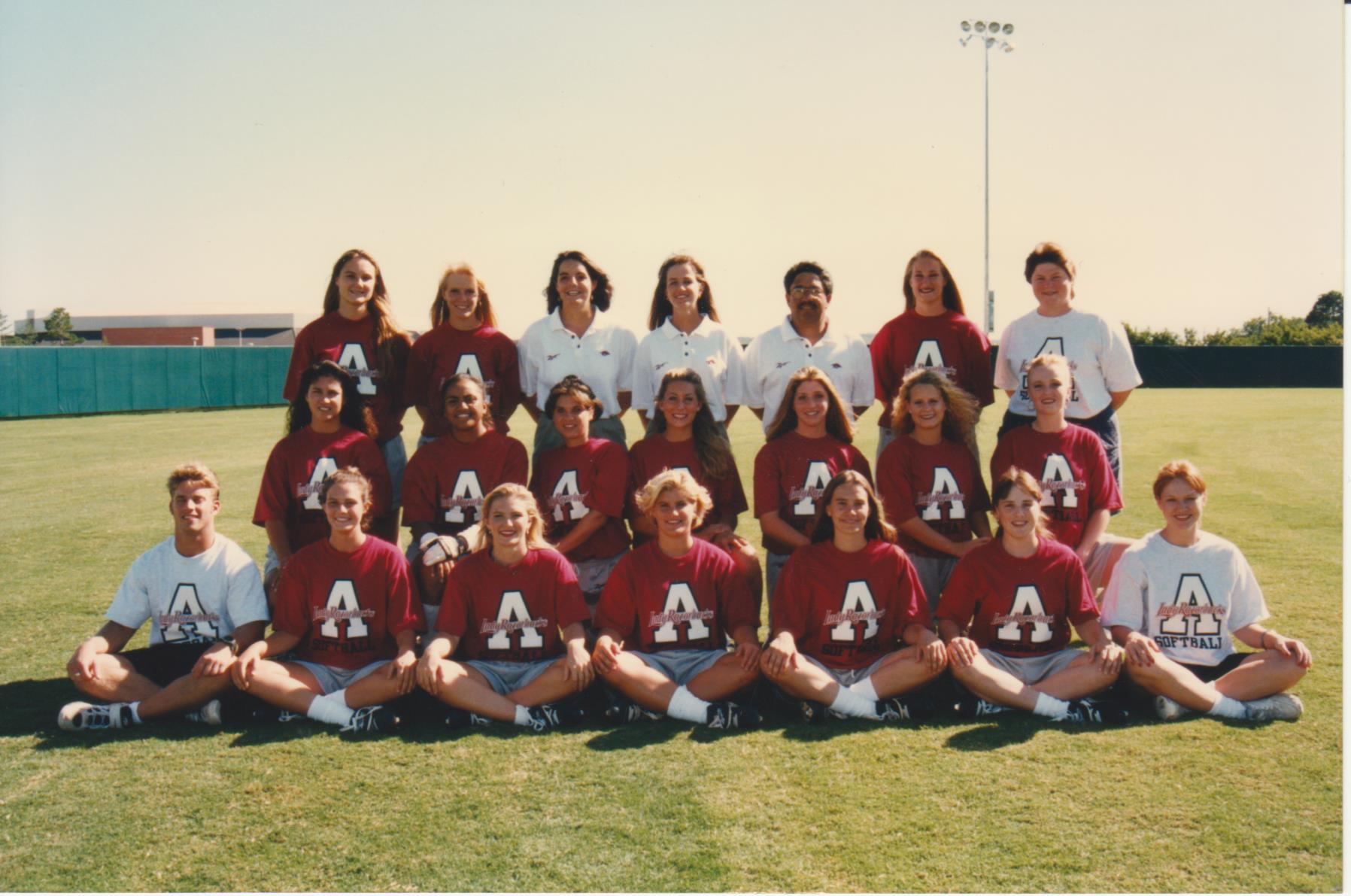 The first softball team in the modern era. The 1996-97 team included (back row, from left) Kim Bryant, Aly Sartini, Assistant Coach Eileen Schmidt, Head Coach Carie Dever-Boaz, Assistant Coach Rich Apodaca,  Jennifer Cirigliano, Head Athletic Trainer Julie Cain. Kneeling: Lisa Flores, Augrista Belford, Robin Alpe, Tammy Kindcaid, Gretchen Thompson, Dana Gulick, Kristina Hightower. Seated: Student-Athletic Trainer, Thomas Caruso, Cindy ??, Crystal Richardson, Brett Erickson, Katy Skaife, Christy Ralph, Student Athletic Trainer Katy Morrison.
FACILITIES
Check out this great link for a history of our facilities.
Faces Behind The Names
Ruth Cohoon
First director of women's athletics at the university
Ruth Cohoon joined the university as a swimming instructor in 1965. In 1972, she was appointed director of the first funded women's athletic program. During her career at the university, she saw the first athletic scholarships offered to female students and coaching opportunities offered to women educators. Cohoon consistently fought for increased funding, better equipment, more scholarships and greater opportunities for women athletes. Learn more about Cohoon here.
Bev Lewis
Associate Vice Chancellor and Executive Associate Athletic Director (2007-2014) | Director of Women's Athletics (1989-2007) | Track and Cross Country Coach (1981-1990)
Lewis spent 19 years (1989-2007) as the Director of Women's Athletics and more than 30 years with the Razorbacks. The hallmark of that stint was the overall excellence of the entire women's athletics program. During her tenure, the University of Arkansas has moved to increase athletic participation for women with the addition of volleyball, golf, gymnastics and softball. All four sports competed in NCAA post-season competition by each inaugural recruiting class' senior season and have established themselves as nationally competitive programs. Every Razorback women's sport achieved a new athletic performance pinnacle under her leadership. Read more about Lewis here.
Betsy Broyles Arnold
First scholarship women's basketball player
Betsy Broyles may have gotten her athletic genes from her famous father, Frank Broyles, as she grew up playing basketball, baseball and football with the neighborhood boys and helping form the Fayetteville Woodland Junior High School girls basketball team in the ninth grade.  In high school, Arnold ran track and played basketball, where she averaged 29 points per game her senior year. Her obvious proclivity for sports led to other opportunities, including a tryout for the Junior Olympics volleyball team — even though she wasn't on a volleyball team — and a tryout for the Pan American basketball team. She became a member of the first female recruiting class to receive athletic scholarships as a women's basketball player at the University of Arkansas, though she initially refused it. But her time on the court came to a quicker close than she imagined. Broyles injured her foot at the end of her freshman year and decided to hang up her uniform. After a brief stint of keeping team statistics, Arnold forfeited her scholarship for another athlete and focused on school. Broyles Arnold currently serves as the President/CEO at The Frank and Barbara Broyles Foundation.  (credit April Wallace and the Arkansas Democrat Gazette for some of this content).
Linda Bedford Jackson
First black track and field student-athlete
Linda Jackson was one of the first scholarship recipients on the newly formed women's track and field team. "It was only $250," Jackson explained, who split half of it with a teammate (she was awarded a full academic scholarship by graduation). It was a blessing for Jackson, she got to do something that she loved. In 1976, women's track at the University of Arkansas was an NAIA sport, but Title IX brought the team into NCAA competition and gave the team equal resources. Title IX also meant that the women's track team would be going up against the best in the country. Jackson stepped up to the challenge. She was the school's record holder in the 60 meters, 100 meters, 200 meters and both relays. The 4×400-meter relay record stood for more than 15 years.
She added to her resume of accomplishments away from the competition stage. As the only African American student in the journalism program at the time, she's proud of the academic scholarship she gained. During her senior season, she became the first female sports editor for The Traveler, the University of Arkansas' student-run newspaper. She assumed the position with the stance of increasing the coverage and visibility of women's athletics, in turn giving herself and all other female student-athletes on campus their due. She was also a founding member of Zeta Phi Beta Sorority Incorporated and was involved at St. James Church.
Deb Thompson Billingsley
Tennis Coach
Deb Thompson served as the first women's tennis coach from 1972-79. Dr. Thompson passed away on March 1, 2019, after suffering a brain aneurysm. She graduated from Cambridge High School in 1966, and earned her bachelors degree from Kent State University. In 1972 she completed her Masters of Art in physical education from The Ohio State University. Dr. Thompson coached tennis at the University of Arkansas where she earned her Doctorate in Education. She moved to McKenzie, Tenn., in 1982 and taught at Bethel University, where she received numerous leadership awards. Dr. Thompson was awarded the status of Faculty Emeritus before her retirement in 2016.
Betty Robinson
Track and Field and Swimming & Diving Coach
Raised in Oklahoma, Betty Robinson was first educated in the Lamont Public Schools. When it was time for college she enrolled in Oklahoma State University, but later dropped out to tackle the world on her own. Eventually, she received a degree from a junior college in Texas, a bachelor and masters degree from the University of Tulsa. She then tried her hand at teaching and coaching athletics in Oklahoma. Coaching pulled her to the University of Arkansas where she coached women. Later she completed a masters degree at the University of Central Arkansas followed by a doctorate at the University of Arkansas. While all this learning was taking place she worked various jobs, teaching and administering educational programs. Betty settled on a small acreage near London, Ark., and spent 30+ years as an administrator and professor at the University of the Ozarks in Clarksville, Ark. Upon her retirement, Dr. Robinson was awarded the title of Professor Emeritus of Education. (Source: https://www.amazon.com/Betty-Robinson/e/B001KCNU2C%3Fref=dbs_a_mng_rwt_scns_share)
Remember When ...

Pages from the 1973 Razorback Yearbook highlighting women's sports. CLICK HERE
Pages from the 1973 Razorback Yearbook highlighting women's Intramurals. CLICK HERE
The SEC
Title IX celebrations are going on all over the country. Our Southeastern Conference partners are also honoring their histories. Check out there stories here.
Alabama – Coming Soon
Georgia – Coming Soon
LSU – Coming Soon
Missouri – Coming Soon
Texas A&M – Coming Soon