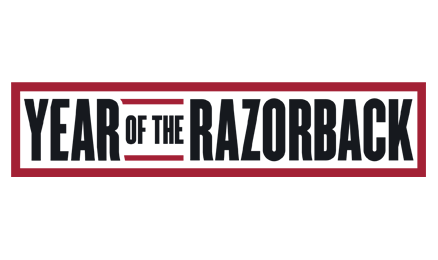 Introduction
It was a year like no other! With unprecedented circumstances created by a global pandemic, the 2020-21 Razorback Athletics season was anything but a foregone conclusion. A year ago, even the idea of a full athletics year would have been a monumental accomplishment in itself.
Yet, with the help of coaches and staff and with the passionate support of Razorback fans, the University of Arkansas' 465+ student-athletes, did more than just simply compete, they succeeded at a record-setting level turning in what is arguably the greatest collective year in Razorback Athletics history!
An NCAA Championship, 10 Southeastern Conference championships, 18 teams qualifying for postseason, countless All-Americans and Players of the Years and numerous unforgettable moments made 2020-21 undoubtedly, The Year of the Razorback!
In the course of the next two weeks, we will be celebrating the remarkable accomplishments and looking back at those memorable moments online, in social media and on the Razorback Daily Podcast and HogPod. We invite you to join us in the conversation on social media by tagging us and sharing your favorite moments from the 2020-21 Razorback Athletics year on Facebook, Instagram or Twitter.
Year of the Razorback Series
Tuesday, July 6 – NCAA Championship, Top 10 NCAA Finishes
Wednesday, July 7 – Dealing with COVID
Thursday, July 8 – SEC Championships and Individual Honors/Awards
Friday, July 9 – Academic Superlatives and Graduation
Monday, July 12 – Great Razorback Moments
Tuesday, July 13 – Facilities and Fundraising
Wednesday, July 14 – Coaches of the Year
Thursday, July 15 – Directors' Cup Finish, Top 25 Teams
Friday, July 16 – ONE Razorback, Diversity & Inclusion Initiatives, Razorback Fans

NCAA Championship & Top 10 Finishes
When it came to competing for national championships in 2020-21, Arkansas was among the nation's elite all-sports programs. In nearly half of its sports, the Razorbacks finished among the top 10 in NCAA postseason play.
The Razorback women's indoor track and field team led the way, defending their 2019 crown and capturing the sixth overall NCAA championship for the women's program in early March at the Randal Tyson Track Center.
Later that month, the men's cross country team earned a fourth-place finish at the NCAA Cross Country Championship on its way to clinching the prestigious United States Track and Field and Cross Country Coaches Association (USTFCCA) John McDonnell Program of the Year award.
The men's basketball team captured the imagination of the state and Razorbacks everywhere by advancing to the Elite Eight in the Big Dance for the first time in more than 25 years. A trio of trips to the Sweet Sixteen in Baseball, Softball and Soccer and additional top-10 finishes in men's indoor track and field and women's cross country helped cap an extraordinary year.
2020-21 NCAA Top-10 NCAA Championship Finishes
* Women's Indoor Track and Field (1st)
* Men's Cross Country (4th)
* Men's Basketball (T-5th)
* Men's Indoor Track and Field (T-7th)
* Baseball (T-9th – advanced to Super Regional)
* Softball (T-9th – advanced to Super Regional)
* Soccer (T-9th – Advanced to Sweet Sixteen)
* Women's Cross Country (10th)

Dealing with COVID
Each athletics year brings its share of challenges and adversity. However, it would be hard to imagine, that, at least in recent history, there was a year when Razorback student-athletes, coaches, staff members and fans faced as many obstacles as they did in 2020-21. Not only did the University of Arkansas meet those challenges to advance in their competitive seasons, they did so in record-breaking fashion, turning in the most successful collective sports year in Razorback history.
The abrupt halt of the 2019-20 athletics year in March of 2020 due to the global pandemic cast a large shadow of uncertainty that enveloped every aspect of our lives, including the prospects of a return to competition.
On June 1, 2020, a group of Razorback student-athletes returned to a very different campus from which they had departed. In the months between the COVID shutdown and the strategically staggered return, Razorback Athletics was busy working with university and state health officials, the Southeastern Conference, the Arkansas Department of Health, the SEC Medical Task Force and operating under the guidance of the CDC to build a confidence plan to allow student-athletes, coaches and staff to safely return during the ongoing pandemic.
Masks, social distancing and COVID testing became a part of everyday life. Student-athletes, like all of us, were asked to sacrifice large gatherings and social events to help keep the hopes for a season alive. Slowly, additional student-athletes were able to return to campus to train and conduct individual and eventually team workouts. As more information became available and strict protocols across the SEC were put into place, plans for athletics seasons began to emerge.
Even as seasons began, restrictions were lifted and protocols were tweaked with the latest information, Razorback student-athletes remained focused. While other intercollegiate athletics programs around the nation were forced to cancel numerous games and even in some cases, suspend or cancel full seasons, Razorback student-athletes worked through additional challenges of contact tracing and quarantining protocols, to help ensure the limited number of positive cases within the program did not also impact others.
Things did not always go perfectly. Along the way, a few events were canceled due to COVID challenges with Razorback opponents. Most notably, the Arkansas football team was not able to compete, after earning a bid to the Texas Bowl, when its opponent was unable to play. Volleyball narrowly missed the NCAA Tournament field after the NCAA decided to reduce the field due to the pandemic. Yet the prevailing story of Razorback Athletics in 2020-21 will not be focused on the opportunities missed, but rather the opportunities fulfilled and the success that came as a result.
As Razorback Athletics faced the harsh realities of COVID-19, the diligent work of so many, led by the Razorback Sports Performance team, including athletics trainers and doctors, strength and conditioning staff, the facilities staff and university and athletics administration, helped secure the biggest victory of the year. After all, without managing and dealing with COVID effectively, the successful history of the Year of the Razorback would have never been written.
Track Record of Success
COVID Tests Conducted: 28,500+
Positivity Rate: Less than .01 percent
2020-21 Razorback Events Contested: 300+ events
2020-21 Razorback Events Canceled due to Arkansas COVID issues: 0

SEC Championships & Individual Honors And Awards
Throughout its storied history, the University of Arkansas has won numerous conference championships in a multitude of sports. The Razorbacks competed for conference titles in the Southwest Conference, before transitioning to the Southeastern Conference 30 years ago.
Arkansas has done much more than hold its own in the SEC, winning more than 150 conference crowns in its tenure. However, the 2020-21 athletics year stands alone at the top of the list – producing the most bountiful SEC championship haul in school history.
By the time the balls stopped bouncing and all sports crossed the finish line, Arkansas had earned 10 SEC regular season and tournament championships, including a clean sweep of men's and women's cross country and track and field, a soccer championship repeat and the program's first softball title. Arkansas dominated the most competitive conference in the nation, capturing 10 of the 29 combined SEC titles while doubling the next closest conference program (Alabama – 5) in SEC hardware.
2020-21 SEC Championships
* Baseball (regular season and tournament)
* Men's Cross Country
* Women's Cross Country
* Men's Indoor Track & Field
* Men's Outdoor Track & Field
* Women's Outdoor Track & Field
* Soccer
* Softball
Along the way, Razorback student-athletes earned SEC, regional and national honors for their efforts, led by Kevin Kopps, Howser Trophy winner and the consensus national collegiate baseball player of the year. Segundo Olivia Pinto earned a SEC Men's Golf Individual championship, Chelsea Dungee was a top-five WNBA draft pick and countless other All-Americans, players of the year and school record holders shined.
Razorback Individual Honors and Awards
Kevin Kopps, BA – Dick Howser Trophy, National Player of the Year, Stopper of the Year, Consensus All-American, SEC Pitcher of the Year
Grant Morgan, FB – Walter Camp All-American; Burlsworth Trophy Finalist
Braxton Burnside, SB – All-American, School Record for Home Runs
Moses Moody, MBK – SEC Freshman of the Year, All-American
Chelsea Dungee, WBK – 5th pick of WNBA Draft
Taylor Ewert, WXC – SEC Freshman of the Year
Segundo Olivia Pinto, MGF – SEC Men's Golf Champion
Julian Perico, MGF – Selected and participated in the Palmer Cup
Brooke Matthews, WGF – selected and participated in the Palmer Cup
Jillian Gillen, VB – SEC Scholar Athlete of the Year
Taylor Head, VB – SEC Freshman of the Year
Anna Podojil and Parker Goins, SOC – All-Americans

Academic Superlatives & Graduation
In all, 104 Razorback student-athletes added their names to Senior Walk as University of Arkansas graduates, helping the program satisfy its mission of Building Champions and Razorbacks for Life.
Academic Highlights
104 Graduates (23 Fall 2020, 70 Spring 2021, 11 Summer 2021)
Cumulative Athletic Department GPA – 3.25
23rd consecutive semester with Department GPA of 3.0 or better; 14th consecutive semester with 3.2 or better
297 Student-Athletes Earned Department Honor Roll honors
78 Student-Athletes earned a 4.00 for the term
248 (99 Fall, 40 Winter, 109 Spring) Razorbacks on SEC Academic Honor Rolls
145 Student-Athletes achieved Personal Bests (highest term GPA-both semesters)

Great Razorback Moments
Outstanding plays, buzzer beaters, championship clinching performances, deep postseason runs and improbable victories were just a few of the defining threads in a year that produced a rich tapestry of great Razorback moments.
The unprecedented success of the 2020-21 athletics year, provided numerous unforgettable moments and composed legendary stories that will be told in the Razorback Nation for years to come. We invite you to take a trip down memory lane to re-live just a few of the special moments that helped make 2020-21 – The Year of the Razorback!

Facilities & Fundraising
Despite numerous financial challenges presented by a global pandemic, Razorback Athletics stood firm in its commitment to fully support the experience of each of its 465+ student-athletes. Based on the generous support of Razorback Foundation members and season ticket holders, the program was not only able to meet that commitment, but also complete three major facilities projects to enhance the future for some of its most successful sports programs.
Randal Tyson Track Renovation
The Randal Tyson Track Center saw extensive renovations, including the replacement of the oval track surface and the installation of an additional video board. The more than $5 million in renovations were completed in time for the venue to host both the 2021 SEC and 2021 NCAA Indoor Track and Field Championships.
Frank O'Mara High Performance Center
The Frank O'Mara Track and Field High Performance Center was constructed just south of the track at John McDonnell Field. The 20,000 square foot facility combined many of the program's day-to-day operations to create an efficient space to serve both the men's and women's track and field programs. The beautiful new facility includes new locker rooms, expanded training room, weight room, team room and an equipment storage space. The total project cost of the facility was $15 million.
J.B. and Johnelle Hunt Family Baseball Development Center
The $27 million J.B. and Johnelle Hunt Family Baseball Development Center, an approximately 53,000 square foot baseball performance facility provides student-athletes with an improved and expanded locker room, team meeting room, strength and conditioning center, training room, nutrition center, student-athlete pitching and development lab and an in-venue batting tunnel. The Norm DeBriyn Champions Lobby features numerous historical displays and interactive content showcasing the history of Razorback Baseball. The Baseball Development Center was constructed in the right field corner of Baum-Walker Stadium, connecting it with the current west concourse and providing new premium viewing areas for games. The new facility is connected to the Razorbacks' new home dugout, on the first-base side, via a tunnel.

Coaches of the Year
Ut should come as no surprise that in the wake of the most successful collective athletics year in Razorback history, Arkansas' extraordinary cast of coaches earned numerous national, regional and conference coaching honors. In the Southeastern Conference alone, Razorback coaches racked up 10 Coach of the Year honors.
2020-21 Arkansas Coaching Honor Roll
Lance Harter
SEC Women's Cross Country Coach of the Year
SEC Women's Indoor T&F Coach of the Year
USTFCCCA National Women's Indoor T&F Coach of the Year
USTFCCCA South Central Region Women's Indoor T&F Coach of the Year
SEC Women's Outdoor T&F Coach of the Year
Arkansas Sports Hall of Fame Inductee
Chris Bucknam
SEC Men's Cross Country Coach of the Year
SEC Men's Indoor T&F Coach of the Year
USTFCCCA South Central Region Men's Indoor T&F Coach of the Year
SEC Men's Outdoor T&F Coach of the Year
Courtney Deifel
SEC Softball Coach of the Year
Colby Hale
SEC Women's Soccer Co-Coach of the Year
Chris Johnson
USTFCCCA National Women's Indoor T&F Assistant Coach of the Year
USTFCCCA South Central Region Women's Indoor T&F Assistant Coach of the Year
Dave Van Horn
SEC Baseball Coach of the Year
Jason Watson
SEC Volleyball Coach of the Year

Directors' Cup
Since the 1994, the Learfield IMG College Directors' Cup, published by the National Association of Collegiate Directors of America (NACDA), has been the gold standard of determining the best all-sports programs in the nation. The Directors' Cup tracks the nation's most successful intercollegiate athletics programs for their performances throughout the year.
Arkansas has been a perennial top 25 finisher in the Directors' Cup. In 2020-21, a record-setting athletics year elevated the University of Arkansas to a program best No. 8 finish in the 2020-21 Learfield IMG College Directors' Cup final standings. Arkansas' previous best Directors' Cup finish came in the 1998-99 competitive year when the Razorbacks finished No. 14.
Arkansas finished in the top 10 of the Directors' Cup standings for the first time in school history and ranked No. 1 in the standings among programs with 19 or fewer sports. Arkansas was one of four SEC programs (Florida, Alabama and Georgia) to be ranked in the top-10 in the standings. A total of eight SEC programs ranked in the top 25 of the final standings.

ONE Razorback, Celebrating Our Diversity & Razorback Fans
A group of Razorback student-athlete leaders worked together to launch an Equality initiative to foster and work toward equality for all members of the Razorback family. As part of the initiative, student-athletes on ever Razorback team wore an Equality patch on their uniforms, Equality was included on competition fields and playing courts and a video was developed to bring awareness to the cause at Razorback sporting events.
In addition, Hogs UNITED, a collaborative effort between student-athletes, coaches and staff, was launched to promote education, advocacy and action in the areas of diversity and inclusive excellence. In 2020-21, Hogs UNITED developed a series, Uncomfortable Conversations with a Razorback, to create a safe space to learn about differing backgrounds and share personal experiences.
Razorback Athletics also assisted the personal growth of its student-athletes through career development. More than 150 student-athletes participated in programming, including resume building, networking, Name Image and Likeness (NIL) and other applicable career skills. The program boasted a career placement rate of 97% for Razorback student-athletes that graduated in 2020.
By late spring, the Razorback Road Show was able to make a return, with Director of Athletics Hunter Yurachek, Head Football Coach Sam Pittman and the nation's best live mascot, Tusk V, making their way across the Natural State. The Road Show tour included daytime visits by Tusk V throughout the state, culminating with evening events with Razorback fans in the evening. From Harrison to Dumas, Hot Springs to Little Rock, fans all over Arkansas were Calling the Hogs.