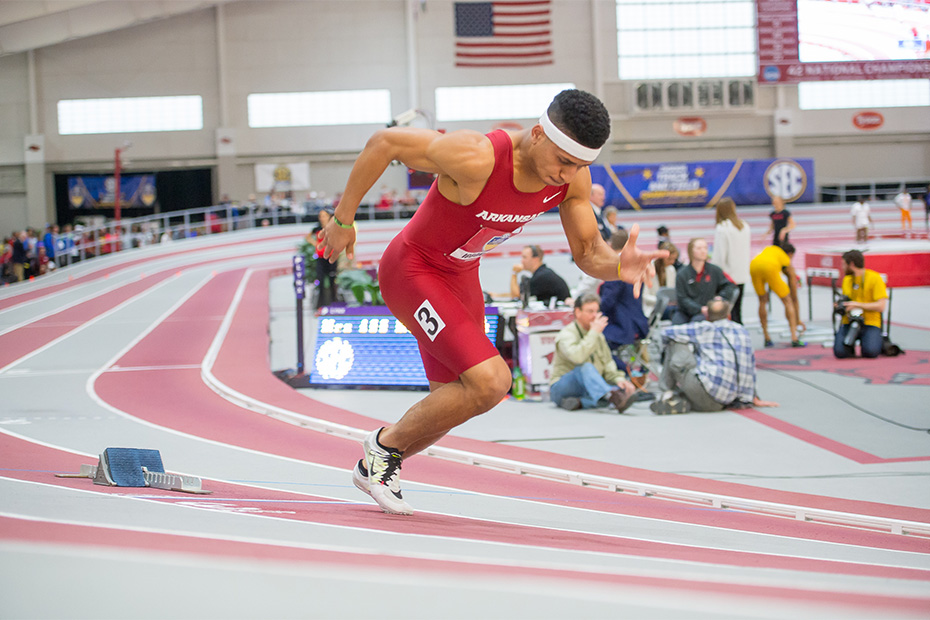 World Lead For Igbokwe At Razorback Invitational
FAYETTEVILLE, Ark. – The seventh-ranked Arkansas men's track and field team closed out its stead at the Randal Tyson Track Center with several NCAA top-10 performances including a world-leading 400-meter time by junior Obi Igbokwe.
A two-time national qualifier in the 400, Igbokwe took command of the two-lap sprint beating Southeastern Conference rivals Florida's Kunle Fasasi and Texas A&M's Mylik Kerley to the break. Igbokwe maintained his dominance on the field, distancing himself from his competition over the final 150-meters of the race, finishing in first-place with a PR, NCAA-leading and world-leading time of 45.72.
"He's been working hard since we got back to school in September," head coach Chris Bucknam said. "I'm really happy for Obi and I think there's a lot more left in the tank. I'm proud of his effort after a tough, three-week stretch of training and starting the indoor season."
Arkansas finished eighth in the team standings, scoring 45 points in the 11-team competition.
"It's good thing for us to see there are a lot of good teams out there and if we're going to win meets like this or the SEC Championships, we have to have all hands on deck," Bucknam said. "We're probably around 60 percent right now based on injuries, sickness and some cautious decisions with where we are racing three weeks in a row. We don't like losing meets but it's a good wake-up call for us to say 'if we don't have all hands on deck, we're an average team.' We have to get things together over the next month and we have a nice two-week stretch with no meets, which we really need right now."
Off the track two-time combined events All-American Gabe Moore, earned a spot on the NCAA leader boards as the fifth-best heptathlete in the country with a PR of 5,777 points. Moore was powered to his improved score off a solid day one, which saw him jump to a personal best in the high jump and match his 60-meter PR of 7.02. He returned strong on day two, placing in the top-four in the remaining three events of the day, including a first-place finish in the 60-meter hurdles. He remains the third-best heptathlete in Razorback history.
"That's another personal best and just the tip of the iceberg for Gabe," Bucknam said. "If you talk to him, there are a lot of places where he think he can improve. He's made huge gains in the pole vault and hurdles from last year to this year and those are two pretty tough events in the multis. It's just a sign of things to come when he really puts it together."
Arkansas will break from competition next weekend, returning to the oval Feb. 9-10 at the Randal Tyson Track Center as the hosts of the Tyson Invitational.
Razorback Invitational
January 27, 2018
Randal Tyson Track Center (Fayetteville, Ark.)
60 Meters Prelims
17. Kevin Harris – 6.99
400 Meters Invitational
1. Obi Igbokwe – 45.72
400 Meters
2. Kemar Mowatt – 46.83
3. Jamarco Stephen – 47.27
5. Roy Ejiakuekwu – 47.59
8. John Winn – 48.16
12. Hunter Woodhall – 48.43
18. Travius Chambers – 48.74
800 Meters
9. Kieran Taylor – 1:51.92
10. Chase Pareti – 1:52.96
11. Reese Walters – 1:52.73
19. Colin O'Mara – 1:56.66
Mile Invitational
9. Kyle Hosting – 4:09.15
Mile
2. Kyle Levermore – 4:08.31
3,000 Meters
5. Preston Cates – 8:27.80
9. Graham Brown – 8:31.37
60-Meter Hurdles Prelims
4. Larry Donald – 7.92
60-Meter Hurdles Finals
4. Larry Donald – 7.92
4-x-400 Meter Relay
3. Arkansas A – Ejiakuekwu, Igbokwe, Mowatt, Stephen, 3:08.37
5. Arkansas B – Chambers, Winn, Woodhall, Donald, 3:09.27
Shot Put
8. Sam Kempka – 16.88m/55-4 3/4
For more information on Arkansas track and field including in-meet updates, follow @RazorbackTF on Twitter.