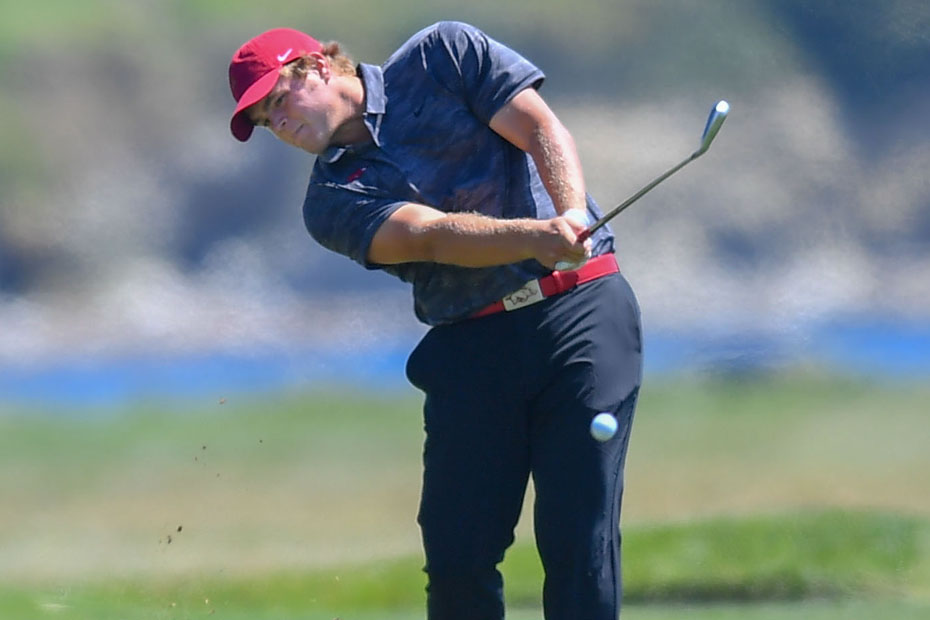 #19 Arkansas Finishes 4th at Tucker Intercollegiate
William H. Tucker Intercollegiate Results (HTML)
William H. Tucker Intercollegiate Results (PDF)
ALBUQUERQUE, N.M. – The 19th-ranked Arkansas men's golf team shot a 1-over par, 289 Saturday and finished fourth in the 17-team William H. Tucker Intercollegiate with a 54-hole score of 860 (4-under-par). Mason Overstreet moved up two spots to finish in a tie for fourth while William Buhl and Luis Garza both tied for 13th.
The Razorbacks added the event, played at the par-72, 7,555-yard University of New Mexico Championship South Course, on earlier in the week after being rained out at Cincinnati on Monday.
Brigham Young won the team title with a score of 848, followed by #18 UNLV (850), #49 Pepperdine (851) and Arkansas (860).
"We didn't have our best effort this week," said head coach Brad McMakin. "We have a lot of room for improvement but a short time to prepare before we head to Alabama. It was a solid week for Mason, William and Luis, but, again, we still have areas to improve. I have no doubt we will get better next week."
Overstreet started his final round with a birdie but made the turn at even par after a bogey on the ninth. However, he posted birdies on holes 12 and 18 to finish with a 2-under-par 70. He tied for fourth and was 5-under for the tournament with a three-round total of 211 (72-69-70). Overstreet has finished among the top 20 in each of his two events this season and now has four career top-5 finishes. Also, by shooting par or better in each round this weekend, Overstreet has accomplished the feat in all six rounds this season and 38 times for his career.
Buhl climbed 19 spots to tie for 13th with an even-par score of 216 (74-72-70). The junior was even par Saturday through 16 holes with three birdies and three bogeys. Buhl then carded an eagle on the par-5, 1st hole before finishing his round with a par to shoot his 70.
Garza tied Buhl for 13th after shooting a 74 Saturday and posting a 54-hole score of 216 (72-70-74). The junior had a solid round overall, turning in 16 pars with two bogeys.
Tyson Reeder tied for 25th (70-72-76=218) and Julian Perico moved up 11 spots to tie for 663rd (75-78-75=28). Freshman Wil Gibson, playing as an individual, tied for 75th (73-78-81+232).
The Razorbacks will have a quick turnaround, traveling to Birmingham Oct. 8-9 at the annual Jerry Pate National Intercollegiate.
NOTES:
Arkansas led the field with 173 pars.
Arkansas was second among the 17-team in par 4 scoring (4.07).
Mason Overstreet was second in the field in par 4 scoring (3.90).
Mason Overstreet tied for the lead with 41 pars.
William H. Tucker Intercollegiate
Sept. 28-29, 2018 – Host: New Mexico
UNM Championship South Course – Albuquerque, N.M.
Par 72 – 7,555-yards
RAZORBACK RESULTS

| PLACE | NAME | RD1 | RD2 | RD3 | TOTAL | TO PAR |
| --- | --- | --- | --- | --- | --- | --- |
| T4 | Mason Overstreet | 72 | 69 | 70 | 211 | -5 |
| T13 | William Buhl | 74 | 72 | 70 | 216 | E |
| T13 | Luis Garza | 72 | 70 | 74 | 216 | E |
| T25 | Tyson Reeder | 70 | 72 | 76 | 218 | +2 |
| T63 | Julian Perico | 75 | 78 | 75 | 228 | +12 |
| T75 | Wil Gibson (Ind.) | 73 | 78 | 81 | 232 | +16 |
TEAM RESULTS

| PLACE | TEAM | RD1 | RD2 | RD3 | TOTAL | TO PAR |
| --- | --- | --- | --- | --- | --- | --- |
| 1 | BYU | 286 | 279 | 283 | 848 | -16 |
| 2 | UNLV | 279 | 283 | 288 | 850 | -14 |
| 3 | Pepperdine | 291 | 277 | 283 | 851 | -13 |
| 4 | ARKANSAS | 288 | 283 | 289 | 860 | -4 |
| 5 | New Mexico | 297 | 277 | 289 | 863 | -1 |
| 6 | San Diego State | 292 | 285 | 290 | 867 | +3 |
| 7 | Colorado | 285 | 289 | 296 | 870 | +6 |
| 8 | Wyoming | 293 | 290 | 292 | 875 | +11 |
| 9 | Coastal Carolina | 296 | 295 | 298 | 889 | +25 |
| 10 | Colorado State | 299 | 302 | 294 | 895 | +31 |
| 11 | Denver | 296 | 294 | 306 | 896 | +32 |
| | UT Arlington | 300 | 303 | 293 | 896 | +32 |
| 13 | New Mexico State | 291 | 300 | 312 | 903 | +39 |
| 14 | Loyola Marymount | 298 | 303 | 305 | 906 | +42 |
| | UTEP | 302 | 301 | 303 | 906 | +42 |
| 16 | Nebraska | 297 | 300 | 310 | 907 | +43 |
| 17 | Air Force | 304 | 302 | 318 | 924 | +60 |