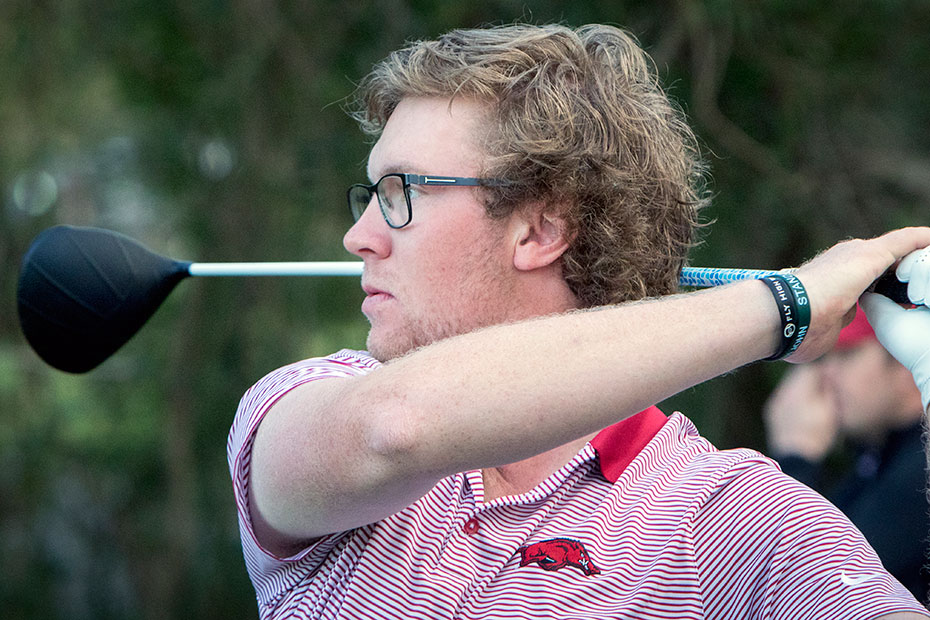 Arkansas Leads Five Top 25 Teams In Cabo
Round 2 Results | Final Round Pairings
LOS CABOS, Mexico – The No. 19 Arkansas men's golf team moved four spots up the leaderboard on Monday during the second round of the 2018 Querencia Cabo Collegiate, firing a 2-under 282 at Querencia Golf Club.
The Razorbacks raced up the leaderboard and are now alone in seventh place in the field of 15 teams and lead six different top 25 programs, including No. 2 Vanderbilt and No. 5 Baylor. Top-ranked Oklahoma State has a narrow one-shot lead at 10-under, while No. 13 California is 9-under and No. 29 Arizona State is 4-under overall.
Arkansas' 2-under 282 was its second-lowest score at the event in five years, only behind a 5-under 279 during the final round last year. Alvaro Ortiz, Luis Garza and William Buhl all signed for a 2-under 69 to lead the charge and Ortiz played his way into the top 15 entering the final round, currently T-11th overall.
Garza had a stretch of four birdies in seven holes, but ended the day with back-to-back bogeys, while Ortiz made the turn at 2-over, but rallied down the stretch with a 4-under 32 on the back nine to get into red figures for the tournament at 1-under.
The third and final round tees off Tuesday morning at 10 a.m. CT at Querencia Golf Club. Live stats will be available at Golfstat.com or via the Golfstat Live app.
For more information on Arkansas men's golf, follow @RazorbackMGolf on Twitter.
Razorback Lineup Day 2 Results

| Place | Player | Score |
| --- | --- | --- |
| T11. | Alvaro Ortiz | 72-69 – 141 (-1) |
| T20. | Luis Garza | 74-69 – 143 (+1) |
| T33. | William Buhl | 77-69 – 146 (+4) |
| T54. | Mason Overstreet | 73-77 – 152 (+8) |
| T70. | Tyson Reeder | 79-75 – 159 (+12) |
| 74. (IND) | Landon Ernst | 79-79 – 158 (+16) |
Querencia Cabo Collegiate Day 2 Team Results

| Place | Team | Score |
| --- | --- | --- |
| 1. | No. 1 Oklahoma State | 276-282 – 558 (-10) |
| 2. | No. 13 California | 281-278 – 559 (-9) |
| 3. | No. 29 Arizona State | 285-279 – 564 (-4) |
| 4. | No. 15 Texas | 286-285 – 571 (+3) |
| 5. | No. 20 Florida State | 287-285 – 572 (+4) |
| 6. | Duke | 289-288 – 577 (+9) |
| 7. | No. 19 Arkansas | 296-282 – 578 (+10) |
| 8. | No. 5 Baylor | 299-281 – 580 (+12) |
| T9. | Ole Miss | 291-290 – 581 (+13) |
| T9. | Rice | 288-293 – 581 (+13) |
| 11. | No. 2 Vanderbilt | 296-286 – 582 (+14) |
| 12. | No. 23 South Florida | 293-291 – 584 (+16) |
| 13. | No. 17 Stanford | 290-295 – 585 (+17) |
| 14. | Houston | 297-301 – 598 (+30) |
| 15. | No. 14 Wake Forest | 309-299 – 608 (+40) |