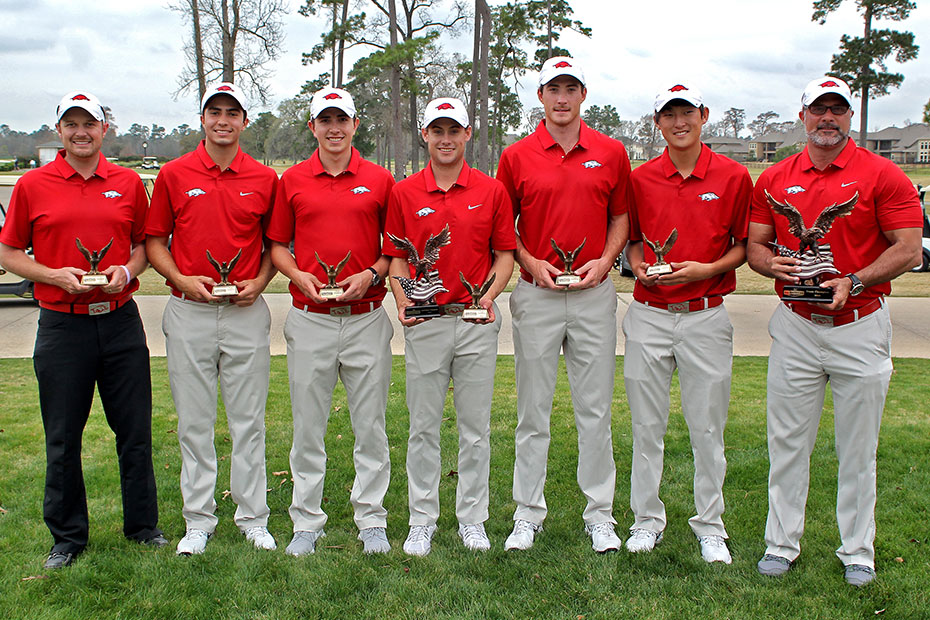 Arkansas, Moore Capture Titles at All-American
HUMBLE, TEXAS – Entering the final round down by 13 strokes, the Arkansas men's golf team rallied to overtake host Houston and capture the All-American Collegiate Championship with a nine-under 279 at the Golf Club of Houston. Taylor Moore led the way with a final round four-under 68 to finish at nine-under par and clear the field by three shots.
"This was another great day from our players," said head coach Brad McMakin. "They continued their momentum from yesterday and were able to come from 22 strokes back to win. I'm very proud of this group on their improvement over the last three months."
After shooting 12-over in the opening round and trailing Houston by 22 shots, the Razorbacks found their groove and shot 21-under over the final two rounds to put together a furious rally to pick up a one shot victory over the host Cougars. South Carolina (+4), Baylor (+12) and SMU (+14) rounded out the top five.
The Razorbacks win their first tournament of the year and are back in the winner's circle for the first time since winning the Towson Invitational on March 28-29, 2015. Arkansas has won at least one tournament in each of the last nine seasons.
Arkansas made its biggest push of the round on holes 13-16, combining to shoot nine-under with 10 birdies to close the gap with Houston and never look back. The Razorbacks did all their damage on the par fives, shooting nine-under and even par on the rest of the course.
Entering the final round tied for second and one shot back of the individual lead, Moore went right back to work and had a flawless front nine with three birdies to go out with a 33. He added birdies on 10 and 13, before a bogey on No. 15 broke up a streak of 43 holes without a bogey. He shot one-under on the back side for a four-under 68 and three stroke victory over South Carolina's Matt Nesmith.
Nicolas Echavarria started the day in a tie for 16th place and slowly started to make his way through the field, carding an even-par 36 on the front nine and a one-under 35 on the back side with two birdies to finish tied for 10th overall and record his first top 10 finish of the year and the fifth of his career.
Alvaro Ortiz finished even par for the day and level for the tournament to tie for 14th place overall, while Kolton Crawford saved his best round for last with a three-under 69 to finish tied for 18th.
Freshman Charles Kim recorded his second straight round of even par or better, firing a one-under 71 to tie for 26th place overall. After two collegiate events, Kim has been level par or better in four of his six rounds.
The Razorbacks return to the course this weekend, traveling to Los Cabos, Mexico for the Querencia Cabo Collegiate Feb. 28 – March 1.
Team Quick Hits
• Arkansas has won a tournament in each of the last nine seasons.
• Head coach Brad McMakin recorded his 21st tournament victory at the helm of the Razorbacks.
• McMakin notched his 1,000th career head-to-head win with the victory.
• Arkansas has a head-to-head record of 26-2-1 during its spring season.
• During its run of four straight top five finishes, Arkansas has a head-to-head mark of 43-10-1.
• Over the final two rounds, Arkansas led the field with 37 birdies.
• The Razorbacks paced the 16-team field the last two days in par three scoring (-1), par four scoring (-2) and par five scoring (-18).
• In the final round, Arkansas was nine-under on par fives and the rest of the field was plus-16.
Player Quick Hits
• Moore recorded his first career collegiate win, shooting 10-under in the final two rounds to win by three strokes.
• Moore's nine-under 207 is tied for the 12th lowest tournament score in program history.
• Moore had a streak of 43 straight holes without a bogey, going 13-under during the stretch.
• Moore led the field in par five scoring at seven-under.
• Echavarria was one of seven players to shoot under par on the par threes.
• Moore and Ortiz each recorded 11 birdies.
• All five Arkansas players tallied at least eight birdies.
@RazorbackMGolf Lineup
1. Taylor Moore – 73-66-68/207 (-9)
T10. Nicholas Echavarria – 73-71-71/215 (-1)
T14. Alvaro Ortiz – 76-68/-72/216 (E)
T18. Kolton Crawford – 78-71-69/218 (+2)
T26. Charles Kim – 78-72-71/221 (+5)
All American Intercollegiate Standings (Final Round)
1. Arkansas – 300-276-279/855 (-9)
2. Houston – 278-285-293/856 (-8)
3. South Carolina – 290-287-291/868 (+4)
4. Baylor – 296-288-292/876 (+12)
5. SMU – 293-295-290/878 (+14)
6. Troy – 299-292-290/881 (+17)
7. Charleston Southern – 298-293-294/885 (+21)
8. UTSA – 293-302-295/890 (+26)
9. La. Tech – 298-291-302/891 (+27)
10. McNeese State – 300-300-292/892 (+28)
11. Charlotte – 307-296-300/903 (+39)
12. New Mexico State – 306-299-302/907 (+43)
T13. Rice – 307-306-297/910 (+46)
T13. Sam Houston State – 302-303-305/910 (+46)
15. NIU – 304-305-302/911 (+47)
16. Houston Baptist – 301-310-305/916 (+52)
For more information on Arkansas men's basketball, follow @RazorbackMGolf on Twitter.