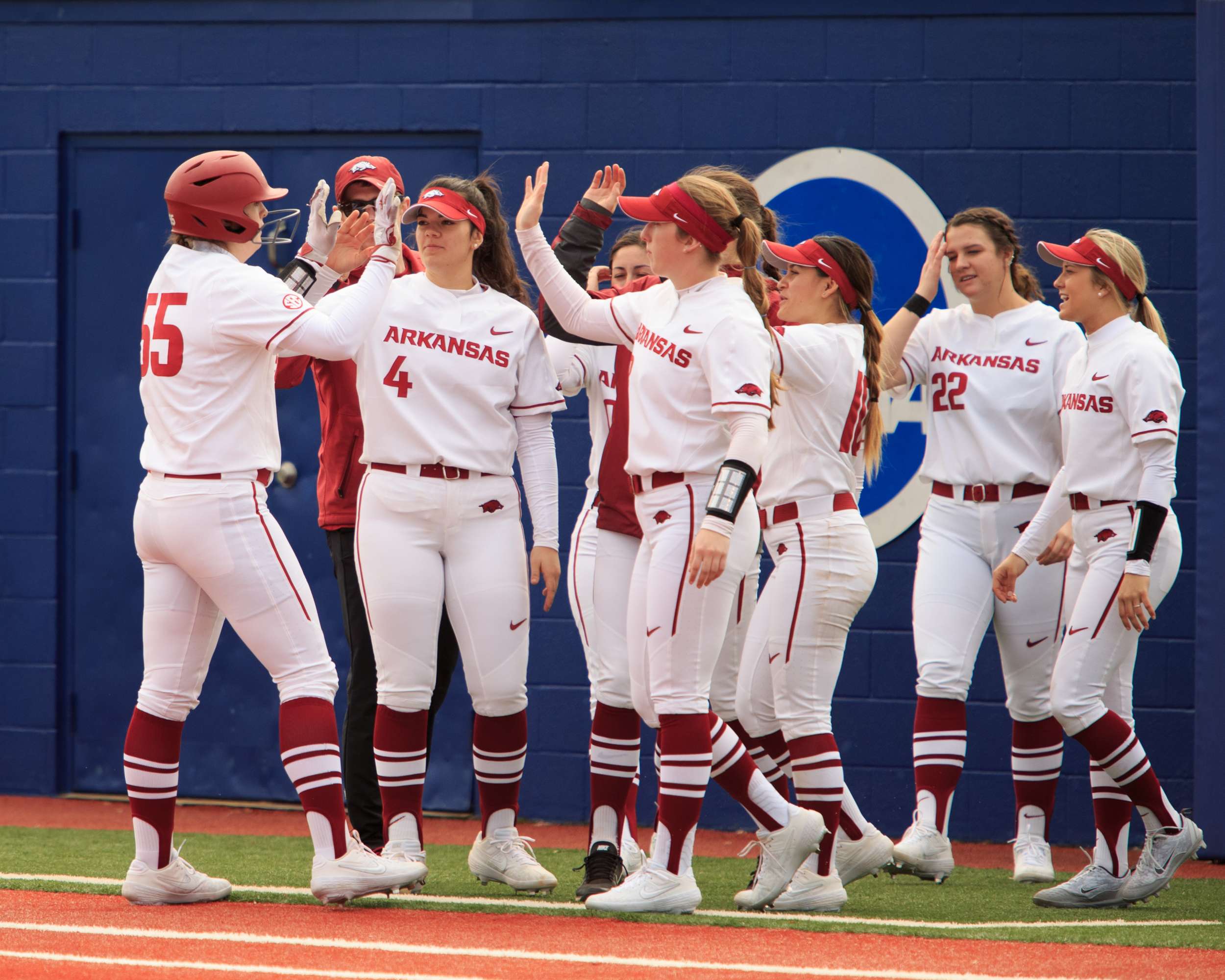 Arkansas Splits Day One in Puerto Vallarta
PUERTO VALLARTA, MEXICO – The University of Arkansas softball team split day one of the Puerto Vallarta College Challenge with North Dakota State and #5 Washington. The Hogs claimed a 7-6 win over the Bison before dropping a heartbreaking 3-2 walk-off loss to the Huskies later in the night.
Up Next
The Razorbacks have two more days of competition in Mexico. They will face Northern Colorado tomorrow (Friday, Feb. 15) at 3:00 p.m. before matching up against Sacramento State at the same time on Saturday (Feb. 16). The Hogs are a combined 4-4 against the two teams.
The Highlights
Game 1: Arkansas 7, NDSU 6
Arkansas jumped out to a 2-0 lead with an RBI from Ashley Diaz and Danielle Gibson.
NDSU responded with a single run in the fourth, unearned off a Razorback error.
The Hogs scored a run in the fourth as well, as Bugarin's lead off double put her in position to score after a sacrifice fly by freshman Maggie Hicks.
The Hogs trailed for the first time this season after the Bison plated three runs in the top of the sixth to take a 5-3 lead. NDSU managed three runs on two hits and two Arkansas errors in the inning.
Hicks hit her first collegiate homerun of the season, bringing in three runs and giving the hogs a 6- lead.
NDSU scored one in the seventh to tie the game with a single up the middle on a 2-2 count.
Arkansas closed out the game after loading the bases in the bottom of the inning for Sydney Parr who earned a walk-off base on balls to win the ball game, 7-6.
Autumn Storms recorded her third win of the season and stays undefeated in the circle – she tied her career high of nine strikeouts in a single game.
Game 2: Arkansas 2, Washington 3
After leaving the bases loaded in the first, the Hogs scored first with back-to-back hits by Hannah McEwen and Gibson to score Parr and Hicks.
Washington tacked on its first run of the game off an Arkansas error in the second inning.
The Hogs held onto a 2-1 lead all the way through the top of the seventh inning, in that time span they left nine Razorbacks on base.
UW's Milloy led off with a first-pitch single, then was sent home on a double by teammate Sis Bates. Bates would be the winning run, scored by Flores' single to left field.
The Huskies scored two runs on three hits in the bottom of the inning, taking the 3-2 win.
Arkansas' ten hits are the most against Washington all season.
Mary Haff recorded her first loss of the season and is now at 3-1 headed into day two of the Puerto Vallarta Challenge.
— ArkansasRazorbacks.com || On Twitter @ArkRazorbacks || Facebook.com/ArkansasRazorbacks –