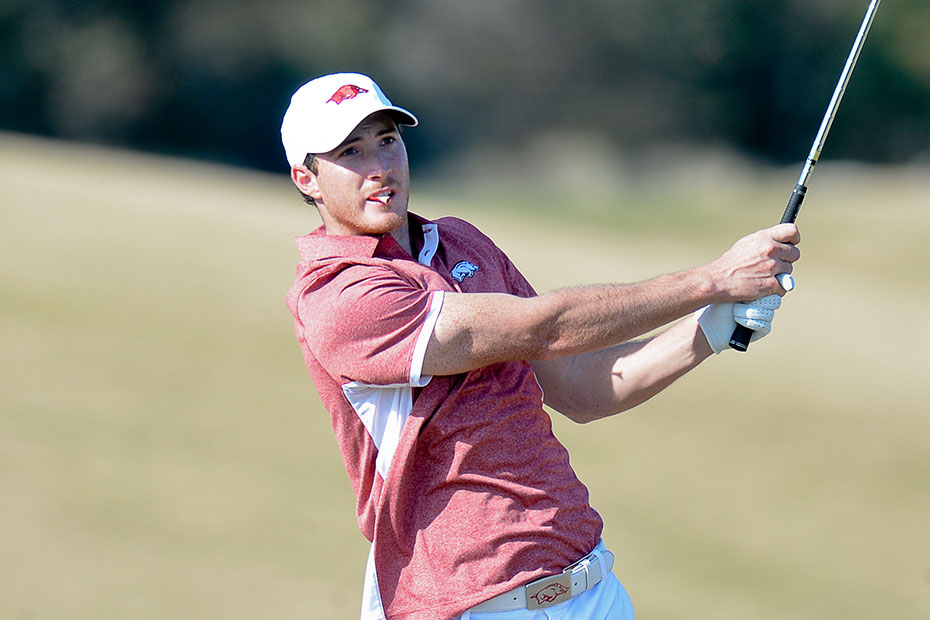 Arkansas Vaults to Second at All-American Intercollegiate
HUMBLE, TEXAS – Paced by a bogey free six-under 66 and a double eagle from senior Taylor Moore, the Arkansas men's golf team caught fire Saturday and fired a season-best 12-under 276 to go from a tie for ninth place to alone in second place at the All-American Intercollegiate at the par 72 Golf Club of Houston.
"I'm very proud of the team today for bouncing back after a rough day yesterday," said head coach Brad McMakin. "Our team had a lot of adversity this week and our guys handled it very well. We are looking forward to coming back and competing tomorrow."
Moore posted his best round of the year with a flawless six-under round that featured, 14 pars, three birdies and a double eagle. Teeing off on No. 10, the senior carded a two-under 34 on the back side before making the turn and holding steady with three straight pars. He then birdied the par five fourth hole and came back with a double-eagle two on the par five eighth hole to cap off a six-under 66 and go from a tie for 18th place to tie for second place and just one stroke off the lead.
Not far behind was Alvaro Ortiz who carded a four-under 68, including three birdies on his opening side to sit in a tie for 16th place with Nicolas Echavarria, who's one-under 71 featured a pair of birdies on the back nine.
Kolton Crawford tallied a one-under 71 of his own with four birdies and three bogeys, while freshman Charles Kim grinded out an even par round that included four birdies.
As a team, Arkansas came out firing and shot seven-under on its first nine holes and continued to stay red hot with a five-under on the second nine to card the round of the tournament and the Razorbacks' best team score of the year at 12-under.
At even par for the tournament, Arkansas is alone in second place and 15 shots behind host Houston at 15-under par. Just one shot behind the Razorbacks is their SEC counterpart in South Carolina. The Gamecocks were one-under on the day and one-over for the tournament. Baylor (+8) and SMU (+12) round out the top five.
Teams will have a shotgun start Sunday morning, starting at 8:30 a.m. Live scoring will be available on BirdieFire.com by clicking here.
@RazorbackMGolf Lineup
T2. Taylor Moore – 73-66/139 (-5)
T16. Nicholas Echavarria – 73-71/144 (E)
T16. Alvaro Ortiz – 76-68/144 (E)
T35. Kolton Crawford – 78-71/149 (+5)
T42. Charles Kim – 78-72/150 (+6)
All American Intercollegiate Standings (Day 2)
1. Houston – 278-285/563 (-13)
2. Arkansas – 300-276/576 (E)
3. South Carolina – 290-287/577 (+1)
4. Baylor – 296-288/584 (+8)
5. SMU – 293-295/588 (+12)
6. Louisiana Tech – 198-191/589 (+13)
T7. Troy – 299-292/591 (+15)
T7. Charleston Southern – 298-293/591 (+15)
9. UTSA – 293-302/595 (+19)
10. McNeese State – 300-300/600 (+24)
11. Charlotte – 307-296/603 (+27)
T12. Sam Houston State – 302-303/605 (+29)
T12. New Mexico State – 306-299/605 (+29)
14. NIU – 304-305/609 (+33)
15. Houston Baptist – 301-310/611 (+35)
16. Rice – 307-306/613 (+37)