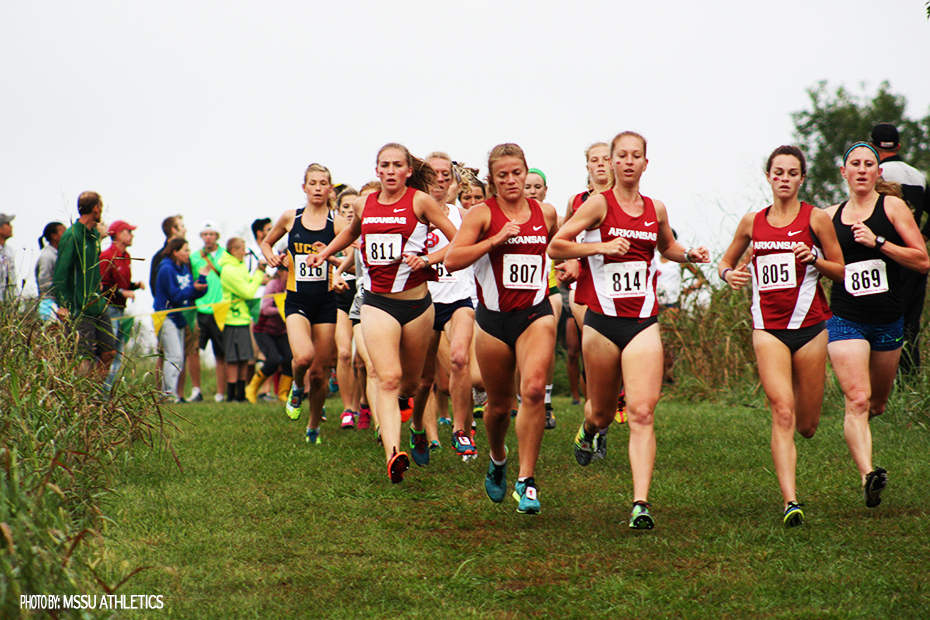 Brown Leads Razorbacks to Second Team Title
Southern Stampede Complete Results
JOPLIN, Mo. – Stringing together a slew of consistent performances through three meets, redshirt freshman Sydney Brown continued her steady progression capturing her first sectional win as the top finisher among division I athletes at the Southern Stampede on Saturday morning.
Coming off of a second-place finish to teammate Claudia Verstraten at the UC Riverside Invitational, Brown (17:08.17) paced all of the scoring five Arkansas runners to top-10 overall performances.
Almost identical to last week's results in terms of top five runners, the Razorbacks' switch up came first with Brown leading second finisher Verstraten (17:10.33) and was followed by Nikki Hiltz (17:25.20) leading fourth finisher Rachel Nichwitz (17:30.78). Samantha Mohler (17:34.05) rounded out Arkansas' scoring five with an 10th place finish.
All 10 Razorbacks represented at the meet finished in the top 40. Therese Haiss (12) and Annika Sisson (16) came through as six and seven for Arkansas. Sabrina Herrmann (22) and Logan Bishop (29) crossed as eight and nine while Grace Taylor finished as the 10th runner for the Razorbacks and 31st overall out of 250 entries.
"Two freshmen led the way to today's team win," said head coach Lance Harter. "Considering we left seven of our top runners at home, it was nice victory for some of the younger athletes to get a chance to represent Arkansas at the front of the pack. It was a great effort and we follow it with two weeks off before everyone will return for competition at the Chile Pepper Festival which is always an exciting race to watch."
Next the Razorbacks will race at home as they host the 27th annual Chile Pepper Festival on Oct. 3 following a two break. Arkansas has only two more regular season meets before the SEC Championships in College Station on Oct. 30.
Missouri Southern Stampede 5K Results
1. Sydney Brown (3) – 17:08.17
2. Claudia Verstraten (4) – 17:10.33
3. Nikki Hiltz (8) – 17:25.20
4. Rachel Nichwitz (9) – 17:30.78
5. Samantha Mohler (11) – 17:34.05
6. Therese Haiss (13) – 17:35.82
7. Annika Sisson (19) – 17:50.44
8. Sabrina Herrmann (22) – 17:57.60
9. Logan Bishop (29) – 18:15.16
10. Grace Taylor (31) – 18:18.73
2015 Arkansas Cross Country Schedule
Tuesday, Sept. 1, Oklahoma State Duals | Stillwater, Okla. | 2nd of 4
Saturday, Sept. 12, UC Riverside Invitational | Riverside, Calif. | 1st of 15 – 6K, 1st of 17 – 5K
Saturday, Sept. 19, Missouri Southern Stampede | Joplin, Mo.
Saturday, Oct. 3, Chile Pepper Festival | Fayetteville, Ark.
Friday, Oct. 16, Wisconsin adidas Invitational | Madison, Wis.
Friday, Oct. 30, SEC Championships | College Station, Texas
Friday, Nov. 13, NCAA South Central Regional | College Station, Texas
Saturday, Nov. 21, NCAA Championships | Louisville, Ky.
For more information on Arkansas track and field including in-meet updates, follow @RazorbackTF on Twitter.