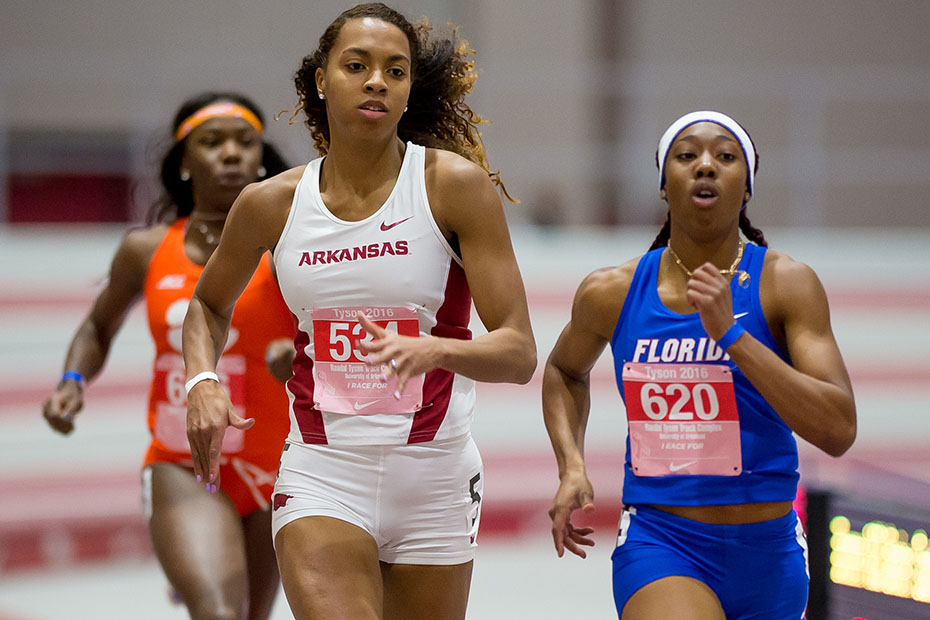 Career Bests Highlight Day One
FAYETTEVILLE, Ark. / SEATTLE, Wash. – Arkansas senior Taylor Ellis-Watson continued her domination at 400 meters on day one of the Tyson Invitational. Ellis-Watson ran the second fastest time in the country (52.18) to finish in first place in the championship section of the event. The seven-time All-American remains undefeated at 400 meters this season.
Northwest Arkansas native Payton Stumbaugh went head to head with nation's best hurdlers and came out unscathed. Racing three rounds of the 60-meter hurdles at the Tyson Invitational Stumbaugh improved her time in each section capping the event in second place overall. A strong competitor in various events Stumbaugh continues to be a force in the sprint hurdles.
One of the biggest highlights of the night came from junior Daina Harper during heat one of the 400 meter invitational. Harper dipped below 53 seconds for the first time in her career racing to a new personal best of 52.95. Harper's performance was just what the coaches were looking for as championship season approaches.
"We had a pretty solid day overall highlighted by a few standout performances," said associate head coach Chris Johnson regarding the Razorbacks at Tyson. "Payton tied her PR, Daina had a huge personal best in the 400 and Taylor ran a season's best of 52.18. She [Taylor] didn't execute the race as well as she liked but still came out with a good result. The team had a pretty decent day."
In Seattle, Wash Valerie Reina and Regan Ward raced to new PRs at 5,000 meters. In an event stacked with the nation's best distance runners Reina and Ward navigated the competition well focusing in on their own personal goals. The two juniors both finished inside the top 20 with Reina in 17th (16:16.74) and Ward in 19th (16:21.88).
"The 5K outcomes were extremely positive," said head coach Lance Harter. "We had two huge lifetime bests from Val and Regan. The exciting part will be seeing how this momentum carries into our performances tomorrow."
Arkansas returns to action at Tyson tomorrow at 11:00 a.m. with the college section of the pole vault. The Razorbacks will open day two of the Husky Classic at 2:50 p.m. with the 3,000-meter run.
2016 Tyson Invitational Day 1 Results
Randal Tyson Track Center
Fayetteville, Ark.
400 Meters College
Monisa Dobbins (12) – 54.85
400 Meters Championship
Taylor Ellis-Watson (1) – 52.18
Daina Harper (11) – 52.95
800 Meters Invitational
Kailee Sawyer (6) – 2:10.93
Mile Invitational
Micah Huckabee (unattached) (1) – 4:53.01
Aubree Worden (6) – 5:00.85
60 Meter Hurdles Prelims
Taliyah Brooks – 8.25
Payton Stumbaugh – 8.32
Kelsey Herman – 8.54
Alex Gochenour – 8.59
Leigha Brown – 8.62
Jaela Williams – 8.83
60 Meter Hurdles Semis
Payton Stumbaugh – 8.26
Taliyah Brooks – 8.33
60 Meter Hurdles Finals
Payton Stumbaugh (2) – 8.16
Long Jump College
Alex Gochenour (10) – 5.83m/19-1.5
Leigha Brown (17) – 5.69m/18-8
Kelsey Herman (19) – 5.61m/18-5
Rachel Jantzi (26) – 5.23m/17-2
Long Jump Invitational
Taliyah Brooks (11) – 19-8.75
2016 Husky Classic Day 1 Results
Seattle, Wash.
5,000 Meters
Valerie Reina (17) – 16:16.74
Regan Ward (19) – 16:21.88
Samantha Mohler (22) – 17:39.65
2016 Tyson Invitational Day 2
Randal Tyson Track Center
Fayetteville, Ark.
11:00 a.m. – Pole Vault College – Ariel LaChance and Rylee Robinson
12:00 p.m. – High Jump College – Alyssa Parker and Carmen Sitz
12:30 p.m. – 200m College – Kelsey Herman, Kiara Parker, Payton Stumbaugh and Brianna Swinton
2:00 p.m. – 3,000m Invitational – Kelsey Schrader
2:30 p.m. – 200m Championship – Taylor Ellis-Watson
3:00 p.m. – High Jump Invitational – Taliyah Brooks
3:00 p.m. Pole Vault Invitational – Ariel Voskamp, Lexi Weeks, Tori Weeks and Megan Zimlich
4:10 p.m. – 4×400-meter relay Invitational – Arkansas A
2016 Husky Classic Day 2
Seattle, Wash.
12:50 p.m. – 3,000m (Fast) – Devin Clark
2:00 p.m. – Mile (Fast) – Annika Sisson
3:30 p.m. – Mile – Therese Haiss, Nikki Hiltz
4:30 p.m. – 3,000m – Jessica Kamilos
For more information on Arkansas track and field including in-meet updates, follow @RazorbackTF on Twitter.