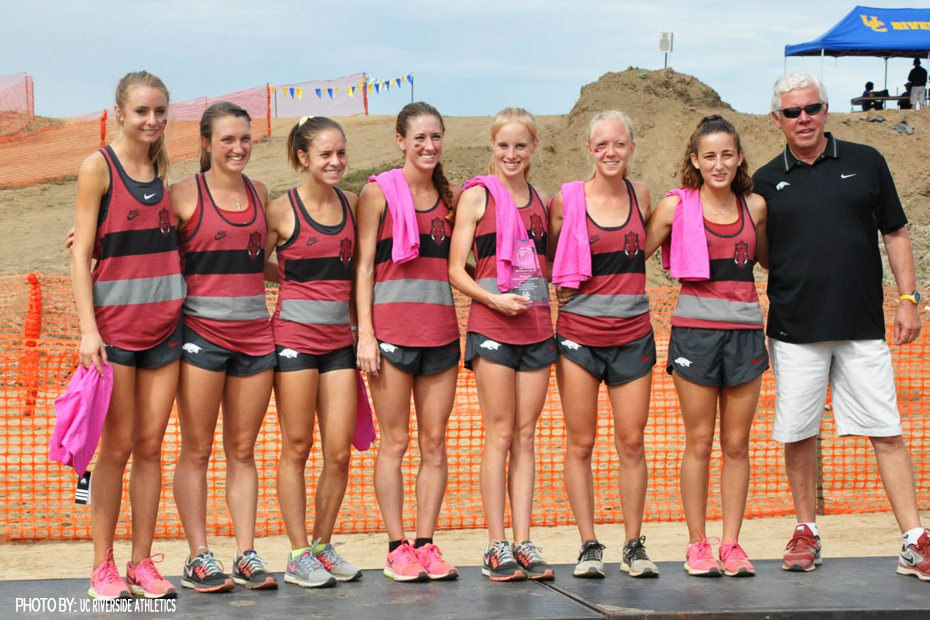 Clark and Verstraten Lead Razorback Sweep
FAYETTEVILLE, Ark. – The University of Arkansas women's cross country team hit the Ags/Ops cross country course early this morning for the 6K invitational and 5K collegiate open at UC Riverside.
The meet opened up with the women's 6K race at 9:30 a.m. which saw seven Razorbacks navigate through the large number of entries to all finish in the top 25 as individuals and win the invitational as a team.
Arkansas freshman Devin Clark stunned the field in her collegiate debut clocking 20:39.00 to finish second overall in the first 6K race of her career.
The top five was rounded out by Regan Ward (fourth) 20:40.30, Valerie Reina (sixth) 20:49.10, Kelsey Schrader (seventh) 20:55.30 and Kaitlin Flattmann (eighth) 20:57.30 whom assisted in securing the Razorbacks' team title coming through the line all well within the top 10 of the competition.
Just outside the team top five was freshman Safee Belbina who finished 10th amongst 97 competitors in her second race for the Razorbacks in 21:03.00. Samantha Mohler completed the race in 21:42.50 to claim 25th overall.
Arkansas scored a total of 27 points eclipsing UC Davis' second best efforts by 59.
"UC Davis is a very good team and one of the best teams in California," said head coach Lance Harter. "Our depth is exceptional in spite of our many youth. Incredible efforts by our freshman Safee Belbina and Devin Clark. It was their first 6K and they stayed with the lead pack to both finish in the top 10."
Another freshman stepped up for Arkansas at Riverside as Claudia Verstraten was the top collegian in the 5K race crossing the line in 17:32.10. Verstraten was followed closely by fellow young Razorbacks Sydney Brown (second) 17:32.50 and Rachel Nichwitz (third) 17:33.8 while redshirt sophomores Nikki Hiltz (seventh) 17:53.70 and Therese Haiss (eighth) 18:05.20 came through as the fourth and fifth finishers for Arkansas. Sabrina Herrmann also posted a solid time of 18:19.20 to finish eleventh overall.
"Claudia, Sydney and Rachel all did a fantastic job in the 5K race," said Harter. "We had a really nice day out here."
Arkansas will travel to Joplin, Mo. next week for the Missouri Southern Stampede on Saturday, Sept. 19. The 2014 SEC Champions will also be honored later that evening at the Arkansas vs. Texas Tech football game at Donald W. Reynolds Razorback Stadium.
6K Invitational Results (Team Finish – 1st of 15 | 27 points)
1. Devin Clark (2) – 20:39.00
2. Regan Ward (4) – 20:40.30
3. Valerie Reina (6) – 20:49.10
4. Kelsey Schrader (7) – 20:55.30
5. Kaitlin Flattmann (8) – 20:57.30
6. Safee Belbina (10) – 21:03.00
7. Samantha Mohler (25) – 21:42.50
5K Collegiate Open Results (Team Finish – 1st of 17 | 21 points)
1. Claudia Verstraten (1) – 17:32.10
2. Sydney Brown (2) – 17:32.50
3. Rachel Nichwitz (3) – 17:33.80
4. Nikki Hiltz (7) – 17:53.70
5. Therese Haiss (8) – 18:05.20
6. Sabrina Herrmann (11) – 18:19.20
2015 Arkansas Cross Country Schedule
Tuesday, Sept. 1, Oklahoma State Duals | Stillwater, Okla. | 2nd of 4
Saturday, Sept. 12, UC Riverside Invitational | Riverside, Calif. | 1st of 15 – 6K, 1st of 17 – 5K
Saturday, Sept. 19, Missouri Southern Stampede | Joplin, Mo.
Saturday, Oct. 3, Chile Pepper Festival | Fayetteville, Ark.
Friday, Oct. 16, Wisconsin adidas Invitational | Madison, Wis.
Friday, Oct. 30, SEC Championships | College Station, Texas
Friday, Nov. 13, NCAA South Central Regional | College Station, Texas
Saturday, Nov. 21, NCAA Championships | Louisville, Ky.
For more information on Arkansas track and field including in-meet updates, follow @RazorbackTF on Twitter.