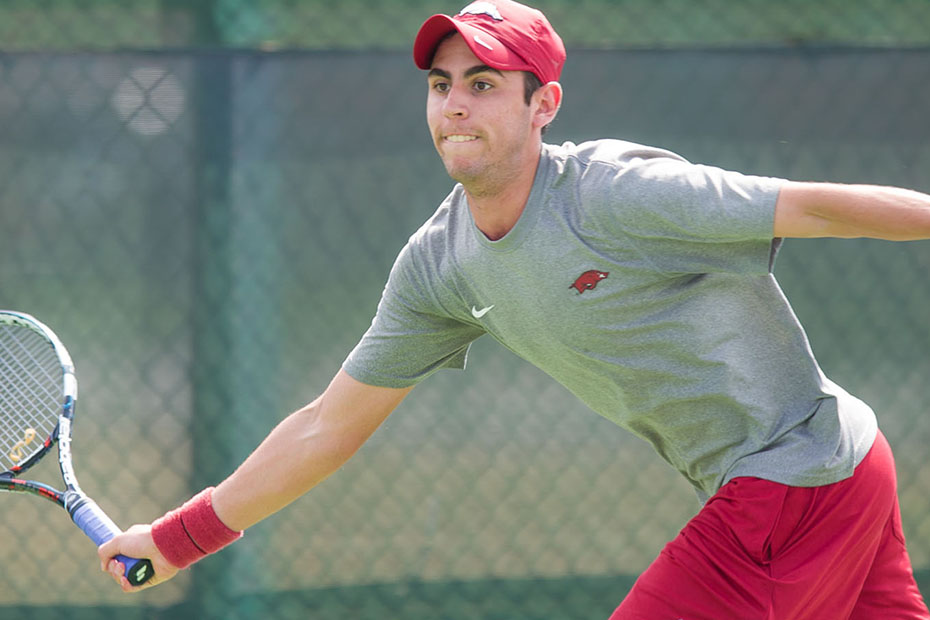 Doubles Sweep at FGCU Invite
FORT MYERS, Fla- The University of Arkansas men's tennis team wrapped up play at the Florida Gulf Coast University Invite. Santiago Munoz had an exciting weekend in singles play as he went 3-0.
Senior Munoz won all three of his singles matches over the weekend at the FGCU Invite. Munoz beat Nico De Fraia of UCF, 6-3, 6-3. He also defeated Oliver Landert of FGCU on Friday, 6-4, 7-5 and beat Nile Clark of Miami on Saturday, 6-3, 6-3.
"I'm extremely happy with the way our team played this weekend at the FGCU Invite." Munoz said. "Positive results in the fall are a big help to go into our season with more confidence and momentum."
Munoz and doubles partner Johan den Toom defeated Nico de Fraia and Jack Thiessen of UCF on the final day of doubles play, 8-5. Austin Robles and doubles partner Jacob Herndon also came out victorious against UCF's Tyler Pate and Arjun Watane, 8-7 (7-4).
Johan den Toom went 2-1 in singles play this weekend and defeated Jack Thiessen of UCF, 6-2, 6-4. Robles also won his singles match on Sunday against Tyler Pate of UCF, 6-3, 3-6, 7-6 (7-3). Robles went 2-1 in singles play at the FGCU Invite.
Herndon fell to Arjun Watane of UCF in his final singles play, but defeated his opponents on Friday and Saturday's play.
For more information on Arkansas men's tennis, follow @RazorbackMTEN on Twitter.